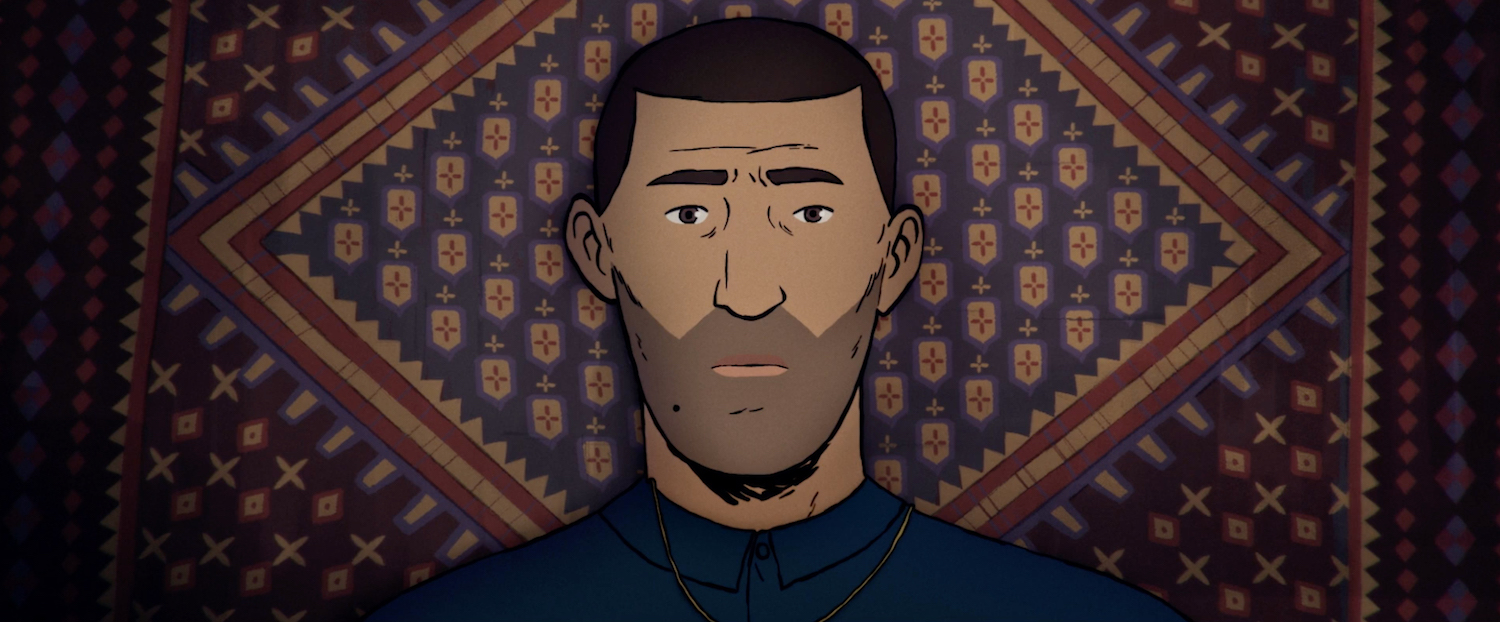 (The 2021 New York Film Festival (or NYFF) is in its 59th iteration and runs September 24-October 10. Here, Chris Reed  gives a film review of Jonas Poher Rasmussen's Flee. Like what you see here on Hammer to Nail? Why not give just $1.00 per month via Patreon to help keep us going?)
There have been some terrific animated documentaries in the past two decades, among them Ari Folman's Oscar-nominated Waltz with Bashir and Keith Maitland's Tower, not to mention the likewise Oscar-nominated short Last Day of Freedom, from Dee Hibbert-Jones and Nomi Talisman. Now comes Jonas Poher Rasmussen's Flee, which tells of an Afghan refugee from the early '90s civil war and his journey to Denmark. Rasmussen (What He Did) went to high school with his protagonist, Amin, and the two have an easy rapport, though there are many details to the story that the director only learns through the process of filmmaking. The animation brings the narrative alive, Amin's interview seamlessly blending into evocative recreations of his past. An examination of the inequities of immigration and asylum-seeking, the movie is also a coming-out chronicle, as Amin is gay, something that proved difficult for him to admit to himself and to his family. That's just one of the many elements that make Flee so consistently moving and engaging.
It is now 25 years since Amin made the voyage from his homeland, arriving first in Russia before then undertaking the even more treacherous odyssey to Scandinavia. Given its part in Afghanistan's 1980s upheavals and subsequent chaos, Russia somewhat did its part to accommodate those who needed to find a new home. That doesn't mean that the country treated the refugees well, however, given its own, often-corrupt mess in the early post-Soviet days. Harassed and unwelcome, Amin's family turned to the eldest son, who had successfully emigrated to Finland, for help. His initial efforts to get two of his sisters out almost ended in disaster, and a first attempt to bring everyone else over also proved more dangerous than anticipated. Eventually, Amin would end up not with family, but alone and in Denmark. The how and the why of it make up the bulk of the plot.
All the while, even when a young boy in Kabul, Amin knows that he is somehow different, first wearing a sister's dress and then lusting after actor Jean-Claude Van Damme even as other boys merely idolize him. Rasmussen cuts in real-life footage of places to add visual context, but otherwise allows Amin's voice to guide what we see, including early sexual longings, present-day relationship and travels, and the harrowing escapes of yesteryear. I especially enjoyed how Rasmussen and his team occasionally include animated images of the director in the room with his subject, camera, and microphone in plain view. It's easy to forget, at times, that these are not actual filmed sequences, so easily are we drawn into the mise-en-scène. 
The beauty of this technique is that it functions not as a barrier between character and audience, but its opposite. Transitions are simultaneously dreamlike and realistic, just like actual memory, vivid even when opaque. Beyond Amin's personal recollections, Flee also plunges us into the plight of refugees and immigrants everywhere, a topic as relevant today as it was when Amin fled Afghanistan and then Russia. He may have found asylum and peace in Denmark, as well as a firm sense of self and acceptance of his identity, but the experience lefts its scars, and this documentary serves as both cautionary and triumphant tale. There are and will be more such stories to tell, now and in the future. Listen in.
– Christopher Llewellyn Reed (@ChrisReedFilm)
2021 New York Film Festival; Jonas Poher Rasmussen; Flee documentary film review