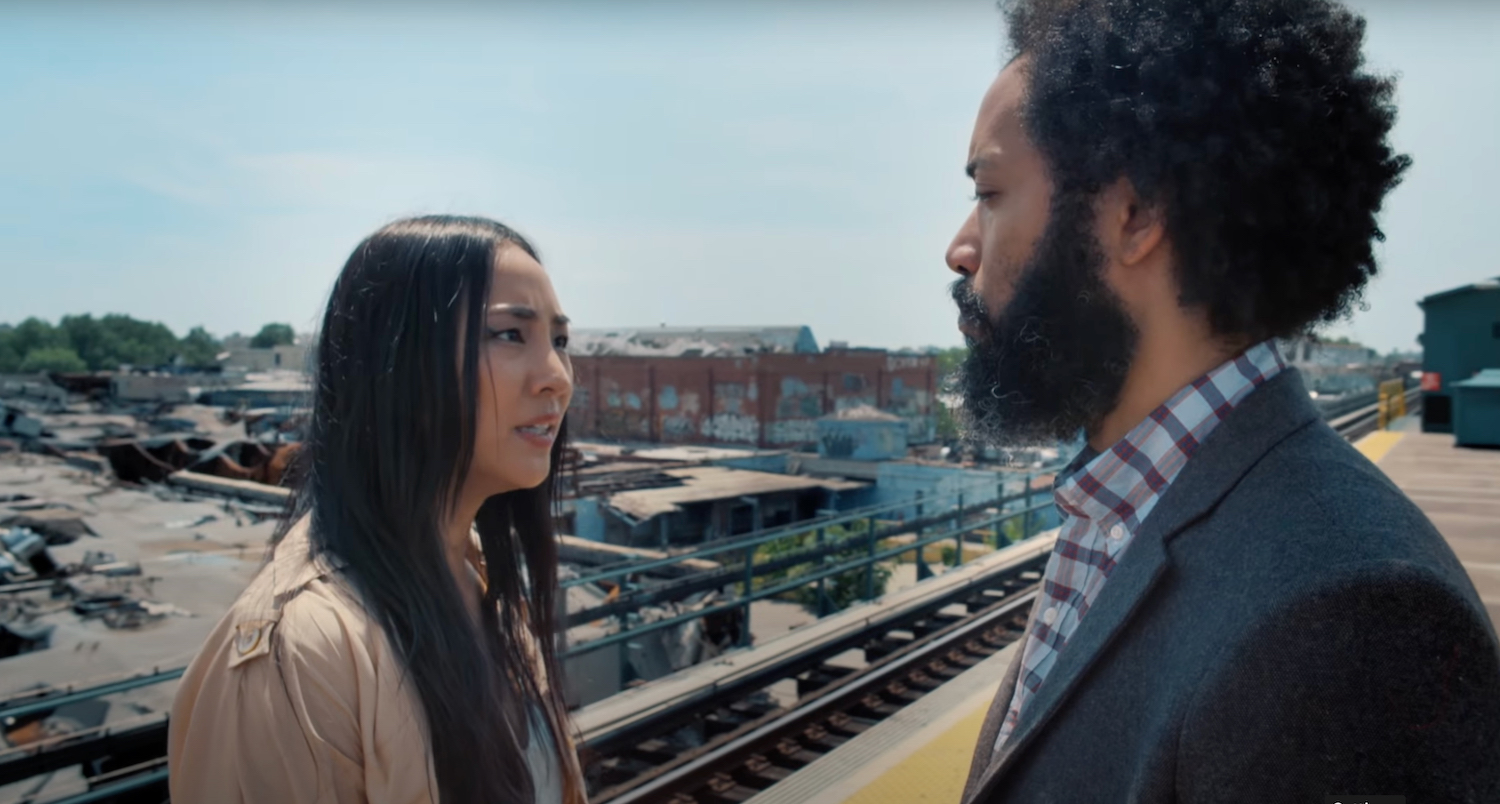 (The 2017 SXSW Film Festival opened on March 10 and runs all week until March 18. HtN has you covered and GUARANTEE more coverage than any other site! Check out this review of ambling, well rendered comedy Fits and Starts.)
David and Jennifer have been married for only a few years, but already their union is showing some strain. They're both writers – and he a former adjunct who once taught her in a creative-writing MFA program – but she has, so far, proved the more commercially successful of the two. As the film opens, David is deep in a nightmare in which he finds himself naked at his own book reading, but when he wakes up to face the day, it's actually Jennifer who has the scheduled reading, while he remains in the background, an almost-anonymous observer. It will all work itself out, however, since the couple find themselves invited to a party – excuse me, a "salon" – at the home of Jennifer's agent. If David can just impress the crowd with a selection from his long-gestating work-in-progress, surely he'll emerge from this slump.
Alas, the path to peace and harmony is a rocky one, though it's that journey that provides this enjoyably gentle comedy with not its only narrative trajectory, but much of its humor. Along the way, writer/director Laura Terruso (co-writer, Hello, My Name Is Doris, which was based on her own short film, Doris and the Intern) skewers the pretensions of intellectuals and artists – while simultaneously embracing the importance of both – with witty character sketches that keep us constantly on our toes. By the end, when all the crazy plot points are finally resolved – some surprisingly – we arrive at our destination satisfied by a story well told. If the movie has one weakness, it's the convenience of certain elements of the conclusion, but the many laughs before then make it all worthwhile.
Much of the success of the affair is due the cast. Former The Daily Show writer Wyatt Cenac (Medicine for Melancholy), as David, lends his character a wry, woeful tenor that makes his subsequent pratfalls especially hilarious. Greta Lee (Lucy on Hulu's Chance), as Jennifer, is the opposite, all kinetic energy and edginess. Together, they make the perfect comedic pair. There's a rich supporting bench of actors, too, including my favorite, Maria Dizzia (Polly on Netflix's Orange Is the New Black), as a crazy literary agent obsessed with seduction (if that's what she chooses to call it), as well as others like Alex Karpovsky (Ray on HBO's Girls), Ben Sinclair ("The Guy" on HBO's web series High Maintenance), and more. David's writing may move along in fits and starts, but not so Laura Terruso's. The director displays a firm control of all the elements in this, her first feature, promising, we hope, even greater cinematic treasures to come.
– Christopher Llewellyn Reed (@ChrisReedFilm)