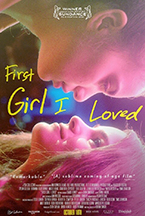 (Kerem Sanga's First Girl I Loved wowed audiences at the 2016 Sundance Film Festival where it took home the top prize for the NEXT category. The film is available this week via 
Teenagers get a bad rap for being difficult. And while that's not a false accusation, it's also not entirely their fault. They are minutes past being children but suddenly expected to take on a slew of new responsibilities including figuring out what kind of person they want to be, all while attempting to keep their surging hormones at bay. Writer/director Kerem Sanga's First Girl I Loved is an astoundingly accurate depiction of the agony of first heartbreak for Anne, a teenager who is simultaneously coming to terms with being gay – something that still isn't as much of a non-issue as it should be.
Anne (Dylan Gelula, Unbreakable Kimmy Schmidt) is a bit of a weirdo but she embraces it. She revels in taking photos for the yearbook and ditching school with her best friend, Cliff (Mateo Arias). Everything gets upended, however, when Anne falls for Sasha (Brianna Hildebrand, Deadpool), the popular star of the school softball team. Anne pretends to interview Sasha for the yearbook as a ruse to meet her. They hit it off and soon are hanging out and texting late into the night. Anne is awash with a cocktail of elation and anxiety; thrilled to have such definitive romantic feelings for someone, but unsure if her love is requited. To complicate matters, when Anne reveals her crush to Cliff, coming out to him in the process, he responds with aggression and jealousy. Much to Anne's shock and dismay, Cliff's reaction destroys their friendship and triggers an avalanche of transgressions from all parties within the love triangle.
Meanwhile, Anne tries to keep her single mother, Sharon (played by an always spot-on Pamela Adlon), at arm's length. Sharon seems to recognize her daughter's need for autonomy but nonetheless holds a furrowed brow during every terse interaction. As long as Anne's not in any trouble, Sharon concedes to the distance. But when she starts getting called into school for meetings with the principal, Sharon is forced to start asking questions. This raises a compelling debate about parenting styles. Is it better to be involved in your child's life on a superficial level but rule with fear and an iron fist, or to trust your child to make good decisions so they feel safe with you when they screw up? In the end, it seems that Sharon, though the most removed from her daughter's personal life, is the only one who actually advocates for her child when the feces hit the fan.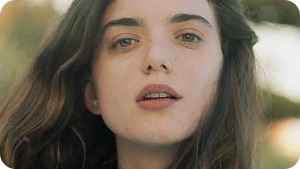 Tim Heideker is cast against type as an even-keeled guidance counselor. Cameron Esposito has a small role as an unlikely confidante. But the kids are the true stars of the film. Gelula's performance is staggering, pulling the audience into her headspace. Her anxiety is palpable. And though she makes a couple of dubious decisions, they are no less true to her character.
We don't see much from Sasha's perspective, so it's not entirely clear why she becomes tentative about the relationship after showing initial interest. Her most illuminating scene involves her end of a late-night text exchange with Anne, which dips into romantic territory. We can see something awakening in Sasha. But high school is a time when your feelings toward a person are not only colored by your own desires, but also by what other people will think. And it's a valid concern because if teenagers don't like something, they will make it your problem. And that goes double for some parents.
Case in point, the spurned Cliff who plays a large part in sabotaging Anne and Sasha's budding romance. First love hits hard. Every little emotion is magnified. Every interaction is agony and ecstasy. Senga bottles the angst to perfection – something that Hollywood movies can never seem to get quite right.
The love triangle narrative is so good that I can forgive Senga his missteps. He dubiously employs a time-hop narrative – a trick that's superfluous to the storytelling. I don't see the point in parsing out Anne's coming out to Cliff. What he does to her to make them enemies in the future would have no less impact if played out in chronological order. Furthermore, the adult characters let a possible sexual assault accusation dangle. While that is perhaps realistic, it's also quite frustrating because it seems to suggest that Anne should forgive Cliff, especially in light of an act of "heroism" he performs toward the end.
Be warned, this is a hard film to watch. There aren't many moments of levity. Mostly it's just one mortifying moment after another. The pain of youth is well-worn territory in film, but it's never been worn like this. To anyone who remembers his or her first heartbreak, First Girl I Loved will ring true. I may be on the "mom" side of things now, but I still get a massive pang whenever I look back on my teenage years. I wouldn't go back there for anything.
– Jessica Baxter (@tehBaxter)