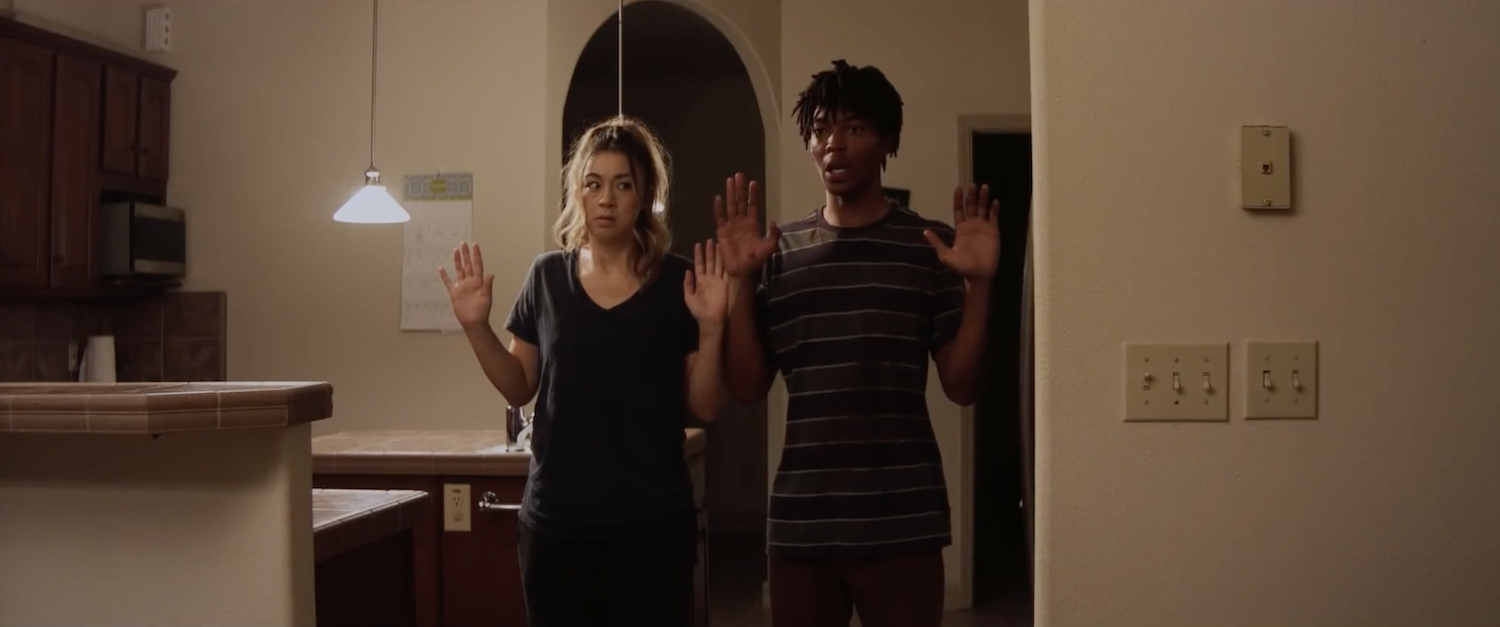 (Darren Knapp and Manuel Crosby's debut feature First Date is available now on VOD via Magnet Releasing. Like what you see here on Hammer to Nail? Why not pay just $1.00 per month via Patreon to help keep us going?)
High school can be hard enough without the added stress of near-death experiences on date night. And yet nothing comes easy for poor young Mike on the evening when he tries to go out with his crush, Kelsey. From the misadventure of getting a car so he can pick her up, to all that follows, one stroke of bad luck leads to another, the entire affair an exercise in escalating chaos. So goes First Date, the feature debut of directors Manuel Crosby (also the cinematographer) and Darren Knapp. A true comedy of errors, it's both extremely fun and painfully cringeworthy. And I thought I had it bad as a teen…
After an opening prologue that only later will pay dividends, we meet our hero. Mike (Tyson Brown) is wholly relatable, both a typical insecure adolescent and a sweet, well-meaning guy who just needs a slight push to step out of his comfort zone. When his best friend forces his hand, he finds that Kelsey (Shelby Duclos) is surprisingly willing to hang out, and even agrees to meet that night. O fortunate soul! But wait … he has no ride, and his parents leave for the weekend with the family car. What to do?
Why, buy a beat-up jalopy off the internet, of course! What could go wrong? As it turns out, everything. And before long, we have cops of questionable ethics, gangsters, old hippies and more, all with bullets flying. Still, not all may be entirely lost, despite the rising body count, as eventually Mike and Kelsey find themselves in this mess together. That's something, at least.
Crosby and Knapp mostly do a fine job managing the violence and jokes together, though some deaths hurt more than others. They are helped by the charming, wide-eyed innocence of Brown in the lead, ably supported by the equally winning, far tougher charisma of Duclos, who looks like she can throw a mean punch, because she can. As things spiral from bad to worse, at least they have each other, sort of. They remain, throughout, very much fish out of water, swimming with sharks.
The ensemble, beyond Brown and Duclos, is equally terrific, with Jesse Janzen (Where Sleeping Dogs Lie) and Nicole Berry my personal favorites (out of many). Coming-of-age tales have been done and overdone for so long, it's nice to feel refreshed by the oddity of what First Date offers from its starting moments. Looking to laugh and squirm in equal measure? Have I got plans for you!
– Christopher Llewellyn Reed (@ChrisReedFilm)