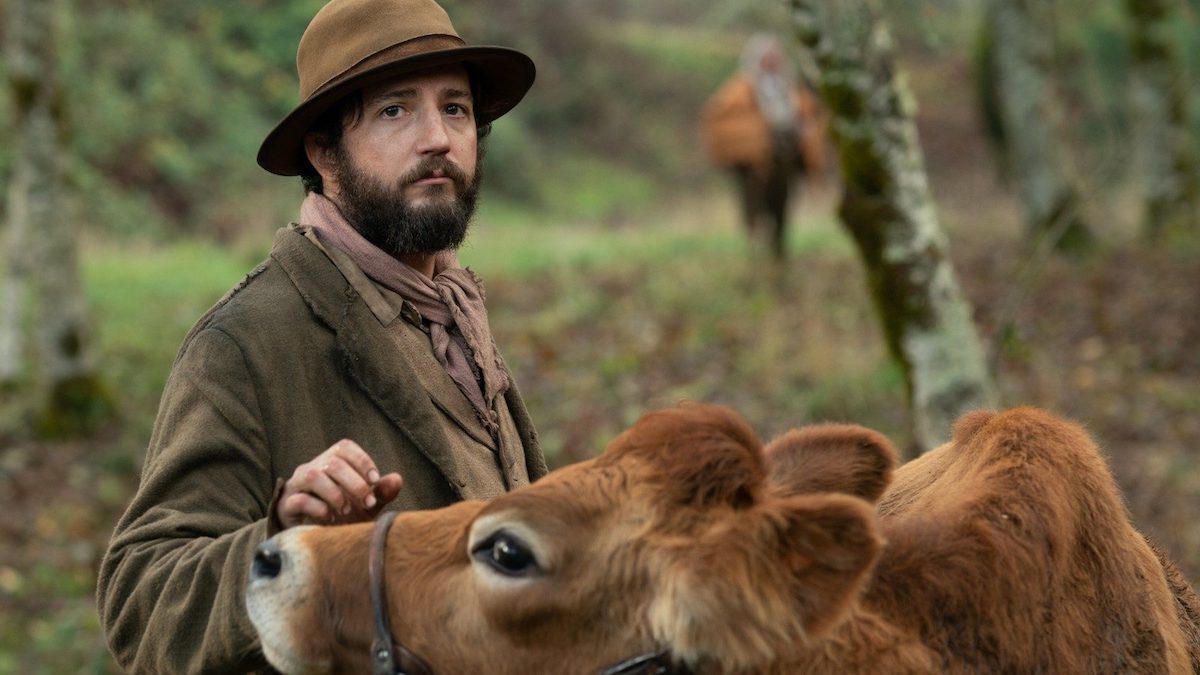 (The 2019 New York Film Festival (NYFF) runs September 27-October 13 at the glorious Lincoln Center. Stay tuned to HtN for reviews from the fest! Like what you see here on Hammer to Nail? Why not pay just $1.00 per month via Patreon to help keep us going?)
If you're one of the millions who watch primitive technology videos on YouTube, then you'll probably delight in the tactile detail of Kelly Reichardt's First Cow. Her camera dwells in the day-to-day of a pioneer town in the Northwest, far from any city or cattle ranch. So it's an exciting day — and a comical sight — when the inaugural bovine arrives via 19th century paddleboard. Reichardt eschews much of the violence with a clever bookend, instead preferring to focus on the friendship of our two protagonists. In doing so, she present us with a hardscrabble yet idyllic existence—the type of sweet and simple story that tastes better when you have to work for it.
The film has more in common with the Oregon Trail videogame than any Spaghetti Western. Cookie (a cherubic John Magaro) is the designated cook for a crew of easily agitated hunters seeking beaver pelts. One night he stumbles upon a naked Chinese man named King Lu (Orion Lee), who is running away from Russians that suspect him of killing their friend. Cookie decides to help him escape. Later in the ramshackle town, after the Russians are long gone, King Lu approaches Cookie and offers him a place to stay. Their friendship becomes a business partnership when they concoct a mischievous scheme to steal milk in the middle of the night from a wealthy Englishman's (Toby Jones) imported cow. The cow is of prestigious lineage, producing such sweet milk that the buttermilk biscuits the men sell in town quickly make them a small fortune. King Lu points out to Cookie that their ruse will only last so long, and so it comes as no surprise when they attempt one too many nocturnal pumps and get chased into the cold dark night by the Englishman and his henchmen.
Despite a smattering of scenes spent starting a fire, catching a fish or cooking with a cast-iron pot, First Cow never feels slow. Reichardt has been lambasted before for her deliberate pacing, but here the details build a sense of momentum and progress. It's easy to be sucked into a world that seems so distant, despite being in our own backyard only two hundred years ago. The handmade production design of the frontier dwellings is more salt-of-the-earth than quaint. The Englishman's house and clothing being the one exception, displaying a British royalty that reminds us of our revolutionary roots. While there are no particular bravura shots that stick out, the one-two punch of the first and last scenes is quietly exhilarating.
There is precedent for an interracial buddy comedy Western; Shanghai Noon and Blazing Saddles come to mind. First Cow would not live up to its title if it were bereft of humor, but it has more in common with last year's Leave No Trace (directed by Debra Granik) for its tender humanist portrayal of its main characters. Perhaps this is thanks to the fact that both films are women-directed. If the vibe here is more feminine, then that is a strength. We see enough violence these days, it's refreshing to watch a Western with a lot more on its mind.
– Matthew Delman (@ItsTheRealDel)
Like what you see here on Hammer to Nail? Why not pay just $1.00 per month via Patreon to help keep us going?