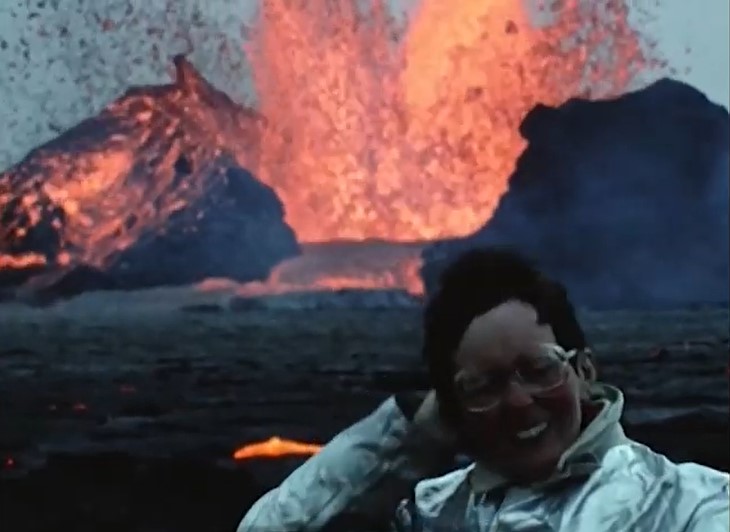 (The 2022 Sundance Film Festival runs January 20-30 all virtually. Check out Melanie Addington's movie review of Fire of Love. Like what you see here on Hammer to Nail? Why not pay just $1.00 per month via Patreon to help keep us going?)
Love is mesmerizing. So are volcanoes. Combining the two is cathartic. And that is what the documentary Fire of Love by director Sara Dosa, succeeds at with the love story between Katia and Maurice Krafft. Narrated by filmmaker Miranda July, the documentary shines a light on volcanologists while examining footage the couple gathered over their lifetime of visits to volcanoes. The couple died together on a volcano but in doing so saved countless lives.
With over 30 years of 16MM footage unseen (and some that was used in past news clips by the couple), we explore their scientific discoveries, learn more about volcanoes and how they work and what goes wrong when a government doesn't listen to scientists. While told through two humans experiencing life on the edge, it also serves as a reminder that Earth is about so much more than our own lives.
"How small humans are…all that will remain of our passage is that we can write, tell stories, and film." Maurice Krafft is quoted as saying in the film.
While the couple and their team worked hard, the footage also reveals the playful nature of the scientists. From silly cowboy style horse riding on camera to cooking an egg on nearly cooled volcanic rock, the team brought the science of volcanolgy to life for many of us who have never done more than read about it. The sweeping panoramic images and close up footage of exploding lava is mesmerizing and feels more like a sci-fi film than real life.
The film is not all pretty images and romantic lyrical thoughts by the scientists. Graphic, cruel images of devastation in Colombia in 1985 shows the impact of a society who ignores warnings, leaving over 23,000 people to die from mud flooding and structural damage. The original team did not shy away from filming the carnage and the documentary gives us glimpses of the horror. For Katia, the loss made her question her role as a scientist if warnings are not enough to stop tremendous loss. But in filming such things, the goal for the Kraffts was to prevent such future horrors. A lesson, we continue to need to learn today.
While the Kraffts would lose their lives during the 1991 Mount Unzren explosion on June 3 alongside 40+ other people, the story ends there for two reasons. One, it is the end of their story together, dying doing what they love, but two, for the most important reason: the government listened to their warnings and saved thousands of people.
With a watch left behind marked at 4:18 pm, the couple incinerated, leaving behind what Krafft expressed–stories, film, writings, that are a legacy that will outlast us all. As Maurice expresses, he always preferred a short life with a kamikaze existence, aware of the perilousness position his role in life would play out.
Sara Dosa is an Independent Spirit Award-nominated documentary director and Peabody Award-winning producer based in San Francisco.  Directing credits include The Seer and the Unseen (2019), Netflix's Tricky Dick, Man in Black (2018), and The Last Season (2015). She graduated from Wesleyan University and held a master's degree in anthropology from The London School of Economics and Political Science.
Dosa speaks in depth about her inspirations in french New Wave and her fandom of Miranda July as well as getting Clive Oppenheimer on board in her press notes. You can get a feel for the film and Sara's love of the topic in her intro to the film at Sundance.:
The film was acquired by National Geographic Documentary Films for Worldwide Rights at the Sundance Film Festival. Produced by Shane Boris and Ina Fichman and Executive Produced by Greg Boustead and Jessica Harrop, the Miranda July-narrated film premiered this week as part of the documentary competition. Katia and Maurice's words were read by Guillaume Tremblay (Maurice Krafft) and Alka Balbir (Katia Conrad Krafft). A grant for this film was provided by the Sundance Institute Documentary Film Program as part of the Sandbox Fund, with support from Sandbox Films. The plan is to release the film theatrically later this year. 
– Melanie Addington (@MelAddington)