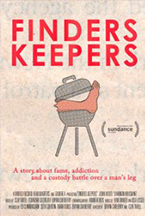 (Finders Keepers premiered at the 2015 Sundance Film Festival and is distributed in the US by The Orchard and is available on iTunes & VOD now)
So I watched a movie about a guy finding a human leg in a BBQ grill and I cried. Unexpected! The documentary (yes, it was a REAL leg!) Finders Keepersis hilarious, but it is also a distinctly modern folktale; one of addiction, family, celebrity, ego and the delicate bonds between people, and audiences, that all eventually fade one way or another.
In a small town in North Carolina, a series of unfortunate events leaves John Wood with one leg and an increasingly intense substance abuse problem. Dripping with guilt, he becomes ostracized from his family. In an effort to memorialize his losses he attempts to embalm his leg, a DIY project gone awry that he hazily abandons in a storage unit. Broken and broke, his possessions are eventually auctioned off and, one fateful day, local haggler Shannon Whisnant bids for Wood's BBQ grill unaware of the gift inside.
Like Scrooge McDuck with dollar signs in his eyes, Whisnant sees this opportunity as his ticket to long awaited fame and fortune. With t-shirts, television and bravado he markets the limb as a carnivalesque wonder, eagerly seeking out an audience for his one legged show. When Wood catches wind of his leg's new life he, naturally, wants it back. Their battle moves between legal action, TV cameras and more – a public display that puts into focus the motivations behind celebrity, as well as the responsibility of those behind the camera.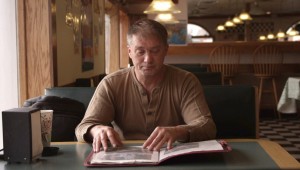 An inflated version of experiences and ballooning self awareness (a byproduct of image culture, social networking and reality TV) is a condition that Finders Keepers works to reveal through this outrageous and heartfelt tale. The story of these big-hearted oddballs is told with a muted respect by the documentarians (Bryan Carberry and J. Clay Tweel). Using honest, stripped down interviews with those involved in this fantastically true tale, largely the family members of those on the periphery of the action, the personal accounts behind the public observations are brought into the spotlight. The quiet, nuanced filmmaking exhibited by these filmmakers, set against the hollow bombast of reality TV, is a juxtaposition that exposes the shortcomings of all stories: Stories are an expression, not the truth. Who we are, who we pretend to be and who we want to be are all battling it out in our interior, and increasingly exterior, lives. The person with the camera can make us whoever they want us to be and these directors make sure we see the humans behind the headlines.
Finders Keepers takes on two very different modes of storytelling; it shows the mass media feeding frenzy of the flashbulb, and the humanity that can be found through trust and accessibility in the shadow of the limelight. The characters – from TV personality Judge Mathis, to one legged John Wood – crave acceptance and attention, finding power in the eyes of others. Yet directors Carberry and Tweel balance this desire to show the real motivation that lies below the surface, the need for connection and love. Responsible, humanistic storytelling feels like a rarity and is what sets Finders Keepers apart from so many other expressions of real life around us. As an audience member you leave this film feeling like you know these characters on a deeper level, a precarious notion being that the film is, in actuality, just another version of someone else's story. By creating a space of empathetic awareness, this film becomes a touching must-see…and is also the reason you might want to bring tissues when you do.
– Donna K. (@TeamDonnaK)