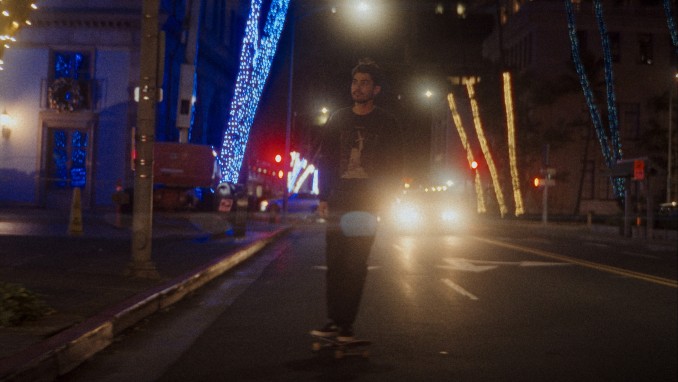 (The 2022 Sundance Film Festival ran January 20-30 all virtually. Check out M.J. O'Toole's movie review of Every Day In Kaimukī. Like what you see here on Hammer to Nail? Why not pay just $1.00 per month via Patreon to help keep us going?)
When you have lived in a certain place your whole life, how do you know when it's time to live life elsewhere? Hawaiian director Alika Tengan tackles this question in his feature debut Every Day In Kaimukī. Set in the titular neighborhood in Honolulu, narrative and documentary uniquely go hand-in-hand to examine a pivotal moment in a young man's life as he decides to experience life outside of the place he's never left. With a moody indie soundtrack that looms over scenes of day-to-day life in contemporary Hawaii, Tengan's visceral and tender debut keenly explores the idea of moving away to move forward.
The young man at the center of this story is Naz (played by co-writer Naz Kawakami), an indie radio station DJ who considers himself a "Hawaiian guy who grew up in Hawaii and never left." He's pretty well-known and popular in his neck of the woods. As the film starts, he's already in the process of planning his flight to New York with his girlfriend Sloane (Rina White), a talented ceramist who got accepted into a prestigious program at the Pratt Institute. Between being on the phone with the airline on how to get his cat on the flight, to skateboarding with his boys' club-like group of friends, he is itching to make sure everything is in order for his departure. Sloane, on the other hand, is beginning to have doubts about the big move, wondering if the reasons for them leaving are the right ones. This is something Naz is unaware of at the beginning, which hints at the total lack of communication within the couple.
When he's not anxiously planning for the departure, Naz starts hanging out with the new radio station trainee Kaden (Holden Mandriel-Santos), a fellow skateboarder who he welcomes into his group of skatepark cruising buddies. Tengen takes the time away from Naz's perspective to get the viewer acquainted with his friends and lifelong Hawaiians, some of whom are secretly betting on whether or not he'll end up leaving. The neighborhood of Kaimukī is also just as significant of a character, depicted through shots of glorious skies on rooftops and rollicking nightlife. Cinematographer Chapin Hall's naturalistic 4:3 cinematography helps give the film both its documentary and ethereal aesthetic. 
Due in part to vérité-like performances and naturalistic dialogue, the film stays away from the melodramatic and makes these characters' obstacles seem realistic and relatable. The people around Naz make him question his relocation plans. When Sloan finally comes clean with her reservations about leaving, it creates a rift in the couple that sends Naz on a night-long journey around town where he struggles with angst, doubt, and anger, which he takes out on his friends. But it's that venting and time alone that points him in the direction of measuring all that's important and making a decision for his own future.
Every Day In Kaimukī excels in portraying the uncertainty that comes with life changes as big as Naz's. Based on Kawakami's real-life move out of Hawaii, Tengan creates realms of authenticity and emotion that show how leaving home isn't as easy as it's usually portrayed. It was also shot in the midst of the pandemic, which the filmmakers implement well in the film without making it an overshadowing factor. Even though the cast mainly consists of non-professional actors, the chemistry with everyone involved works to desired results. The candidness of life and relationships in modern-day Hawaii successfully helps erase some of the stigmas behind the Aloha State and shows that it's not all beaches and luaus. In the end, Every Day In Kaimukī is a genuine and meaningful film about the urge to move away and experience new things, while still hopefully keeping a piece of where you're from in your heart.
– M.J. O'Toole (@mj_otoole93)
Sundance 2022; Every Day In Kaimukī movie review; Alika Tengan