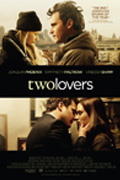 (Two Lovers has been available on VOD since January 16th and is being released theatrically on Friday, February 13th, 2009. Visit the film's official website or its page at Magnolia Pictures for more information.)
At a recent sneak preview screening of James Gray's Two Lovers in Brooklyn, the ensuing Q&A exposed, quite tellingly, just how open to interpretation Gray's film is. With true sorrow in her voice, a shaken young female told the writer/director that his movie had depressed her; she had never so much as glimpsed the possibility of escaping her own suffocating Brooklyn upbringing the way the main character Leonard had. At which point, another—it should also be stressed here, older—female jumped in and took the complete opposite stance. She argued, with great passion, that Leonard's plan was completely irrational, self-destructive, and wrong. The safer life that appeared to be mapped out for him was in no way, shape, or form, a concession. That window of escape to San Francisco wasn't the correct path. Leonard's devoted, still smitten parents were proof of that. To the girl, Two Lovers told a tale of defeat. To the woman, it told a tale of victory. Here's the best part: both were right. This intentionally ambiguous atmosphere is just one of Gray's many masterstrokes in his enthralling exploration of the erratic passions flamed by youthful desire.
Gray's first three features—Little Odessa, The Yards, We Own the Night—were Shakespearean variations on cinematic crime genres. With Two Lovers, he leaves the weaponry and violence behind to focus solely on conflicts of the heart. Though the story itself is simple, Gray turns it into something operatic by merging several conflicting elements into one unified whole: classic vs. modern, happy vs. sad, dramatic vs. humorous, plausible vs. implausible, hopeful vs. hopeless. The resulting tone feels like no other American picture of even somewhat recent memory. For some, the impact will be jarringly anachronistic at best, and downright silly at worst. But for viewers who are tired of lackadaisical storytelling and ironic detachment in modern American cinema, who have been yearning for a filmmaker who can bridge the past and the present and who isn't afraid to expose his heart and soul and really reach for something, Two Lovers is going to reawaken many long dormant senses.
This all begins with Gray's influences, which range from the distant past to the very distant past: Dostoevsky's original novella White Nights, which was in turn adapted for the screen by Visconti in 1957; also, Fellini's Nights of Cabiria, which is referenced, quite literally, in the film's closing moments. Yet while Gray's directorial vision harks back to a different place and time, he nonetheless depicts 21st Century New York with flawless accuracy. From the upscale midtown environs around Lincoln Center, to the posh club life that has devoured the Meatpacking district high heel by high heel, to the bleak, colorless landscape of Brighton Beach in the winter, Gray has modern New York City pinned (and yet, somehow, he still manages to make it feel like a fable).
As the aforementioned Leonard, a bipolar, overgrown child who is still reeling from the dissolution of his engagement and a subsequent, unsuccessful attempt at taking his own life, Joaquin Phoenix is brilliant. He's like a medicated, retarded Brando. I'm not aware if either Phoenix or Gray intended for Leonard to be so funny, but he is. Since this is a serious drama, it seems like a bad idea to flirt with outright comedy. Yet the constant injection of humor is what keeps the film from slobbering in its own sincerity (yet another contradiction that works). Though he lives at home with his parents and is lacking in style, Phoenix's Leonard nonetheless has a wounded charm and an off-kilter energy that draws these women to him.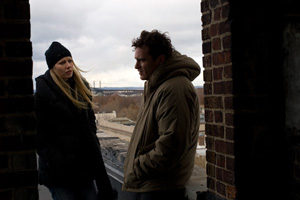 From Leonard's perspective, these women are polar opposites (from ours too, I suppose, but in a much different way). In a stroke of genius, Gray casts the luminously beautiful Vinessa Shaw as Sandra, the "safe" choice. Sandra is the daughter of a family friend and she appears to be Leonard's for the taking. But Leonard doesn't see Sandra. He's too distorted by the outside forces that are drawing them together: "our parents want this to happen;" "her dad wants to hire me;" "there is no mystery to this union." In other words, he sees everything but Sandra herself. A less attuned viewer might simply look at Shaw's face and think, "Hollywood fantasy!" But Gray wants to establish just how blurred Leonard's vision is. Shaw is an inspired piece of casting, and her sympathetic and warm portrayal provides the film with even more heart.
Then, there is the other lover. Michelle (Gwyneth Paltrow) is an absolute mess. She has been living in an apartment in Leonard's Brighton Beach building, paid for by her married-with-children attorney lover (Elias Koteas). This shaky set-up has begun to take its toll on her, which makes her dependence on Leonard all the more believable (and once again removes the "Hollywood fantasy" argument). With Michelle, as with Sandra, Gray does something atypical for such a typically two-dimensional character type. As selfish as Michelle is, and though she is without question taking advantage of Leonard in every possible way, her behavior doesn't feel outright evil. Credit Paltrow for this unexpected spin. She imbues Michelle with a feeling of trapped sadness that doesn't excuse her behavior, but it allows us to feel at least a tiny semblance of compassion for her. For someone who felt like the star had begun to outshine the actor, Paltrow's performance comes as a pleasant reminder that she can be very, very good at what she does.
In much the same way that the plausibility vs. implausibility factor will make or break the film for some viewers, there also exists a risky line between "movie land" and "real life." But here, Gray succeeds once again by tossing in tiny moments that seem like throwaway bits but in fact add to the reality of the world within the frame. The best example of this is when Leonard gives up on waiting for Michelle to escape the club. Disgusted with himself, he turns and makes the grand, dramatic gesture to hail a cab with the confidence of a hero in a classic Hollywood tale. But before one has the time to call Gray out for this ridiculous moment—there's no way in hell this guy would take a cab from the Meatpacking district back to Brighton Beach!—Gray shuts us up by having Leonard admit this very fact. Humiliated and mumbling to himself, Leonard slumps off towards the subway.
I'm just now realizing that I could probably write several thousand more words on Two Lovers, which I will come right out and say, as respectably and professionally as possible: I am head over heels in love with this movie! But I should probably wrap it up. One last point must be made, however. I am firmly convinced that if I had watched Two Lovers in my early twenties, I would have been left depressed by the ending, just like that poor girl in the Q&A. But instead, watching it as a thirty-something who can't express how happy he is to be removed from his emotionally tumultuous twenties (and, he should probably add, ecstatically in love himself), the ending flooded me with hope, albeit of the melancholy variety. For this particular viewer, Two Lovers is an unabashedly romantic refutation of youthful, burning, misguided, false love. Instead, it is a gorgeous celebration of love of an incomprehensibly richer, more rewarding kind.
— Michael Tully