(Three Monkeys is now available on DVD
through Zeitgeist Films. Visit the film's official page at the Zeitgeist website to watch a trailer and learn more.)
The idea of Turkish director Nuri Bilge Ceylan following up his masterly breakup drama Climates with what sounds like a much more standard film noir is a worrisome one. Would the more familiar tropes of the genre overpower Ceylan's increasingly singular vision? Would he succumb to the formula and deliver something disappointingly conventional? Yeah, right. Three Monkeys only reaffirms Ceylan's status as one of modern cinema's true giants. With this haunting study of a family who is unable to shake memories of its tragic past, Ceylan has crafted a supremely tense noir thriller that plays by its own riveting rules.
Servet (Ercan Kesal) is a politician on the eve of a big election. One night, while driving home, he kills a pedestrian and flees the scene. In order to protect himself, he bribes his driver, Eyup (Yavuz Bingol), to take the wrap. Eyup is promised a load of cash upon his release, as well as the assurance that his current salary will continue to go to Eyup's wife, Hacer (Hatice Aslan), and their son Ismail (Ahmet Rifat Sungar). Eyup accepts and is sentenced to a year. While he's on the inside, things happen between Hacer and Servet (this is a noir, after all). Upon Eyup's eventual release and return home, the secret is revealed and murderous actions are taken.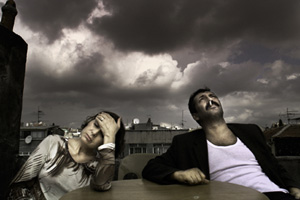 Sounds easy enough, right? Not so fast. Ceylan does something drastically different to distinguish his noir from most other films in the genre. Let's begin with that initial car accident. He doesn't show it. Let's next move on to the heated, passionate scenes of infidelity. He doesn't show us those either. Which brings us to the murderous climax, an event that also happens mysteriously off-screen. In lesser hands, this kind of conscious avoidance of action might seem pretentious and lead to a feeling of disappointment, but Ceylan uses it to his advantage. By bravely refusing to show us any of the "money" shots that have become noir staples, Ceylan builds even more palpably thick tension. More importantly, he does this to reflect the suspect, paranoid states-of-mind of his guilt-ridden characters.
In the way that light and shadow was used to great atmospheric effect in the earliest black-and-white noirs, Ceylan leans on modern technology to further enhance his story's troubled mood. Shooting in HD, he distorts color, making the interiors feel murkily fluorescent and stifling, whereas outside, everything is yellow, dry, and dehydrated. In this seaside town, there is no place of respite for Eyup, Ismail, and Hacer—especially not in their minds.
And here is where Ceylan turns Three Monkeys into more than just an intriguing tale of infidelity destroying a family. It becomes quite clear that this destruction had begun many years before, when Eyup and Hacer's second son died unexpectedly. Years later, the ghost of this child still lingers. Not just for them, but for Ismail as well. But he doesn't just linger. He still lives in that apartment, drifting from room to room, standing before, and placing his arm around, his still living family members, when they are alone in their rooms. The infrequency of these moments only adds to the shock of his ghostly existence, and it threatens to turn Three Monkeys into an outright horror film.
Though it appears that the situation with Servet is going to put the final nail in this family's coffin, Ceylan has a perhaps darker statement to make with Three Monkeys. They've been living like this for years, and they don't seem capable of, or willing to, break free from this prison. You can see it in their faces and actions. This is their fate. This is their life. As trains rumble past on the nearby track, as thunderclouds arrive to rain down upon them, they sit and mourn, alone in different rooms, for their dead child to return.
— Michael Tully