(The Window opens at the Film Forum on Wednesday, May 6th. Visit the film's official page at the Film Movement website to learn more and purchase a DVD.)
Typically, a film with a description similar to Carlos Sorin's The Window—an old man reflects upon his life as it comes to a slow, quiet close—results in an overly schmaltzy, cliché-ridden affair that makes viewers close their own eyes and pray for their own merciful death. The primary reason for this is that most directors are unable to realize that what works on the page does not always work on the screen (poorly executed flashbacks being the most offensive example of this). But it's also a problem inherent to cinema. Directors tend to rely on the medium's sturdiest elements—most notably, that sweeping, sentimental score—to bludgeon viewers into submission. These feature-length Hallmark commercials say nothing honest about life and death; they merely dupe us with false sentiment. With The Window, Sorin has abandoned these cheap tricks to deliver a sparse, simple tale that takes us to an infinitely more pure and graceful place.
Antonio (played tenderly by the acclaimed Uruguayan writer Antonio Larreta) is an 80-year-old writer whose days are coming to an end. Bedridden with a heart condition, Antonio's only connection to the outside world is by looking out the window into the vast country expanse. He's cared for by his devoted maids, Maria del Carmen (Maria del Carmen Giminez) and Emilse (the refreshingly innocent and shy Emilse Roldan). On this very important day, Antonio has awoken having dreamt of a memory that he thought he had forgotten: as a small child, a new babysitter arrived to watch over him as his parents danced downstairs. Antonio is anxiously awaiting the arrival of his estranged son, Pablo (Jorge Diez), who has become a famous concert pianist. As the day unfolds in a dreamy, summery haze, Antonio waits for his son to return.
The sparseness of The Window is best reflected in its run time: just over seventy minutes. While the film is bookended with flashbacks that were shot in a soft, fluttering black-and-white, Sorin refuses to insert past reflections into the film's present day narrative. One can pinpoint the moments that in another film would have dissolved into a lavishly production designed set piece featuring a charming, handsome young actor playing Antonio as a teenager. When two of these early instances—a close-up on two toy army figures, a slow zoom from the landscape onto the back of Antonio's head—did not, in fact, transport us to an artificially constructed past, I understood that Sorin had no intention of abusing this technique. Had he done so, The Window would have been twenty minutes longer and twenty times more ineffective.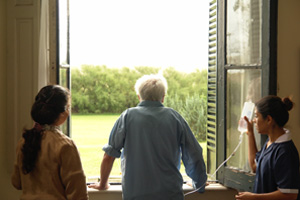 As for that sweeping, sentimental score, Sorin refuses to rely on that as well. In The Window, the house's silence sets the tone, reflecting the fragility of time as it relates to Antonio's waning state. When he stubbornly gets out of bed to take a walk in the fields, wind fills the soundtrack to create a more isolating sense of tension than strings or percussion ever could. Once again, Sorin embraces the glorious rule that less is more. Yet his approach is by no means minimal, in the same way that a short story isn't minimal. When done well, short stories can be more profound than a novel. The Window is a great short story.
In every single way, Sorin's direction is a lesson in the power of economy. After Antonio has been discovered in the field, he is returned to that quiet bedroom where time stands still. Sorin uses four shots to establish this: Antonio, looking up; the ceiling that he sees; the window, which is now only open a crack and brings a small shard of light to the otherwise darkening room; and, finally, the clock, which ticks languidly. We needn't see more in order to see the world as Antonio sees it, to feel it as he feels it. We are in that room with him. We are inside his dwindling skin.
The film culminates in Pablo's eventual arrival, and it is here where Sorin shows his truest maturity and sensitivity. In Hollywood's hands, this reunion would lead to a tear-smeared, overacted scene of emotional catharsis. In Sorin's bedroom, there is simply a quiet recognition, a toast over an aged bottle of champagne that Antonio is not even allowed to sip. Yet with this toast, an even more graceful catharsis has occurred. Antonio has seen his son. He has touched his hand. He can now let go.
— Michael Tully