(The New Year opens for a one-week theatrical run on Friday, July 30, 2010, at the reRun Gastropub Theater in NYC. Visit the film's official website to learn more.)
Brett Haley's The New Year is a modest little number in just about every way, from its meager budget (just under 10k) to its understated performances to its graceful handling of material that could have so easily devolved into maudlin made-for-TV schlock. Which is what makes it such a pleasant surprise. Why is it that so many young writer/directors feel a burning urge to amp up the drama and conflict in their stories to implausible degrees, producing work that shows filmmaking talent but lacks real world maturity? To his credit, Haley isn't interested in those stylistic and emotional pyrotechnics. He is more concerned with telling an honest story, trusting that his audiences will respond to the sincerity of his cause.
The story is driven by Sunny (Trieste Kelly Dunn), a smart, pretty young woman who puts higher education—and, in turn, her boundlessly bright future—on hold in order to return to her hometown of Pensacola, Florida, in order to take care of her ailing father (a wonderfully restrained Marc Peterson). Sunny is clearly destined for bigger and better things, yet she accepts her role as caretaker and part-time worker at a local bowling alley without bitching or moaning. Her relationship with her boyfriend Neal (Kevin Wheatley) is respectful, unflashy, without any overt friction. A reconnection with her high school rival, Isaac (Ryan Hunter), injects hints of actual passion into the proceedings, yet Haley once again keeps this conflict measured and believable. If you're looking for a violent love triangle showdown, you've come to the wrong theater.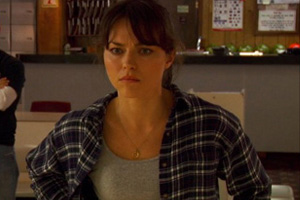 As effective as Haley's filmmaking craft is, The New Year belongs to Trieste Kelly Dunn, who delivers a performance that rightfully calls to mind Ashley Judd's star-making turn in Ruby in Paradise. Dunn doesn't overplay her character; instead, she imbues her with a quiet dignity that helps the audience to further appreciate her decision to put her life on hold in order to be with her father. Not many actual young people, especially those with such limitless futures, would accept this role with such grace, yet Sunny is different. Even when she slips up and commits a morally ambiguous act (kissing one boy while dating another? shame!), one can't help but admire her. This performance, combined with her appearance in Aaron Katz's Cold Weather, pretty much confirms Dunn's status as one of American independent cinema's brightest young actors. If these two roles don't directly lead to meatier parts in bigger productions, then aspiring actors everywhere might as well quit and take a job at their local bowling alley, because this is as good as calling cards get.
At the 2010 Sarasota Film Festival, where The New Year first screened publicly in April, it surprised everyone by walking away with the festival's Audience Award for Best Narrative Feature. It was a surprise because at large regional festivals like Sarasota, tiny movies never win this award (it usually goes to a more high profile picture with legitimate movie stars). But this wasn't an instance of a local film stealing the prize—it's set in Pensacola, after all. If anything, this overwhelmingly positive response proved that Haley's hunch was correct, that many viewers out there still want to watch movies about real people struggling to live real lives, doing as good as they can with what little they have. Though, having said that, maybe people were swayed for the typical reason. Maybe they did vote for the legitimate movie star on display, after all.
— Michael Tully