(Buy The Free Will at Amazon
and watch a scene from the film at the Benten Films website.)
Upstart American DVD imprint Benten Films' first foray into foreign cinema is an unforgettable one. Winner of the Silver Bear at the 2005 Berlin Film Festival, Matthias Glasner's utterly devastating The Free Will follows a sexual predator in his exhausting quest to smother the ghastly urges that torment him. This is European cinema at its most intellectually stimulating and emotionally depleting, which ventures into territory even the most demanding American indie would never dare go. But that's what makes it such an exciting addition to the Benten Films catalogue, as well as a must-see for aspiring filmmakers and viewers in this country (or anywhere, for that matter). Glasner and co-writer/star Jurgen Vogel have chosen this excruciating subject matter not to shock-and-stun their audience, but to bravely examine the human condition at its most knotty and conflicted.
Vogel doesn't just play Theo. He is Theo. In a gruesomely extended opening sequence that establishes Theo's condition with sickening real-time ferocity, Theo unleashes his fury on an innocent female bicyclist. The way that Vogel's camera frames Theo, hulking, backlit, and fuming at the mouth, he is more monster than human being. This unhinged beast has lost his capacity to think; replacing it is an animalistic desire to violate and brutalize a weaker female object. The fact that Glasner takes his time to establish just how vicious Theo can be is the first thing that lets viewers know they're in for a unique experience. Typically, if a director is about to focus on a character for two hours and forty minutes, a character he hopes an audience will feel some semblance of compassion for, the last thing he would do is painstakingly demonstrate just how evil this character can be. Glasner, on the other hand, wants us to watch one of these crimes in order to truly feel it, and, perhaps, to try to understand it. Whatever one's opinion of this film, the fact remains that these graphic situations aren't presented simply to brutalize and torment us. In that sense, The Free Will has more in common with Lukas Moodysson's Lilya 4-ever than something like Lars von Trier's Dancer in the Dark.
While The Free Will can best be described as a drama, at times it veers into outright suspense (and nearly unbearable suspense at that). Glasner accomplishes this feat without the use of a score or stylized photography and editing. This is one of his most impressive achievements. Every camera choice feels like the exact right one, whether it's capturing a close-up of Theo's pained face or a wide shot of him wandering the streets, whether the camera moves or remains static. When Theo's more primal urges gradually begin to take control over him, the natural silences and second-to-second atmosphere add even greater weight to the growing wave of anticipation and terror. It is at these moments when time stands still and that tension reaches its peak. As for the overall color palette itself, Glasner mutes the film to reflect Theo's isolated and disconnected point-of-view (note to readers: this isn't due to a poor DVD transfer; this was Glasner's intention).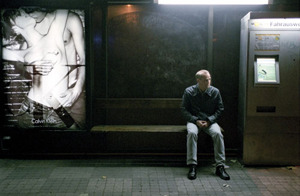 Throughout the film, as Theo makes his way through the outside world, he feels the peripheral, impending pressure of sexualized femininity everywhere he goes: in advertisements, in the giggling teenage girls on buses, in the women standing next to him wherever he happens to sit down. This is a dangerous concept that a lesser filmmaker might overdo to the point of annoyance, yet Glasner presents these situations subtly and naturally. The fact remains that our society is grotesquely over-sexualized. In a sense, Glasner doesn't have to stretch as far to make his rather obvious point, and so he wisely retreats and lets the scenery of the outside world make his point for him.
Length should never play into the appreciation or criticism of a motion picture; a film should be as long as it should be. Glasner understands that, and so he takes his time to follow Theo's slow path towards recovery in every excruciating detail (exercising, masturbating, working, wandering, wandering, wandering). This is an especially appropriate decision when it comes to the developing relationship between Theo and Nettie (Sabine Timoteo). By that point, we have been with Theo long enough to know just how difficult it is for him to proceed with some semblance of normalcy. And when things begin to go incredibly well, we wonder if maybe Theo has destroyed his inner monster forever. But even at its most hopeful moments, there is that lingering memory of the evil that was once there, which prevents both us, and Theo, from ever giving all the way in.
Like Lilya 4-ever, The Free Will is certain to leave viewers shaken and disturbed. And even if the film ends on a less than hopeful note, the mere fact that Glasner, Vogel, and their entire cast and crew have come together to produce such a genuinely devastating work of art should provide a jolt of positive adrenaline to everyone who watches it.
— Michael Tully