FATHER OF MY CHILDREN, THE
(This review of The Father of My Children first appeared on HTN contributor Tom Hall's blog, The Back Row Manifesto, on September 15, 2009, when the film screened at the Toronto International Film Festival. Starting on Friday, May 28, 2010, it will open in a limited theatrical release as well as through VOD. Visit the IFC Films website to learn more, and be sure to read our conversation with Mia Hansen-Løve if you haven't already.)
If you look at the recent history of the independent film business, the landscape is littered with the remnants of failed distribution and production companies, most of them small, all of them full of bright, passionate people willing to risk something of themselves to help bring movies to the screen. For most filmgoers, the absence or presence of films from companies like Wellspring, ThinkFilm and the like is, for the most part, irrelevant. As much as people like me follow the daily ins and outs of the independent film business, there are millions of others who simply check their local listings and just go and see whatever looks good. That doesn't change the fact that, without a community of passionate individuals who get great films made and seen, there would be no cinema for someone like me to love. And while the business has always had winners and losers, in the small world of independent cinema, the losses are felt more deeply, become more personal.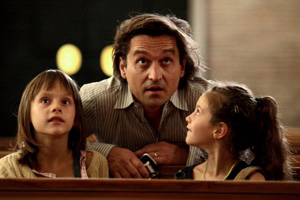 Mia Hansen-Løve's moving The Father of My Children is an elegy for those losses and a reminder of just how fragile the work of getting films made can be. Most cinematic representations of the film producer have been grotesques, but Hansen-Løve finds the nurturing heart of film production in the chaos of the offices of Moon Films, a small Parisian production company headed by Grégoire Canvel (Louis-Do de Lencquesaing), a chain smoking hustler fighting to maintain some semblance of balance between his rapidly failing business and his love for his wife and three beautiful daughters. Grégoire spends the first half of the film juggling his obligations until, after a series of funding disasters and production delays, the specter of overwhelming debt materializes and Grégoire takes drastic, unforeseen action to bring some finality to his inescapable situation. Suddenly, what was a tragicomic look at the business of filmmaking becomes the story of a family struggling to come to terms with the end of the line.
Hansen-Løve, who I first remember seeing as an actress, portraying the beautiful young student who inherits a Joseph Beuys painting in Olivier Assayas' Late August, Early September, has clearly learned a thing or two from her mentors. Her fluent, intimate camera and tonal mastery would be surprising and touching in a director twice her age. The Father Of My Children is Hansen-Løve's second feature (after All Is Forgiven, her 2007 debut), but her tenderness for her characters, from the dynamic and conflicted Grégoire to the multifaceted performance by Alice de Lencquesaing as his daughter Clémence, shows a complex insight into the hearts of her characters (not to mention a great skill for drawing restraint from her actors). Alice de Lencquesaing in particular has a deep capacity for feeling despite being such a young actress; her performance in the film builds perfectly upon her work in Assayas' Summer Hours and, to my mind, proves her to be a true artist I am looking forward to watching in the coming years.
Ultimately, as the story shifts from Grégoire's point-of-view to the multiple perspectives of his wife and daughters, The Father Of My Children flowers into a portrait of a family struggling to come to grips with tragedy and loss, all of it built around the dream of making movies. Hansen-Løve clearly understands the world of film production and knows that, by articulating the work itself, she pays honor to the men and women who believe in the power of cinema. As a portrait of the film production process, Hansen-Løve's film brings to mind the messy struggles of Assayas' Irma Vep, a company of hard-working, underpaid professionals working in cramped quarters and hoping to be a part of something special. Fortunately, in Hansen-Løve's hands, they have succeeded.
— Tom Hall