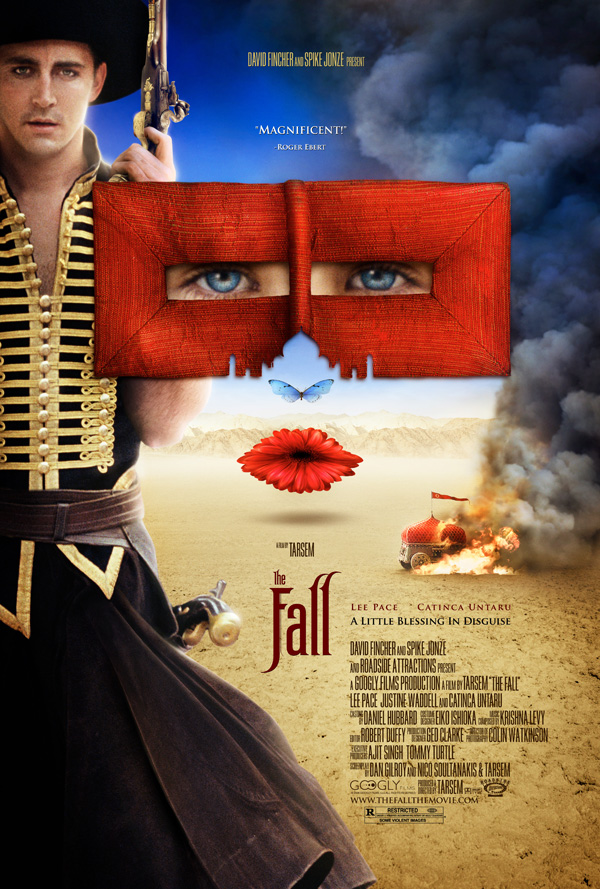 (The Fall is now available on DVD. Buy it at Amazon
and visit the film's official website to watch a trailer.)
How to wax ecstatic about Tarsem Singh's The Fall without merely praising the broad strokes of its imagery? Here is one of those rare films for which exegesis is rendered mostly moot by any one of its frames. One could, conversely, write a terrific essay on Tarsem's previous work, The Cell, simply because that film's high-concept Hollywood script was at such contentious odds with his rather wondrous execution of it. It was a turgid, overcomplicated riff on The Silence Of The Lambs from which the director managed, on a purely visual level, to extract something primally effective. Here, though, he's working from his own story, and one more suited to the scope of his lens; he understands that a film composed of one iconic image after another doesn't need anything more complex than archetypes to function as a satisfying yarn.
And so we have the tale of an unlikely group of heroes seeking vengeance against a villain, and hoping to rescue a princess in the process. This villain is evil, and that's all we're told and all we need to know; the heroes, by virtue of their very opposition to him, are good. And between the chief protagonist and the princess who almost seems an afterthought, we accept that true love exists—not because we're given any demonstrative display of such, but because that's just how it goes in a story like this. The functional mechanics of the story work precisely because they don't push past these most basic levels of narrative; it's a fairy tale composed of the oldest and barest of bones, and upon this skeleton Tarsem has draped an embarrassment of ocular riches, and these two modes compliment each other in frequently spectacular fashion.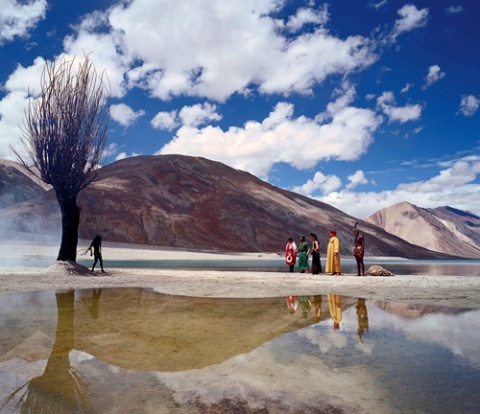 There are images here that are almost too rich to process, too vivid to comprehend, and so we're forced to gloss over them, to skip to the next one. What makes this mode of filmmaking unique is that its impact is based on the singularity of these images, rather than their juxtaposition. The film flows, it moves forward, it progresses from one shot to the next with grace and ease and, especially towards the end, no shortage of emotion; but those shots individually evoke such wonderment that they simultaneously exist on their own terms. In this respect, The Fall harkens all the way back to the early days of cinema, when a single flickering image of a moving train sent audiences bolting out of its way. Here we get a man swimming with an elephant, a tree in the desert exploding in flame, figures unfolding in bold and vibrant relief against landscapes that seem not of this earth (but, as the production notes assure us, very much are). That Tarsem's images represent the imaginary rather than the Barthian verisimilitude of the earliest zoetropes, makes no difference. This is a film whose power comes almost entirely from cinema's base capacity for representation.
The Fall is tied to silent cinema in another, more overt fashion: there's a primary narrative entirely separate from the fairy tale, in which a paralyzed stunt man (Lee Pace) makes friends with a little girl named Alexandria (Catinka Untaru) convalescing at the same Southern California hospital. It is he who spins this parallel fable, populated, Wizard Of Oz-style, with the fanciful equivalents of their hospital compatriots, and constructed with an ulterior motive that isn't too hard to figure out but which manages to sneak up and surprise us nonetheless. The finale, in which the two storylines tragically dovetail, is unexpectedly wrenching. The image of birds fluttering from a dying man's screaming mouth is one I'll never forget, and it is matched squarely by Alexandria's reaction to it.
Much has been made of young Catinka Untaru's performance, and indeed, it's the one aspect of the film that is more wondrous than the visuals. As the story goes, it's not a performance at all; she didn't know she was acting, and was merely responding to what everyone else was doing in the scene. She brings a vitality, a sense of unpredictability, a roughness that is a welcome counter to the gilded prosceniums she moves through. And then, at the very end, Tarsem gives the entire film over to her. As a montage of famous silent film clips unroll on screen, we hear Alexandria describing them ecstatically, tying them into the story of a movie she didn't know was a movie, trying to find the words in a language she doesn't even speak to explain what has happened and is happening and will happen hence, capturing in her childish exuberance just what makes movies so magical in the first place. It's a bold move on Tarsem's part, to tie his film so steadfastly to the history of the motion picture, to turn it into a love letter to cinema at large; but what doesn't hold up in theory melts all doubts once it's up there on the big screen, filling that space, turning this torrent of grandiloquent imagery into a celebration of the very means by which it's been brought to life.
— David Lowery