(After a successful festival run, The Exploding Girl was picked up for distribution by Oscilloscope Laboratories and is opening in New York City on March 12, 2010. Visit Bradley Rust Gray's official website to learn more. Note: This review was first published during its Berlinale/Tribeca Film Festival run in the spring of '09.)
What gets me most excited, cinematically speaking, is not just the experience of seeing something new, but engaging with a story or character in a way that is unique to the medium of cinema. I think a few decades ago, when the act of making a film was an achievement in and of itself, the group of young filmmakers currently lumped together as mumblecore would have instead gone into playwriting. Before El Mariachi, it actually was cheaper to stage a play in a small off-off-Broadway basement theater than try to get the money for a film camera and crew. For example, Andrew Bujalski's Beeswax and Lynn Shelton's Humpday both have interesting dialogue but the naturalistic camera does absolutely nothing to draw out the subtext buried in the language. They could just as well be stage plays since, for most of these filmmakers, image is an afterthought. In The Exploding Girl, however, our viewing experience is controlled through writer/director Bradley Rust Gray's framing, lighting, sound design, and editing. Rather than solely through dialogue and acting, it's the moments between the mumble and chatter where the drama of The Exploding Girl is located. Unlike most mumblecore films, this is a visual experience, conveyed through a camera perspective that is similar to Hou Hsiao-hsien's 'invisible observer' perspective, which allows the characters' state of instability to resonate so strongly. The Exploding Girl's drama is centered in those awkward off-balance moments fully because the filmmaker is confident enough to stretch beyond naturalism and explore the unspoken through oblique camera angles, foregrounded sound design, as well as the skillful, articulate staging of actors.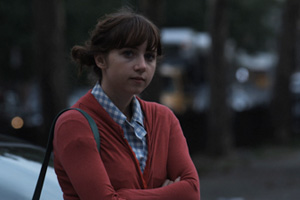 Zoe Kazan, who powerfully played the one night stand secretary in the tepid Oscar fodder Revolutionary Road, here stars as Ivy, a 20-something college student returned home to Manhattan for spring break. She has to cope with occasional bouts of epilepsy, and a distant, unseen boyfriend who doesn't seem able to articulate his growing disinterest in their relationship. Meanwhile, her longtime childhood friend Al (a great Mark Rendall) is trying to find the words that will move their friendship into something other than casual. The review in Variety—or, as I prefer to call it, Hollywood Philistine Review Weekly—states, "Almost nothing happens in the first half-hour of The Exploding Girl, and then, suddenly, nothing much else happens." Unless you are watching the film through utterly simplistic eyes, it would be hard to miss the pain of these young people as they fumble to first off clarify what they are feeling and second off to find the words to capture those feelings, let alone find the courage to say it out loud. Like life, events happen with somewhat random consequences and import. Rarely—except in plots that are contrived in keeping with ancient Shakesperean era dramatic rules—do real life events relate to one another in a logical cause and effect pattern. Life's moments tend to build in a slow, incremental, often circular rhythm that may be occasionally glimpsed but is rarely fully revealed. The Exploding Girl throws these young people into that actual chaos of life unknown, in a city that is omnipresent. The result is a film in which we experience with them, firsthand, the pains of trying to find your way as a young adult.
The drama of the film is conveyed through the director's use of cinematic elements to convey these unarticulated feelings of instability. Often scenes are staged in the middle of traffic islands, cars wizzing by on both sides as the long lens captures them while they choose the right moment to dart across an avenue and through traffic cones marking yet another street in the midst of modern New York City's de/re-construction. The sound design brings the clanging din of the city to the forefront, sometimes blocking the characters from actually hearing one another. The distant observer camera peeks around fire hydrants and bushes in the foreground as our characters attempt to find a few moments of solitude; the long lens perspective echoes the fenced in feeling we get when we inhabit crowded streets in which there is no depth of field beyond the next traffic light. It's that lack of a distant horizon that makes us urban dwellers often feel so boxed in and it's the reason why the rooftop is a perfect place for these characters to finally reach a cathartic moment of emotional release. The careful use of staging in this manner is what allows the invisible observer perspective to work so effectively. We feel we are a peeping tom with a somewhat omniscient point-of-view, and yet we don't feel superior to them.
The Exploding Girl is a completely realistic, as opposed to naturalistic, portrayal of a specific moment in the transition from youth to adulthood. By film's end, still unable to articulate confused and conflicting emotions, destination unknown, these heroes manage the courage to carry on. To those who have been there, the film will be experienced as a sort of psychic documentary.
— Mike S. Ryan