THAT EVENING SUN
Showdown At Twilight
Leave a Reply
(After a wildly successful festival run, That Evening Sun is being distributed theatrically by Dogwood Entertainment. It opens in New York City on Friday, November 6th, 2009, followed by Los Angeles on Friday, November 20th. Visit the film's official website to watch the trailer and learn more.)
I hate playing the elevation-by-degradation game, but in this case, it has to be done. It makes me burn that Scott Teems' That Evening Sun will most likely receive a fraction of the notice (box office and otherwise) that Clint Eastwood's Gran Torino got. I know, I know, Eastwood is an American legend that has been directing films for almost forty years. So then why does Gran Torino feel like the embarrassingly shoddy work of a small-town rookie, filled with stereotypical, wooden performances that rival a laughably bad student film? If Gran Torino was Eastwood's entry into the local 48-Hour Film Fest in Detroit, then maybe. But as a major motion picture that captured the fervor of critics and general audiences everywhere? No way. On the other hand, witness a motion picture like That Evening Sun, in which the first-time feature director Teems takes a similarly classic approach to his story but makes sure every element at his disposal has been handled with elegance and grace. This certainly doesn't feel like a first feature. That Evening Sun makes Gran Torino look like the joke that it is.
In much the same way that Richard Farnsworth received a tender gift from David Lynch in the form of his swan song, The Straight Story, Teems gives the 83-year-old Hal Holbrook a chance to shine in his own fading twilight. Holbrook is Abner Meecham, an elderly widower in Tennessee who was placed into a retirement home by his son, Paul (producer Walton Goggins), after he hurt himself working alone on his farm. When the film begins, Abner is ready to bust out of the facility and return home, where he belongs. But when he gets there, his house has been occupied by the beer-swilling redneck Lonzo Choat (producer Ray McKinnon) and his wife and daughter (Carrie Preston and Mia Wasikowska). Though Paul leased the farmhouse to Lonzo, who has the paperwork to prove it, Abner won't accept this transaction. But after a lifetime of being rejected, Lonzo won't budge. Refusing to abandon the farm he worked his whole life to build, Abner moves into the abandoned tenant house out front. The more firmly he stands his ground, the more furious Lonzo becomes, sparking a battle that threatens to become deadly.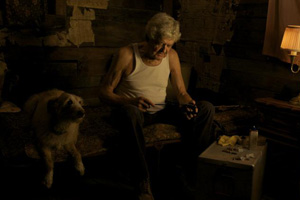 Teems adapted his screenplay from the short story I Hate To See That Evening Sun Go Down by acclaimed Tennessee author William Gay. Though he wasn't born and raised on a farm, Teems is from the South, and his commitment to the authenticity of Southern life is evident in every single frame of this beautifully wrought film. One of his more impressive feats is how he and McKinnon manage to turn Lonzo, an otherwise two-dimensional villain, into a living, breathing soul. For anyone who's had the displeasure of encountering a man such as Lonzo (I have had the misfortune of meeting many), McKinnon's performance will ring especially true.
Lonzo isn't the only force intent on sweeping Abner under the rug. At night, Abner dreams of his wife, who died unexpectedly before he was able to say goodbye. In his waking hours, he must contend with his thankless son, who wants to send him back to that retirement home under the auspices of his waning health. Abner simply sees this as a sign of Paul's greed and disloyalty. The only thing that makes him feel at home is his home, yet for some cruel reason, even that has slipped out of his grasp.
There are countless ways in which That Evening Sun provides a quiet jolt of refreshment, but they all go back to one thing: it's obvious that every single decision in this production was made with the utmost care. Most recent low-budget cinema has adopted a more spontaneous, haphazard style that aims for a docu-like realism but rings false in its own lazy way. Here, we are connected to an earlier era, perhaps, but this film is a pleasant reminder that, if done well, that era is still living and breathing with steady force. From Teems' uncluttered screenplay, to Michael Penn's gentle, carefully placed score, to Rodney Taylor's restrained cinematography, to the honest performances across the board, That Evening Sun is a very fine lesson in how to make more with less. When Teems does allow Taylor's camera to move—most memorably in one extended mid-film shot that is an act of subtle bravura—it becomes all the more effective. With that shot, Teems doesn't just remind us of where we are and why this fight is so important to Abner. He lets us know that he has tricks up his sleeve, too. He just knows when to use them.
— Michael Tully
Leave a Reply