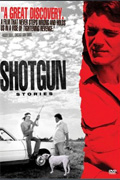 (You can—and should—buy Shotgun Stories at Amazon
. Visit the film's official website to watch the trailer.)
Jeff Nichols' Shotgun Stories is one of those pitch-perfect debuts that don't come around very often. In telling this universal tale with a distinctly Southern air, Nichols demonstrates that he has been weaned on classical drama—both in literature and in cinema—yet he updates his seemingly familiar scenario with an ingeniously modern twist. In doing so, he has delivered an anti-revenge soliloquy that reverberates and lingers. Watching Shotgun Stories is to discover an accomplished new voice in American cinema, one that has incorporated vital elements from the past to tell a story that is firmly entrenched in the present.
Nichols sets his tone immediately, as the film's foreboding theme (compliments of Ben Nichols and his band Lucero) accompanies lush widescreen establishing shots of a small American town. That town is located in the same area of Southeast Arkansas where Nichols was born and raised, a fact that is evident in every single frame of Shotgun Stories. From the lived in locations to the tenderly photographed landscape to the way the characters speak and interact, this movie doesn't have one false note in it. Whereas most Hollywood filmmakers miss the natural nuances and stunted rhythms of the South, instead delivering superficial representations of it, Nichols brings an air of authenticity to this world, a world that is swimming in his own bloodstream.
The familiar part of the story is quite simple. The sons of two families are feuding. But here comes the ingenious part: these sons are brothers. But that's not all. What makes Nichols' twist feel utterly American, and particularly Southern, is that they are half-brothers, born of the same father but not of the same mother. When he was a hard drinking, mean, unloving parent, this man (who Nichols, quite fittingly, never shows us) was too absent to give his children actual names, so they became Son (Michael Shannon), Kid (Barlow Jacobs), and Boy (Douglas Ligon). But then came modern American redemption in the form of sobriety, religion, and a new family. With his new wife, he had four more sons, who grew up to hate the sons of his previous family as much as they hate them. This set-up is where Nichols' film separates itself from other small town family feuds. For Shotgun Stories is a literal family feud, albeit a far more complicated one.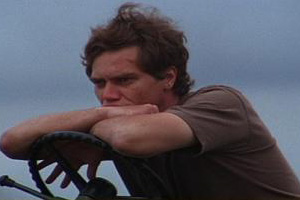 Family bonds can be ugly and twisted, and Nichols takes his time in establishing the strains placed on the sons left behind. The care with which he builds this situation doesn't just accurately reflect the slow living of that world; it adds gravity to the conflict. But more than that, by allowing us to see these characters at their jobs, Nichols shows us the socioeconomic strain of their situations as well. Life is hard for these men; we see this in every single thing that they do. Adam Stone's quietly resplendent widescreen cinematography further emphasizes the isolation that each of these characters feel. The images of this seemingly endless Southern landscape don't hint at a wider, more open-ended world just beyond the horizon. Instead, they reaffirm the presence of the internal walls that stifle these characters and keep them stuck in the only town they'll ever know. Stone, who shot second unit footage for David Gordon Green (a co-producer of this film) on George Washington and All the Real Girls, and who also shot Craig Zobel's Great World of Sound, has an exceptional ability to shoot images that belie his films' ultra-low budgets.
Michael Shannon is one of the finest young actors working in America today. He brings a quiet, yet ferocious, intensity to his roles, which simultaneously magnetizes and unsettles. Nichols wrote the role of Son for Shannon specifically, and he doesn't disappoint. Son is a picture of simmering fury; a man who has a clear sense of morality but who also knows that, in some situations, morality isn't good enough. He is well aware that the escalating feud is only going to get worse, and while he clearly sees the futility in it, he also knows that it's too late to turn back. Watching Son struggle to contain his rising anger provides as much drama as the confrontations between brothers themselves. Shannon's performance is a subtle tour-de-force.
With Shotgun Stories, Jeff Nichols injects independent cinema with a much-needed dose of good, old-fashioned storytelling. But this isn't merely a throwback to the past. Shunning the tools that have begun to permeate low-budget filmmaking (digital video, handheld cinematography, fast cutting), Nichols has crafted a timeless debut that might very well be a modern American classic.
— Michael Tully