(Redland is distributed by Zyzak Film Company. After playing at several festivals in 2009, it opened theatrically at Laemmle's Sunset 5 in Los Angeles on Friday, March 11, 2011. See here for a list of future showings. NOTE: This review was first published on March 17, 2011, as a "Hammer to Nail Pick of the Week" at the Filmmaker Magazine blog.)
Though the influence of its cinematic forebears is readily apparent, nary a film comes to mind whose approach is as singularly visual as Asiel Norton's Redland. Words prove woefully insufficient in conveying its imagistic intensity, but a few descriptions nonetheless come to mind: an aged photograph come to life, key aspects of which are out of focus or otherwise difficult to discern; a visual tone poem saturated in golden light from the seemingly alien sun hovering over it. Complemented by ruminative voiceovers that serve mostly as further reminders of words' inability to express what images so easily can, this light dominates tonally as well as visually. And though they lean into the sun, Norton's characters aren't basking in its glow so much as avoiding the innate darkness contained within: Redland is defined by its light, but it's also painfully aware of its shadow.
Fragmented yet fluid, Norton's film is more a collage of sights, sounds, and (to a much lesser extent) events than it is a linear narrative; early scenes in particular employ an almost constant use of montage in telling the story of a young girl named Mary-Anne hiding a forbidden affair from her family in Depression-era Northern California. Even after the first act, however, the main action of Mary-Anne's brother, father, and lover on a trek through the woods in search of elk is interspersed with flashbacks and cuts back to Mary-Anne at home. Norton presents his characters — which, aside from those just mentioned, consist solely of Mary-Anne's mother and younger brother — more as sketches than portraits. Dialogue is sparse, interactions brief. Given the accompanying (which is to say, deliberately meandering) narrative, it sometimes seems as though Norton is toeing a fine line between style and substance, but a more accurate assessment might be that the film finds its meaning through its evocative presentation. The two are inextricably linked; one cannot exist without the other, and Redland's mise-en-scène is as sun-drenched and ambient as it is because a family so wholly bound to the soil as this one can only flourish when the land itself does. They live off that land, under that sun, and are subject to the beauty and cruelty of both in equal measure.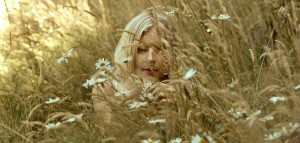 Norton's camera occasionally makes its way indoors and, when it does, the otherwise-golden light takes on a reddish tint. Perhaps this is a mere visual trick — there but not, only holding what significance the viewer projects onto it—but more likely it seems an almost foreboding nod toward Mary-Anne's tenuous relationship with her family. Told "the Devil made her" by her prayer-leading mother (Norton often evokes the Devil in much the same way he reminds us of the darkness: by focusing on its opposite) and most often met by silence from her father, she's a stranger in her own home. Indeed, Mary-Anne is more often seen nestling a chicken under her arms and even bringing it under the covers with her than interacting with her siblings or parents in any meaningful way. (That a birth-related trauma is the film's starting-point and a chicken's primary utility on a farm is its ability to lay eggs lends these moments a special poignancy.) Much like the facility between apparent visuals and latent meaning, Redland presents sex, life, and death (though not necessarily in that order) as a continuous cycle—each flows into the other until they're nearly indistinguishable from one another.
If Norton isn't quite elegiac in his approach, it's because the time and place he depicts doesn't particularly seem worth mourning. The land is harsh and largely unfruitful, the family bonds a matter of survival rather than love and affection. In this way, Mary-Anne and her kin are linked to each other just as they are to the earth, the key difference being that the land is indifferent to their presence rather than dependent upon it—they need it, but it certainly doesn't need them. What's more, there's no sign of the goings-on ending anytime soon (as there so often are in films of this sort): these characters are very much in the middle of an era that only hindsight and history tell us isn't as all-encompassing and timeless as Norton so often makes it seem.
— Michael Nordine