(Distributed by Film Movement, Munyurangabo opens at Anthology Film Archives on Friday, May 29th, 2009. For those not in New York City, it is already available on DVD to Film Movement subscribers and will be released to the general public on October 6th. Visit the film's official website to learn more.)
With his powerful debut feature Munyuragabo, Lee Isaac Chung has taken a series of improbable cultural dilemmas and spun them into a new, transcendent moment for independent cinema. Filmed in Rwanda by the Brooklyn-based director, Munyurangabo confronts the aftermath of that nation's genocidal past through the visual power of cinematic storytelling. But this is no simple morality tale. The first film ever made in the Kinyarwanda language, it represents a new cinematic intersection where American independent film embraces the world.
Munyurangabo is the story of two friends, Ngabo (Josef "Jeff" Rutagengwa), a Tutsi, and Sangwa (Eric Ndorunkundiye), a Hutu, as they set out on foot from the streets of Kigali and into the Rwandan countryside with an ominous purpose: the boys intend to find and murder the man who killed Ngabo's father during the genocide. As they make their way toward their intended target, the boys stop at Sangwa's family home and are immediately scrutinized; when Sangwa's parents discover a machete among Ngabo's personal effects, the weight of their ancient distrust rises to the surface, forcing the boys back on the road.
Ngabo, having suffered a series of perceived slights and delays at the hands of Sangwa's Hutu family, rejects Sangwa and expels him from the journey. Suddenly alone, Ngabo finds his way to a small village where he loads up on supplies to see out the remainder of his journey. Once again, the sight of his machete betrays him and a local poet (Edouard B. Uwayo, Rwanda's poet laureate), sensing the terrible prospect of impending violence, seizes the opportunity to recite a poem, Liberation Is A Journey, which he has composed for a national holiday. Chung has Uwayo deliver the poem directly to the camera in a staggering, one-take close-up that serves to both contextualize the reactionary horror of Ngabo's mission and implicate the audience in Rwanda's future. Uwayo's unflinching stare, his dream of beautiful day rising from the ashes of a bloody history, makes each of us responsible for seeing that it becomes so.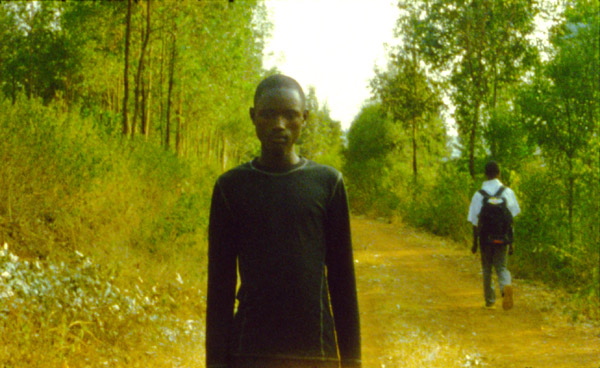 Refusing to be chastened, Ngabo continues until he discovers his own ancestral home, destroyed by fire and abandoned; the sight of his past in ruins only serves to redouble his desire to have vengeance. And then, without warning, transcendence, that most elusive of cinematic emotions, arrives in the film's wrenching finale; sitting in a golden field straight out of Days Of Heaven, Ngabo meets his father's ghost and recovers a portion of what had been missing in his own life, nothing less than an understanding of death itself.
The role of family, both adopted and literal, is central to the drama in Munyurangabo; Sangwa's exile at the hands of his parents and his best friend are rendered as equal to Ngabo's loss of a father. But as the film abandons Sangwa to exile, it is Ngabo and his bloody intentions that propel the film forward. Chung, who worked closely with his actors to develop the film's narrative, deftly allows the weight of these losses to balance against the forward momentum of his character's lives. As the boys move toward an understanding of the world around them, their relationship to their own history, from the familial to the national, grows more and more complicated with each and every physical step they take.
It is the grace and poetry of Chung's film that is most unexpected; The mere suggestion of an American filmmaker working with first-time actors in Rwanda is sure to inspire concerns about how to fit Munyurangabo into pre-conceived categories of what independent cinema should be. And yet, while Chung's internationalism looks forward to a broader, more inclusive understanding of independent filmmaking, his aesthetic choices also tether the film to our cinematic past; Shot on film, Munyurangabo has a physical texture and that recalls both the cinema of Malian Director Souleymane Cissé and the early films of American director David Gordon Green. The decision to use film allows Chung to straddle the line between time and place, between history and the here and now, in a way that the immediacy and documentary quality of video might otherwise undermine.
If anything, Munyurangabo proves that the past is unable to contain the complexity of today's global reality. American cinema is changing, adapting to the international concerns of an increasingly connected world. These connections are not merely virtual and introspective, but physical, working relationships built upon creative collaboration across the artificial boundaries of nationality and culture. Munyurangabo is a beautiful, haunting reminder that by opening its creative arms to the world, American cinema has the power to transform it.
— Tom Hall