MISSISSIPPI DAMNED
A Dash of Negro Miserablism
(After world premiering at Slamdance, Mississippi Damned has been a steady player on the 2009 festival circuit. It just screened at NewFest, and will have its Los Angeles premiere at the Outfest Film Festival on Tuesday, July 14th, at 8pm, before screening at Frameline33 on June 25th at 9:15PM at the Castro Theater. Visit the film's official website to learn more.)
A firm, authentic and not altogether unappealing slice of Negro Miserabalism is a tough thing to find in the cinema—it's not like American blacks have ever had their Mike Leigh. Hard, honest black-themed dramas, ones that couldn't care less about fetishizing the physical spectre of white racism, as well as the broad, stereotype-fueled hijinks of holiday or workplace comedies, are a dying species, but that assertion assumes that at one point they weren't. In fact, this has always been a malady-ridden but resilient sub-genre of Black American Cinema, these movies about corners of a rarely represented black experience that are more about human need and desire than ideology and "identity." The ones that do surface in the studio system are non-existent and those that emerge from the major indies usually star Don Cheadle as some almost historically significant figure, or have the easy-to-swallow, "sisters looking out for sisters against their no good men" coda of Terry McMillan novels.
So it is with great pleasure that one gets the chance, via Tina Mabry's revelatory Slamdance 09' competition entry Mississippi Damned, to experience a rundown, backwards Mississippi community filled with unrepresented but omnipresent racism, misogyny, alcoholism, intra-communal homophobia, man-on-boy and boy-on-younger-girl sexual abuse, diet-related illnesses, and many other manifestations of malaise engendered by dead-end, working class, southern black life just above the poverty line. That this is also a place where one will find great acts of love and sacrifice, glimpses of beauty and tenderness, moments of ribald humor and hard luck smiles, is an obvious truism and shouldn't be surprising. Unlike some recently lauded depictions of humorless, victimized southern blacks on the Mississippi Delta, the characters in Mississippi Damned feel like fully realized individuals capable of all the facets of the human character and more than willing to yuck it up as tragedy sits perched all around them. This is a story that, from its performances to its art direction, from its elegantly lit, color-saturated cinematography to its keen ear for Southern Negro dialect, immerses its audience in a credible and stirring depiction of the type of place most American moviegoers are probably more familiar with than they think, but rarely get to see on screen.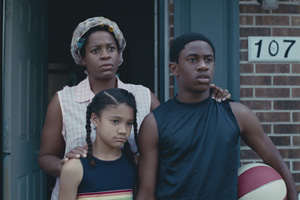 Mississippi Damned is a narrative of great complexity, one that takes places over two time periods (the mid '80s and the late '90s) with over a dozen intimately intertwined characters involved in key relationships; it's the type of low key ensemble drama that doesn't often get made in any milieu these days, but it's also fairly recap proof, at least in the pop criticism format. I'll spare you the details beyond sharing that it recounts the story of five couples, their progeny and extended families, and meditates on the attempts of the younger generation to escape and transcend the prejudices and failings of their families and their own victimization, not at the hands of the racist straw men but of those who are sworn to love and protect them. While it is not an easy pill to swallow and it also contains some elements that just narrowly avoid cliché—such as the second half's tension relying primarily on whether the attractive young yellow girl will escape to college (salvation! I feel the whole "some birds aren't meant to be caged" Maya Angelou thing coming on already)—it's hard to miss just how primal and keenly felt the entire enterprise is. This is a story someone desperately had to tell.
That someone—Tupelo native Mabry—making her feature-length debut, has ostensibly based her film on a story that in fact may be the narrative of her own path out of this particular dead-end corner of Mississippi. With the help of ace DP Bradford Young, whose reputation is on the rise thanks to his stunning work here, Mabry has created a first of its kind depiction of black semi-rural, semi-suburban working class life in all its myriad amusements and ambiguities, gazing upon a community of middle-aged characters and their young, soon-to-be baggage-ridden children with a keen sense of each character's interrelation to the whole.
I'm sure for the Sundance programmers, tokenism being what it is, it was a near impossibility to program two downer African-American movies in the same year (oh, Precious, which I've yet to see) and two set in Mississippi in consecutive years. But, in this humble reviewer's opinion, at least in the latter case, they chose the wrong one. While everyone ballyhooed about Ballast last year, the only thing that rung true for me in that film was the director's belief in his own talent, but just about everything else had my bullshit detector going off. Ballast is a closed system, its long take, diagetic sound only style, borrowed from any number of films on the European fest circuit. That style isn't so ill-suited to black stories; it's just that it feels unnaturally imposed on those particular people, who find themselves in a situation so grim that the film doesn't know how to treat it other than with a stiff upper lip while ignoring the comedic resilience blacks from across the diaspora have often drawn strength from. Just like Lance Hammer's script, it has a style that's better at suggesting meaning than actually finding it.
With Hollywood's brain-numbing, well-financed products dominating American cinema and smothering specialty films that represent common black themes (not to mention the specialty distributors' ignorance about how to reach them), Mississippi Damned will be hard pressed to find an audience among the folks it depicts, but here's hoping that it does.
— Brandon Harris
3 Responses to "MISSISSIPPI DAMNED"
Anonymous Says:
February 23rd, 2011 at 8:28 pm

WOW is all I can say about this movie. It definitely opens up your eyes to different perspectives on people and shows you how many people live. I find this movie superbly written and directed and I can't wait to watch it again this Friday the 25th on Showtime. Another great part about the movie is that it's going to be played in HD. I work and subscribe to DISH Network and I am using the HD Free for Life promotion so I get to watch this movie and all other movies that comes on Showtime in the best quality possible and the best thing about it is I will never pay another penny for it. DISH offers HD Free for Life on their lowest package which is the America's Top 120 and DISH still offers the most HD channels out of any of the competitors. I always recommend DISH Network and I am inviting anyone who comes across this post to explore the endless possibilities with DISH Network and experience a value unheard of by any other TV provider!

*Danielle

Brandi Says:
June 14th, 2019 at 12:32 pm

So what did you like about it…?

Latoya Graham Says:
November 8th, 2019 at 6:28 am

I thought it was a good movie.The part about that man molesting Sammy was the worst.Who was this bastard? Then he did it again. His mind was so messed up.Then he did it to her. His mother wasn't shit.
Leave a Reply