FLOODING WITH LOVE FOR THE KID
(Flooding With Love For The Kid opens at Anthology Film Archives on Friday, January 8, 2010. Visit the film's Facebook page to learn more.)
David Cronenberg once said that as long as you have good sound, movie audiences can be compelled to watch anything. Zachary Oberzan's Flooding With Love For the Kid, a one man, one apartment, one DV camera reinterpretation of David Morrell's novel First Blood, proves Mr. Cronenberg's axiom true once and for all. Film is a plastic medium, but it's always easier to suspend our disbelief if the sets and background have some level of authenticity. Yet in Flooding with Love for the Kid, while we know we are not in a jungle but an economy apartment, Mr. Oberzan's vision—one that is not entirely camp driven but is sustained by careful performances and framing, inventive use of household approximations for the tools of battle, and, most of all, a gloriously constructed soundtrack—truly transports you in a way that few indie films of any budget do.
Oberzan's version, often harkening back to Morrell's source material rather than the 1982 Sylvester Stallone vehicle that launched the big-screen Rambo franchise, is not the Reagan era paean to militarism that the film series ultimately evolved into in its sequels (and began to in First Blood's third act). It is a more delicate character study about a pair of damaged ex-warriors—John Rambo and his nemesis, sheriff Will Teasle, an emasculated Korean war vet—who refuse to yield. Oberzan inhabits every frame of this take on Morrell's post-Vietnam narrative about a drifting Vet who, while wandering through a small town in the pacific northwest to visit a fellow comrade in arms, is tormented by some sadistic redneck cops who mistake him, with his longish hair, for a hippie. When he escapes and begins doing great bodily harm to any law enforcement officer who stands in his way, only his former commander, Colonel Sam Trautman, can talk him down.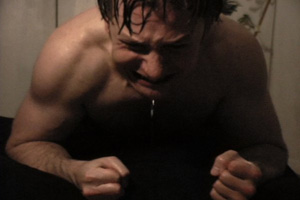 The low-fi approach here goes beyond the tongue-in-cheek, pop culture campiness of Be Kind Rewind's "sweded" scenes from '80s actioners. Oberzan crafts compelling individuals without even seeming to try very hard; a fake moustache here, a quivering jaw and arcane delivery there, but these performances, which the director/star first worked out in his off-off-Broadway one man show Rambo Solo, sing with visceral moments that, given the circumstances, shouldn't have such truthful gravitas. One gets to thinking, especially during its droning passages of exposition, that there's no way this is actually going to work over the course of a feature length film, but as its narrative encounters those action scenes that one could assume would be most hampered by the scarcity of Mr. Oberzan's resources, the film really picks up steam on the back of his absolutely enthralling characterizations and wily use of household items, reinforced by all too imaginative sound, as props.
You have to respect Zachary Oberzan's ingenuity. I could be wrong, but I don't think anyone who dreams as a child of becoming a filmmaker sets out to make their feature film debut for $100. Or adapt it from a novel for which they do not hold an ancillary rights option of any kind and which has already spawned a popular, 30-year-old film. Did Mr. Oberzan, who plays every character in his unauthorized adaptation of Morrell's novel, have a profound lapse in sanity before taking on this project? I don't know, but I can say, having glimpsed his unbelievably entertaining film, one that he shot in his apartment with toasters for radios and Christmas tree parts for jungle foliage, that he made the right choice.
— Brandon Harris