I'M FINE (THANKS FOR ASKING)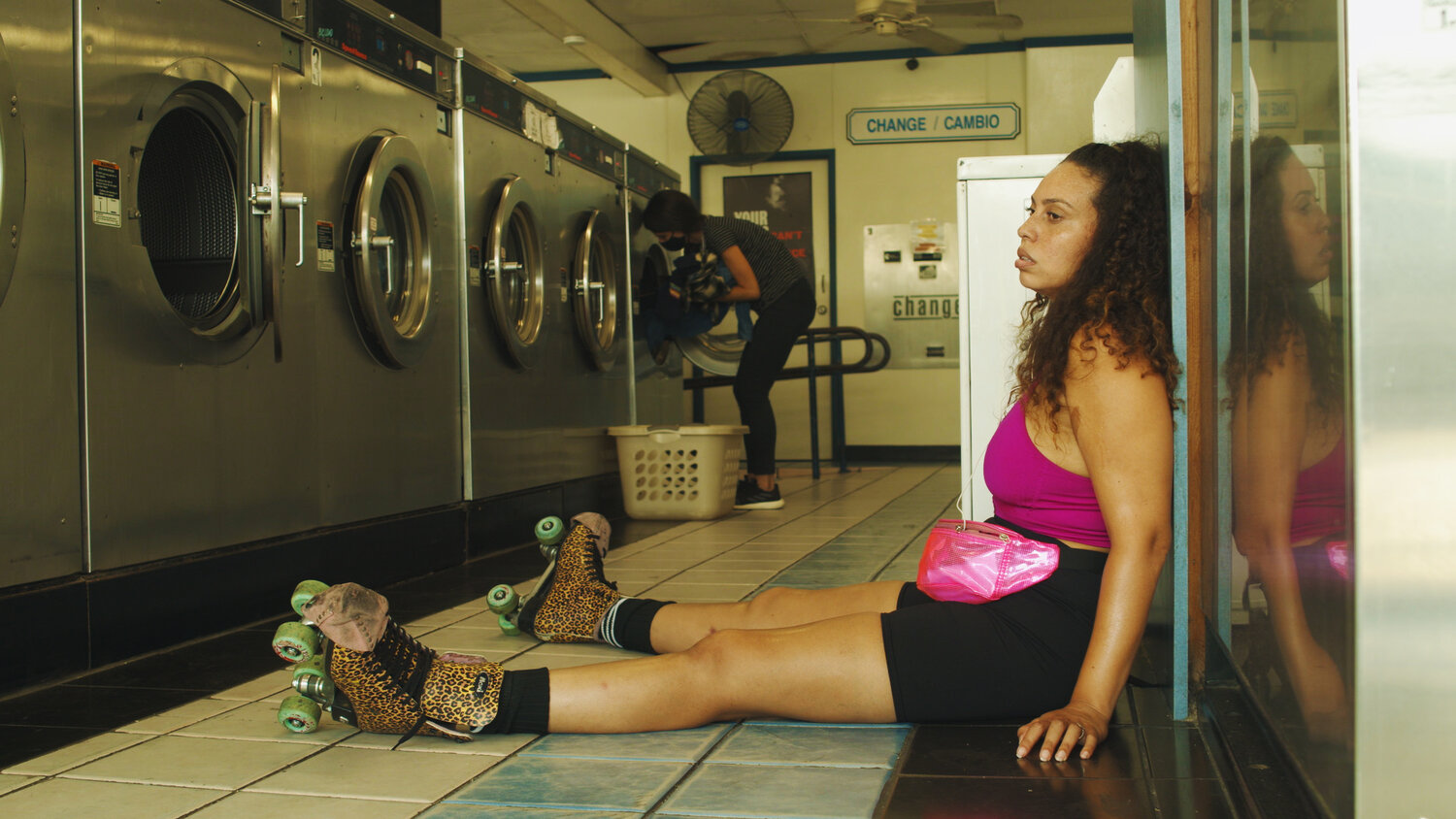 (The 2021 SXSW Film Festival kicks off March 16 and runs through the 18th, all online. Hammer to Nail has tons of coverage coming your way so stay tuned! Like what you see here on Hammer to Nail? Why not give just $1.00 per month via Patreon to help keep us going?)
With numerous COVID-themed films included in this year's SXSW lineup, it is hard to stand out in the crowd. However, there is one that tells a more urgent story about an ongoing issue that's been seldom discussed in the media, and that's the threat of homelessness in the midst of the pandemic. Co-written, co-directed by, and starring Kelley Kali, I'm Fine (Thanks For Asking) puts us in the shoes of her willful, driven protagonist, Danny, as she looks to secure her future, and her daughter's, over the course of a hot California day while trying to conceal her homelessness from those around her. In the opening scene, we see Danny and her young daughter Wes (Wesley Moss) wake up in a tent off the side of the road on a sweaty morning. Young widow Danny convinces an already worn-out Wes that all they are doing is "camping" – an act of love to protect her from the harsh reality of their poverty. 
Set entirely in the Los Angeles neighborhood of Pacoima, IFTFA offers a deep dive into the lives of those people – mainly lower-class – whose pre-existing financial struggles have been exacerbated by COVID-19, and who are desperate to merely get by. After Danny drops Wes off at an acquaintance's house for online school, she throws on her leopard-print rollerblades and rushes to various appointments all over town as she tries to earn what she can by braiding hair. It is not just her general poverty that creates this sense of urgency, but a literal deadline – she has been saving up to secure permanent housing for herself and Wes, and has until the end of the day to scramble the remaining few hundred dollars to pay off the security deposit. As she rollerblades through the streets, rushing to get the cash together, she frequently runs into various acquaintances who each give their condolences on her husband's passing (it's never mentioned how he died, but given the timing, we are led to presume that it may well be a COVID-19 related death). 
When one plan to make money doesn't work out for Danny, she doesn't have the luxury of mourning it. Instead, she makes another. She tries pawning her bracelet (refusing to pawn off her late husband's ring) and delivers takeout for a food delivery service app, putting together whatever she can off of tips. As Danny begins to feel confident she'll have the cash she needs, various mishaps threaten to derail her plans and hopes. Only her rollerblades and the promise she made to Wes give her the strength to keep going. We see her vulnerability during a smoke session with an old friend (played by BK Marie) when she finally opens up about her difficult circumstances, a vulnerability that she only allows herself while high. During all other encounters in the movie, Danny maintains her outward strength and dignity. Even when her friend offers the opportunity for Danny and Wes to move in with her and her new boyfriend, Danny refuses, intending to make something of her own. Despite her struggles, she retains her independence and pride. This insistence on self-reliance and personal boundaries is further seen in her interaction with a convertible-riding catcaller (Deon Cole, also a producer) who tries to proposition her, even waving a wad of cash. Despite her perseverance, Danny can only hold herself together for so long. As pressure continues to loom and one misfortune happens after another, will Danny sink or swim by the day's end?
Shot on location in the San Fernando Valley during the pandemic with a minimal crew, co-directors Kelley Kali and Angelique Molina tell a story in their directorial debut that's as urgent as ever. It not only puts into focus one person's journey but also highlights a community that has it harder than most others in the wake of this tragic pandemic. Kali, Molina, and co-writer/producer Roma Kong penned this film with care and consideration for a subset of the population grappling with the hardships COVID-19 has caused in conjunction with an administration and a society that has shown little care for them. The script may at times overdo some of its dramatic and emotional points, but overall stays on target and never deviates from the overall message it sends and the audience's emotional investment. With the help of Kali's commanding performance, we join Danny's journey, leaving the film both angry about her circumstances and desperate for her success.
– M.J. O'Toole