THE CURBSIDE CRITERION: STRAW DOGS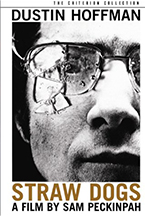 (We here at Hammer to Nail are all about true independent cinema. But we also have to tip our hat to the great films of yesteryear that continue to inspire filmmakers and cinephiles alike. This week, our "The Curbside Criterion" continues where HtN staff can trot out thoughts on the finest films ever made. Today Brad Cook explores the new Criterion Blu-Ray release of Sam Peckinpah's always controversial gem Straw Dogs. )
"Pauline Kael, rarely invoked for her political correctness, famously identified [Straw Dogs] as 'the first American film that is a fascist work of art," film scholar Joshua Clover writes in the booklet accompanying this new Criterion Blu-ray of Sam Peckinpah's film. That's certainly one way to put it.
I'll confess I hadn't seen Straw Dogs before receiving this disc. Had I seen it when I was young, I probably would have been fascinated by Kael's observation, wondering, with the idle intellectualism common at that age, how one might deal with a fascist film when one is not a fascist themselves.
Today, though, I find myself horrified by the notion of even musing about a fascist movie. As the father of a daughter, I find that well-known rape scene to turn my stomach, and with the craziness we are dealing with today in the United States, I can't help but wonder what the bad guys in this movie would be doing today if they had access to Twitter.
Perhaps I will revisit Straw Dogs again some day. Like Schindler's List it's a bleak movie that requires one to be in the right frame of mind to appreciate what its creator is trying to say. As I note below, the commentary track on this disc helped me put the movie within an intellectual framework, so I wasn't dwelling so much on my emotions by the time I was done with this disc.
If you have the two-disc DVD edition that Criterion previously released, you may want to upgrade if the promise of a newly revamped 4K digital transfer and a few new bonus features will make a difference. The new materials include interviews with editor Roger Spottiswoode, film scholar Linda Williams, and writer Garner Simmons, although that last one has some footage filmed in 2002. There's also another piece that's from 2003 but which is new to Criterion: Mantrap: Straw Dogs the Final Cut, a 52-minute documentary that has interviews with star Dustin Hoffman and others.
Two pieces from the previous DVD release, On Location: Dustin Hoffman and Peckinpah Responds, were dropped for this Blu-ray, but otherwise, everything else is here:
A commentary track by film critic Stephen Prince continues Criterion's "film class in a box" idea, and it certainly helped me engage intellectually with the film, rather than dwelling on my emotional reaction to it. Prince does a good job of presenting his point-of-view.
Man of Iron is a 94-minute documentary that looks at Peckinpah's career. He lived a hard life, with shades of Hunter S. Thompson thrown in, and this documentary covers all of that.
Nearly eight minutes of behind-the-scenes footage that offers a peek at the set.
Interviews with actress Susan George and producer Daniel Melnick, which were updated with better-quality footage and photos.
The theatrical trailer and three TV spots.
Finally, if you're wondering what Peckinpah thought of Kael's comments, the booklet also features a 1974 interview with the director, in which he expresses admiration for her love of cinema and her willingness to be passionate about her views. Gotta appreciate the guy for that.
– Brad Cook (@BradCWriter)