(Children of Invention opens in New York City on Friday, March 12, 2010, in Los Angeles at the Downtown Independent. Even more noteworthy is its release on the same day in New York City at BIG Cinemas Manhattan, as it opens alongside Dave Boyle's White On Rice in what the filmmakers are calling a DIWO—Do It With Others—release. Visit the film's official website for a complete screening schedule and to learn more.)
When Tze Chun's Children of Invention premiered at the 2009 Sundance Film Festival, the economy was on the brink of collapse. One year later, although the situation appears to have become a teensy bit more stable, it's obvious that we still have a long way to go. Though Chun's film could be read at as a direct response to this fragile chapter in history, Children of Invention is better experienced as a personal story about the timeless struggle of immigrant families making their way in America.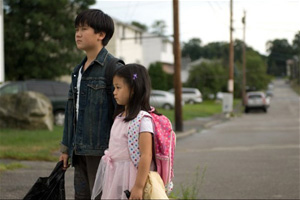 Based on Chun's own life, as well as his award-winning 2006 short Windowbreaker (watch that right here while it's still available), Children of Invention is set in the outskirts of Boston. A motivated single mother, Elaine Cheng (Cindy Cheung), finds it hard to balance breadwinning with supervising her young children Raymond (Michael Chen) and Tina (Crystal Chiu). Though Elaine is a loving, devoted mother, she is also desperate to make money, forcing her to leave the children alone more often than most would deem appropriate. Raymond and Tina don't seem to mind too much—of course, the younger Tina is the most affected by her mom's spotty presence—but Raymond's obsession with clever inventions keeps them both sufficiently distracted. Unbeknownst to Elaine, her latest job isn't what it appears to be, and by the time she finds out, it's too late. Raymond and Tina obey their mother's orders and stay inside for a while, yet when she doesn't come home for an extended period of time, they venture into downtown Boston on their own.
Though Chun has lucked out with just about all of his casting, he won the lottery with Chiu, whose Tina has a crushing sweetness that makes this predicament all the more heartbreaking. Other standout collaborators include cinematographer Chris Teague and editor Anna Boden, who bring further grace to the production and keep the narrative moving forward on a deceptively taut line.
Children of Invention has been compared to two recent, more high profile, works that are only superficially similar—Hirokazu Kore-eda's Nobody Knows and So Yong Kim's Treeless Mountain—but I think it has more of a kinship with Craig Zobel's Great World of Sound. Like Zobel's breakout indie, Chun's drama focuses on a character that has unknowingly fallen victim to a business scam. Yet aside from being two very strong examples of American independent cinema in the early 21st century, the similarities end there. Great World of Sound has its heart set the modern dismantling of the American dream, while Children of Invention deals more pointedly with familial bonds and how outside circumstances can weigh so heavily on certain situations it's a wonder they don't snap in half. This is an accomplished feature-length debut that deserves to be reach as wide an audience as possible.
— Michael Tully