(Ballast is now available on DVD
and Blu-ray
through Kino International. Visit the film's official website to watch a trailer and learn more.)
There's a moment relatively early in Lance Hammer's extraordinary debut, Ballast, that might go unnoticed by many, but which electrified me even further and convinced me that I was in the hands of a supremely gifted talent. The film's twelve-year-old protagonist, James, is trying to buy crack from a bunch of thugs—in a barn, no less—when he is punched by one of them and knocked to the ground. Only, there's something very special about that punch. Unlike just about every other single movie I've ever seen, the punch is real, an awkward slap of meat splattering on a cold, cement floor. Later, in an even more dramatic scene, the same thing happens. It is this commitment to truth and honesty—from these seemingly insignificant details to the cinematography to the performances themselves—that reverberates through every frame of Ballast, a sad, haunting character study that captures the inexpressible sorrow that permeates the Mississippi Delta during the winter.
In the same way that the situations in Frozen River rang false to this particular viewer (its heart in the right place, no doubt, but its execution feeling more student film than Sundance dramatic competition entry), Ballast transcends its potentially stereotypical scenarios by feeling achingly real. Compare the popcorn-and-Tang dinner, which was played for comedic effect in that film, with the scene in Ballast of James eating Hamburger Helper as his mother, Marlee, enters the kitchen. She looks surprised that he's gone to such great lengths to cook his own meal, and stops him when he leaves his own plate behind to make her a new batch. There is a sadness in that exchange that isn't overt in a literal, narrative, dramatic sense, but that somehow speaks volumes about this relationship, how it can be so intimate and yet so distant at the very same time. James has lost the father that he never saw, and he has no male guidance (he will almost find it in his father's grieving twin brother, Lawrence). His mother loves him deeply, but she can't fill that void. And yet still, there is a connection that howls through the cloudy, gray landscape and finds its way through the cracks in the walls into their home. Hammer's greatest achievement with Ballast is that he presents a world in which utter despair and calm resignation walk hand-in-hand, alone and together, through a cold, empty world.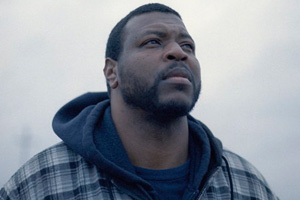 Another striking aspect of Hammer's subtle approach to story is how he reveals the complicated dynamics between Marlee and Lawrence's relationship. It is clear from the outset that Marlee and Lawrence have never liked each other, but it isn't until later that one realizes Lawrence's issues of brotherly jealousy may have played a part in his negativity towards Marlee. As he stands in the rain in front of the abandoned radio station where he and his brother used to DJ, it becomes clear just how deeply Lawrence loved his brother, and how badly he wanted to keep him for himself. In a film filled with devastating moments, this shot is particularly unforgettable.
One must also address the naturalistic cinematography of Lol Crawley. Shooting on 35mm film with available light, Crawley captures the beautiful bleakness that is inherent in this distinctly American landscape. While this makes for some unsteady focus issues during the more frenetic scenes, Hammer's commitment to celluloid takes the film to an even deeper level. Ballast marks the arrival of a major American talent in Lance Hammer. It is a subtle, honest, heartbreaking work that shatters stereotypes and captures life at its most tender and fragile.
— Michael Tully