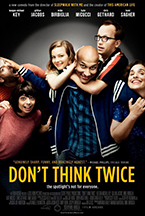 (Comedian Mike Birbiglia made his film debut in 2012 with the well-received Sleepwalk With Me which he adapted from his award winning play. Birbiglia is back with a brilliantly talented ensemble  cast in the Sundance premiering film Don't Think Twice which is in limited release now.)
As an 80's kid, I was happily a massive comedy nerd. Sure, I was also a movie nerd but to me, watching as many movies as I could coupled with listening to comedy albums and watching HBO comedy specials and staying up as late as I could to watch Saturday Night Live all went hand in hand. They also went hand in hand with me never really leaving the house and being ostracized by society but, that's a story for another day. While 80's movies were pretty hit and miss it's undeniable that era was an amazing time for stand-up comedy. Then, it all just kind of went away.
But now comedy is back in a big, big way and there are countless comedians blowing up the landscape through podcasts, Comedy Central specials and all kinds of media forms. I'd dare say comedians have made better use of social media than any other form of media maker or artist.
I'm loving this comedy comeback and as such, I've become a big fan of Mike Birbiglia who I first heard on the indispensible NPR show This American Life. Birbiglia is a storyteller who also isn't afraid to let us inside his anxiety-ridden head and even though his stories are deeply personal, he knows how to make them resonate to everyone. As his career has continued to grow, he's made a really smooth transition into filmmaking starting with 2012's Sleepwalk With Me which he adapted from his award winning one man show. That film utilized Birbiglia's self effacing style to great effect but also introduced an area of his work that I'm fascinated by: a yearning to examine the creative process and how to succeed in a world that increasingly devalues creativity and art.
After that film Birbiglia populated several big movies in bit parts but now he's back with the very wonderful ensemble comedy Don't Think Twice which he wrote, directed and stars in. The film centers on a 6-piece Improv group (featuring Birbiglia, Gillian Jacobs, Keegan-Michael Key, Chris Gethard, Kate Micucci and Tami Sagher) called "The Commune" who, while somewhat popular in smaller, underground comedy circles, is struggling to keep their group going. All of them have lousy day jobs but the six are the tightest of friends who's Improv act seems to be the lifeblood that fuels their otherwise mundane existence.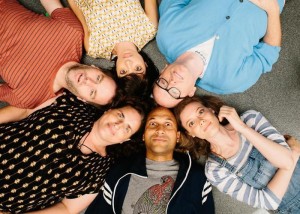 Anyone who's listened to the Marc Maron podcast know he has a somewhat unhealthy obsession with the time he auditioned for Saturday Night Live and didn't get on the show. While his obsession is really kind of depressing, it also leads him to always question other comedians who also didn't get on the show as well as SNL alum about their audition process. While I don't know if Birbiglia did in fact strike out on his audition as well, his character Miles in Don't Think Twice definitely did and this all-too-brief second in the limelight haunts him nearly two decades later as the spectre of Weekend Live (a thinly veiled nod to SNL) looms over him and his troupe. Thus when two of his Improv compatriots – Jack (Key) and Samantha (Jacobs)– get called to audition, his feelings are mixed, to say the least. The shit really hits the fan when one of his Improv compatriots actually gets on the show.
Don't Think Twice is an impressive film for several reasons and likely, not for the reasons you might be thinking. While obviously, this many talented comedians onscreen make for some outstanding comedy and Improv moments, the comedy is really more of a side dish. Instead Birbiglia manages to add excellent character development to each person in the Improv group and for a sophomore writer/director, this is no easy task I'm sure. I genuinely felt like I knew each character and as their safe space of creativity slowly crumbled around them, their reactions were totally believable and I empathized with each character. Not only are the characters well-defined and written, the directorial style on display skews towards the cinéma vérité style which brings us closer to the action.
I also love the way Birbiglia manages to weave several storylines together seamlessly and how each one has a well-defined beginning, middle and end. So many films leave characters hanging but Don't Think Twice manages to create a satisfying storyline for each.
Throughout the film each character is forced to confront his or her creative aspirations head-on. For myself in real life (or, IRL as the kids say), it's more than challenging to even attempt to make a film in an era where there's not even a middle ground but barely a lower ground yet people all around me manage to do it and some even find success. While obviously I couldn't be more proud of the success stories, there's always a slight tinge of "but why not me?" and I think that's true for almost every creative person, in any endeavor, out there. While Don't Think Twice is about success, creativity and the struggle with both, it's also an incredibly human movie with a lot of funny moments tossed in to ease that pain. For a gifted storyteller like Birbiglia to translate his one-man show routines to satisfying character pieces onscreen speaks volumes for his career as is and it'll be exciting to see where he goes next.
– Don R. Lewis (@ThatDonLewis)