(Two In The Wave was picked up for distribution by Lorber Films and is now available on DVD. It opened theatrically at the Film Forum on Wednesday, May 19th, 2010. Visit the Film Forum's page for the film to learn more.)
The title and description of Emmanuel Laurent's Two In The Wave is a tad misleading, for Laurent's documentary—made in collaboration with writer/narrator Antoine de Baecque—does much more than focus on the friendship and eventual falling out between French New Wave luminaries Jean-Luc Godard and Francois Truffaut. That's both a good and bad thing. In broader terms, Two In The Wave recounts the rise and demise of the French New Wave itself, certainly focusing on Godard and Truffaut, but doing it in an almost parallel storytelling fashion. When their paths do converge, sparks might not fly as brightly here as they did in real life, yet the film does present some very interesting stock footage that makes it a worthy enough venture for viewers with a taste for this material. As for those of you who don't have any idea what the French New Wave is, I think it's safe to say that Two In The Wave won't make you a convert.
In lieu of an actual review, here are some facts/notes/thoughts/etc.: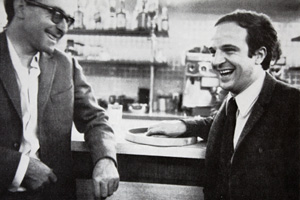 — Truffaut was a poor child who came from a broken home; Godard was born into a privileged, intellectual family. My verdict: after hearing snippets of both "break-up" letters that were written when their relationship finally ended after Godard saw Day For Night in 1973, you can place me firmly in the Truffaut camp (with regards to moral ground, not the actual films they went on to create, though if pressed, I'd probably land on Truffaut there too).
— In this context, the description of the French New Wave's primary attributes—using the cheapest/fastest technology of the time, shooting on location, casting unfamiliar faces—is a reminder that this loose guidelines apply to every new generation's burgeoning underground/independent movements.
— In direct relation to this very website, the story of how the French New Wave was born is always refreshing to hear. Under the tutelage of Cinematheque Francaise archivist Henri Langlois and Cahiers du Cinema editor Andre Bazin, the young film buffs and critics who became the primary forces of this movement—not just Truffaut and Godard, but Eric Rohmer, Claude Chabrol, and Jacques Rivette—weren't content to simply watch, process, and write about cinema. They felt compelled to engage with the art and craft by making their own work. It's a perspective that can't be taught, and is an approach that many film writers could stand to learn from.
— For some reason, my knowledge of film history blacked out the realization that after their initial breakthrough works—The 400 Blows for Truffaut and Breathless for Godard—they were almost immediately relegated to the box office margins (illuminating clips of French citizens dismissing Breathless at the time further confirm that even that film didn't cause a nationwide frenzy of support). This came as a bit of a surprise to me, and further added to my rising sense that this "phenomenon" was more equivalent to what we're experiencing today with something like the Romanian New Wave (i.e., unfortunately, not very many people care).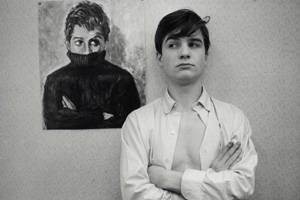 — The longer the film focuses on Truffaut's discovery of Jean-Pierre Leaud for The 400 Blows, how Leaud grew to become a muse for both Truffaut and Godard, and how this in turn caused a further rift in their relationship, the more I wish it had been called One In The Wave and had been exclusively about Leaud. Footage of this youngster arriving in Cannes for the first time, as well as an early audition reel that unfurls during the closing credits, really bring the past to life.
— Laurent pays tribute to Truffaut—something he acknowledges in the press notes by referencing Truffaut's quote that all you need to make a movie is to film a pretty woman's face—by including actress Isild le Besco as a modern presence who scans newspaper headlines from the past. While this sounds good on paper—and while her face is indeed very pretty—this technique distracted me in execution. I eventually warmed up to it, but I still thought this decision was a tad too precocious for its own good.
— Lately, I've been pondering the following dilemma: Is it really an issue of money and availability, or even if independent/art films were playing in the multiplexes, would people pay to see them? Watching Two In The Wave, I had the sinking—though by no means hopeless—feeling that this certain brand of cinema will always connect with a minority audience.
— Along those lines, the more that I watch these types of films, the more I feel like I'm in a strange no man's land: I hate multiplex roller coaster storytelling, yet I'm almost as bothered by hyper-intellectualism, especially the type exuded by Godard—or at least what I've gathered of him from not just this film, but from other interviews with him that I've seen and read. In his break-up retort to Godard's initial letter, Truffaut accuses Godard for talking a good game about socialism and equality, while he actually exists in a state of constant over-privilege, arrogance, and selfishness. I have no idea if this is actually true or not, but it sure seems that way. Which makes me want to simply watch the films of his that I admire and leave it at that.
Two in The Wave is somewhat scattered in its execution, but when that archival footage comes to life, it really comes to life. My advice for those in the know: see it, but keep your bar measured. As for those who aren't in the know, I suggest first renting The 400 Blows and Masculin-Feminin. If those films don't butter your bread, this certainly won't.
— Michael Tully