(The Parking Lot Movie opens for a one-week theatrical run in New York City at the reRun Gastropub Theater on Friday, August 6, 2010. If you aren't in NYC, fear not, as the film airs as part of PBS's Independent Lens series on October 19, 2010. Visit the film's official website to learn more.)
Is one minor parking lot hidden away behind shops and bordering train tracks in Charlottesville, Virginia, enough to warrant a feature-length documentary about it? Even a short film about that subject seems like a potentially very bad idea. But Meghan Eckman's The Parking Lot Movie somehow manages to sustain its running time as well as deliver some unexpectedly astute observations about modern life. It's also laugh-out-loud funny. So, in answer to that question: a surprising yes.
In the 1980s, the smiling, genial Chris Farina bought the Corner Parking Lot, a business that he continues to own to this day. As a boss, Farina found himself gravitating toward the types of characters who you might find wandering around in a Richard Linklater movie (especially Slacker or Waking Life), those mid/post-collegiate intellectual types who are overburdened by their sharp brains and prefer to lounge around existentially in their adopted university town, discussing art, music, literature, or matters of a more philosophical variety. But that's not always a good thing. As one Corner Parking Lot attendant puts it: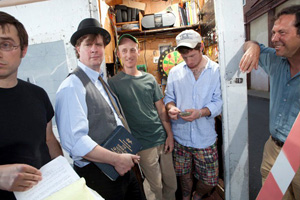 "Which is, of course, one of the problems of having an insanely over-educated group of people working in a service sector job, is that they have plenty of time to think about it."
Or another:
"There's probably nothing worse than poets working in parking lots. That's a dangerous mix."
Or, later, when the film takes a turn for the comically dramatic as current and former employees explain how there is a point at which the isolation of this parking lot existence invariably begins to drive an attendant crazy:
"It's kind of like being in a zoo. You don't know if you're in the cage, or if they're [customer] in the cage, or where the zoo is really."
The Parking Lot Movie is loaded with sharp zingers from a vast array of charismatic interviewees, but it really takes off when it addresses the hypocritical sense of entitlement that many customers feel in small-scale monetary transactions such as these. Not only do we hear testimonials from the attendants themselves; we get to see actual interactions with arrogant customers, who don't seem to grasp the basic concept of capitalism. One woman goes so far as to ask why she should pay for parking. When the attendant responds that she has to pay because it's a pay lot, she still doesn't back down. Really, lady?
Another point that Eckham and her subjects bring up is the universally infuriating reality of the wealthy and over-privileged, those well-dressed, fancy-car-driving, utterly soulless souls who don't understand just how obnoxious, condescending, and evil they really are. And while enough time in the lot and enough of these exchanges are certain to drive just about every attendant to their breaking point, Farina continues, decades later, to smile and laugh it off, saying, "It's just a parking lot."
A jarring mock rap video (ala The Lonely Island) closes out The Parking Lot Movie, which only adds to the film's running time and seems wholly out of place within the otherwise appropriate slackerly intellectualized rhythm that Eckham has established (this bit should have been saved for after the closing credits or, even better, as a DVD extra). But even with that strange inclusion, it's not enough to detract from the film's overriding groove. It turns out The Parking Lot Movie does deserve to be a movie, after all.
— Michael Tully