(The English Surgeon opens at Cinema Village on Friday, July 24th, 2009, before expanding in the coming weeks and months. Visit the film's official website to learn more.)
Geoffrey Smith's documentary The English Surgeon is the superhero movie of the summer, though you can bet your good health that it won't be making the multiplex rounds. That's because the real-life, everyday superhero of this film is Henry Marsh, a humble, thoughtful British doctor who makes yearly pilgrimages to the Ukraine to offer his invaluable services to patients who so desperately need it. Dr. Marsh doesn't have any supernatural powers in the splashy comic book sense, yet he has many all-too-rare traits that could teach modern audiences a very valuable lesson in how to lead an exemplary life: professional expertise, unwavering morality, and a deep sense of philanthropic responsibility. In a just world, The English Surgeon would become a blockbuster smash. But… well, yeah, that's not gonna happen.
After a trip to Kyiv in 1992, Dr. Marsh was so appalled by the antiquated medical conditions there that he has taken it upon himself to continue return to Kyiv in order to lend his expertise to that community's insurmountable uphill battle. As he's only one man working within such limited confines, this will never be enough. For every patient that he saves, for every surgery that he performs, the state of affairs remains debilitating: misdiagnosed patients, inadequate equipment, and a consistent line of terminal cases. In one heartbreaking scene, Marsh speaks frankly about the woman in front of him, who can't understand what he's saying. He's saying that she's going to die and there's nothing he can do about it.
Henry has a devoted admirer in Igor, a fellow doctor who has embarked on a mission to create the Ukraine's first independent neurosurgical clinic. Igor has a much more chipper spirit than Henry, yet they nonetheless share one common goal: helping the unfortunate. When he visits, Henry brings as many new supplies as he can to make things easier for Igor, who at times is forced to use consumer hardware store equipment to perform his surgeries. Though a playful tug-of-war exists between these two men—one wracked with concern, one more carefree—we gradually see how alike they are, and how much respect they have for one another. It's a quietly beautiful bond, a professional relationship at its most tenderly personal.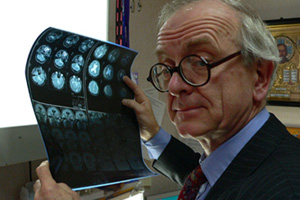 For his film, Smith followed Marsh around for two weeks. If he had simply chosen to present a "day in the life" profile of this man, The English Surgeon would be worth watching. But things take a turn for the thrillingly dramatic when Henry decides to operate on Marian, a destitute Western Ukrainian with a seemingly inoperable brain tumor that has caused him to have severe epileptic seizures. Henry thinks he can save Marian, but only if Marian stays awake for the entire operation. Which means that this poor man must sit in a chair, as if he's getting his teeth cleaned, and listen to his head being opened and a tumor being removed from his skull. Everyone's talking about the masterful tension contained within The Hurt Locker, but my vote for the most knuckle-biting scene of the summer is this extended surgery (and by a very long shot at that). That it all unfolds with a sense of humor only adds to the surging humanity.
Another heartbreaking scene occurs when Henry travels to the home of a young girl who he was unable to save years before. Her mother serves him lunch and treats him with respect and reverence, but this only adds to Henry's feelings of guilt and self-frustration. It is at this moment that we fully see just how emotionally sensitive Henry can be, and how he truly is doing his work out of a deep love for his fellow man—especially those who are helpless and less fortunate—and a wish for the world to be a healthier, happier place. As he visits the young girl's grave, our hero becomes a superhero.
As a filmmaker, Smith understands that to tell viewers how noble and great a man Dr. Henry Marsh is would completely defeat his film's purpose and turn it into an insufferable puff piece. And so he wisely chooses to show us, using finesse every step of the way: in Graham Day's involved but unobtrusive cinematography, in Kathy O'Shea's efficient but patient editing, and in Nick Cave and Warren Ellis's restrained yet emotional score. The English Surgeon is an accomplished film about an extraordinarily accomplished man. If the world were filled with more people like Dr. Henry Marsh… well, yeah, that's not gonna happen either.
— Michael Tully