(October Country is now available on DVD through Carnivalesque Films. It opened theatrically at the IFC Center on February 12, 2010. Visit the film's official website to learn more.)
Social conservatives in today's society often express concern over the purported decay of the traditional family and read ominous signs that this is leading to the crumbling of contemporary society. They feel that family structures of the past were superior to those of today where families were more stable, much happier and healthier when they did not have to contend with illegitimate children, divorce, drug abuse, child molestation, domestic violence, and other Jerry Springer staples. You know, those low class issues with which the traditional, normal family unit never, ever has to contend. In their feature film debut October Country, writers, producers and directors Michael Palmieri and Donal Mosher collaborate with members of Mosher's family to create a portrait of a family that "wouldn't know normal if it fell on us," in the words of patriarch Don.
And yet there is bottomless strength, raw honesty, sardonic humor and fierce love on display from the first frame to the last as each member grapples with their personal demons, standing vigilant over the ghosts of their pasts, hopeful that they will prevail, while simultaneously cognizant of the fact that, at any moment, they can be pulled under by forces so strong that their lives will disintegrate into vapor. I believe this film represents such a healing force, not only for this family, but for us all, that that vigilance has a damned good chance of prevailing, even upon the most hurtful, damaging moments of our lives.
Shot over the course of one year, from Halloween to Halloween, in the town of Mohawk Valley, New York—where like so many working-class towns in this country, the only place of employment is the local plant or factory (in this case the Remington Arms Company) and the only place left to shop is the WalMart—Palmieri and Mosher's film shows us, in exquisite and painful ways, that the modern-day family is holding strong despite contending with every social ill in the book, thank you very much. As matriarch Dottie says at the beginning of the film: "If you don't have family, then you don't have anything. Family is everything."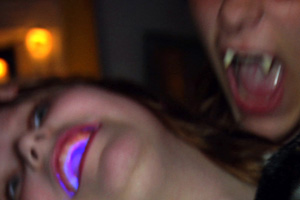 With October Country, Palmieri and Mosher have created a small and quiet masterpiece of transcendent filmmaking. The film is based on Mosher's essays and photographs of his family and the town in which they reside. Palmieri, as the cinematographer and editor, gorgeously captures the shattered fairytales of Americana and the family unit that is supposed to reside within those fairytales, seemingly waiting for the most highly prismatic light at every moment with which to frame it all. I have seen few other instances where visual, aural and emotional instincts are so delicate and clean and pure. That delicacy and purity is in Palmieri and Mosher's photography and in their musical score. It is also in their deep sensitivity to the liminal world around them, their subtle innate understanding of human emotional strength, and in their flawless cinematic craftsmanship. I was utterly transported.
Their storytelling partners are the shuttered, yet eloquent Don; the stoic, emotionally resonant Dottie; the wry and weary Donna and her two daughters, pain-filled young mother Daneal, and the young Desi who provides both uproarious comic relief and the wisdom of the ages; Don's outcast and lonely sister, Denise, our guide into the spirit world ("Every family has its ghosts. You just have to figure out how to live with them."); and the damaged foster kid, Chris, an outsider's outsider, shunted aside since he was five by his birth family and out for revenge ever since because of it, even against the people who have shown him nothing but love and forgiveness. It's quite a crew, and I fell madly in love with every single one of them.
Every aspiring filmmaker should watch this, for it will teach you everything you need to know about the craft of making great nonfiction cinema, one where the complicity of directors and subjects creates epic eloquence and poetry and grace. In this case, the devil will definitely not be taking the hindmost for He has been called out for the weakling that He is. It is the "weak" that are strong and fiery, and they will survive—as will their descendants.
— Pamela Cohn