(Intimidad is distributed through Carnivalesque Films. Buy it at Amazon.)
After only two films as co-directors, David Redmon and Ashley Sabine have proven themselves to be essential chroniclers of the modern human condition. While their self-professed mission is "to explore how personal stories relate to complex social issues," to call their work 'personal' somehow sells it short, for both Kamp Katrina and Intimidad have the unguarded intimacy—and visceral impact—of home movies. As wildly different as they are content wise, Redmon and Sabine's immersive, non-judgmental filmmaking techniques are what keep both films feeling unified. What distinguishes them in a deeper sense is that while Kamp Katrina stings with humanity, Intimidad streams with it.
Though Redmon and Sabine are undoubtedly making documentaries, their fiction-like commitment to narrative and character—not to mention their defiant refusal to point fingers or make any grandiose statements—results in an infinitely richer viewing experience. Kamp Katrina provided an uncomfortable, harrowing glimpse into one particularly troubled backyard in post-hurricane New Orleans. Intimidad, on the other hand, shows one loving Mexican couple's quest to be with their daughter and purchase a home of their very own. In both cases, Redmon and Sabine let the situations and characters do the talking, a welcome respite from the supremely ineffective wave of "message" cinema that only preaches to the choir and does nothing to capture the complexity and humanity of a given situation. Redmon and Sabine are sociologists who are working from the inside out, not the other way around. Intimidad is not only the perfect title for this film; it might be the perfect word to describe Redmon and Sabine's vision as a whole.
In a genre sense, Intimidad is difficult to categorize. Technically, it is a documentary, but that label is simultaneously too broad and limiting for the story unfolding on screen. In one sense, it feels like an innocent home video that was shot by the subjects themselves (in many cases, it was). In another, it provides an unflinching glimpse into an underdeveloped Mexico that is teeming with poverty and struggle. In another, it shows the disparity between wealth and poverty throughout the world on a distressfully grand scale. And in another, it plays like a classic fictional romance, in which a loving couple must face insurmountable odds in order to realize a lifelong dream.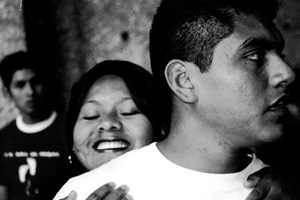 That romance is where Intimidad soars, turning it into a documentary fairytale of truly humbling proportions. Cecy and Camilo are twenty-one years old. They have a daughter, Loida, who they love deeply (and who might very well be the most beautiful child ever to appear on screen—go ahead, prove me wrong, I dare you). In order for them to earn money, they must relocate to Reynosa, Mexico, where the only work to be found is in factories making fire hydrants and bras that will be shipped to the United States. Of course, these jobs pay very little, but that's better than life in Cecy's hometown of Puebla, where there are no jobs at all. In order to be able to work, Cecy must leave Loida back in Puebla, but this separation proves to be too difficult and eventually sends her back home to be with her daughter. This, in turn, puts a strain on her relationship with Camilo, who believes that their current situation is temporary and that he must not give up and return to Puebla. The need for money in such a cruel world threatens to smother this decent family's impossibly pure love. That Cecy and Camilo retain a sense of purity and sweetness is what makes their plight so heartbreaking, and it is what makes Intimidad such a universally, unforgettably devastating lesson in humility.
As they did in Kamp Katrina, Redmon and Sabine shot Intimidad with a consumer video camera, which contributes to their film's home video quality and further emphasizes their ultimate theme of intimacy. Yet, at the same time, they employed two cameras in many situations, which subconsciously introduces a more calculated undercurrent. Even if viewers aren't aware of it, there's something about this traditional style of crosscutting that makes the experience feel more like a movie than a straight documentary. In lesser hands, this mixing of styles and approaches could become problematic. But Redmon and Sabine have a special ability to maintain an overriding air of simplicity even when they're culling from many different filmmaking styles. This is just one of the many feats that makes their work so impressive.
As for the cinematography itself, Redmon and Sabine get as close to their subjects' faces as their cameras' lenses will allow. This works as another, more literal, expression of the film's title, yet it never feels obtrusive. Because they weren't allowed access into the factories—for obvious reasons (if you're the factory owner, that is)—Redmon and Sabine had Cecy and Camilo sneak cameras inside to shoot their own footage. This amateur, hidden camera-like imagery only adds to the film's sense that we are witnessing something heretofore unseen and makes Intimidad feel even more personal. Yet the film's true achievement is that by concentrating on the dynamics of this one relationship, it sparks viewers to think about the problem on a grander scale. How many couples like this are there in the world? Why is there such a disparity between poverty and wealth? What can we do to bridge that seemingly impossible gap? Can we do anything, or is this simply how it is?
The film ends on a note of quiet exhilaration, which leads into an unexpectedly moving extended credit sequence (set to Matthew Dougherty's sweetly melodic "Wondering"). As faded, grainy 16mm imagery of Cecy, Camilo, and Loida washes over us, we are left to appreciate and admire the innocent purity of this family, how they barely have a roof over their heads but are as happy as a family can be. When it comes to true love, money doesn't matter. Even when it does.
— Michael Tully