HAVE YOU HEARD FROM JOHANNESBURG
(Have You Heard From Johannesburg opens Wednesday April 15th, 2010, at the Film Forum for a two-week run. The 7-part series screens in a 3-part package. Go here for screening details and to learn more.)
If only we existed in a world where Connie Field's Have You Heard From Johannesburg was treated as a major cinematic event instead of something like Avatar. Of course, that would—and will—never happen, but that doesn't change the fact that Field's epic treatise on South Africa's racist and inhumane apartheid system is a massive achievement and a triumphant display of historical edutainment. Whether on the big screen or small, whether you're young or old, Have You Heard From Johannesburg is mandatory viewing.
In many situations, a chosen subject's whole history can be responsibly condensed into two hours. But when it comes to the epic 50-year struggle to abolish apartheid, taking that approach would be an insult. And not just because there is so much ground to cover and there are so many people to pay tribute to (or, in this case, condemn). It's that in order to fully grasp the scope of this shameful period in history and understand the many vital factors that helped to bring about its downfall, we have to feel as if we're living (or reliving) it ourselves.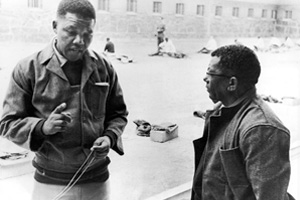 How does one even begin to deliver the definitive history of apartheid in documentary form? Field accomplishes this gargantuan task by producing seven self-contained features that stand on their own just fine, but when viewed as a unified whole, the impact becomes something altogether more momentous. Believe me, I realize that a 7-part, almost 9-hour documentary about apartheid sounds excruciating, a lecture that never ends, but that isn't the case here. Like the very best television, Have You Heard From Johannesburg quickly becomes addictive. Every time the opening credits begin to roll on the next segment and Gil Scott-Heron sings the titular song, you'll settle into your seat even further.
Field breaks the topic down into segments to get a better handle on it: The Road to Resistance (58 mins.) chronicles the 1948 instituting of apartheid; Hell Of A Job (58 mins.) documents the rise of South African exile Oliver Tambo's resistance movement; The New Generation (58 mins.) revisits some of apartheid's most tragic memories, including the Soweto Uprising and the murder of Steven Biko; Fair Play (95 mins.) shows how sports boycotts (Olympics, rugby) played a vital role in the crippling of P.W. Botha's government; From Selma To Soweto (90 mins.) focuses on America's grassroots campaign to end apartheid by pressuring President Reagan into instilling economic sanctions (though ultimately Congress had to do it for him); The Bottom Line (83 mins.) captures the powerful spirit of countries from all over the world who convinced corporations to divest their money from South Africa; and Free At Last (75 mins.) presents the stirring conclusion to this humanitarian nightmare, when Nelson Mandela was finally freed from prison only to become South Africa's first black president.
It's hard to be critical of a work this expansive and comprehensive. That said, if Field is leaving anything out, I surely didn't notice it. While I'm no expert on South Africa and apartheid, after watching Have You Heard From Johannesburg, I now feel like one. It's only April, but I would be utterly shocked if this extraordinary film doesn't take home next year's Best Documentary Oscar. It's more than just an excellent production. It's the definitive motion picture statement on this tragic subject.
— Michael Tully