(Dear Zachary is now available on DVD. Buy it at Amazon
. Visit the film's official website to watch a trailer and find out how you can help contribute to the cause.)
Kurt Kuenne's Dear Zachary: A Letter to a Son About His Father is an infuriating experience. Months after seeing it at the Sarasota Film Festival for the first time, it still floods me with anger. I can safely say that in all my years of cinematic escapism, this is the first time a movie has made me want to commit an act of murder. I wish I were exaggerating, but I'm not.
Kuenne's childhood friend, Andrew Bagby, was one of those chubby-cheeked, pretty-eyed, charismatic young men who charmed everyone he encountered. Growing up, he played De Niro to Kuenne's Scorsese in the countless backyard movies that Kuenne directed. After college, he found his calling as a small-town doctor. But in 2001, tragedy struck when a fellow doctor and former girlfriend, an insane Canadian woman named Shirley Turner, murdered him. Kuenne initially began this project as a video memorial for Andrew's friends and family, but when it was revealed that Turner was pregnant with his son, he decided to make the film for the soon-to-be-born Zachary, in order to let him know just how great a man his father was.
And, oh, if it had only ended there, but that was sadly just the beginning. A completely backward Canadian law enabled Turner to return to her homeland and roam free while Andrew's devoted parents, David and Kathleen, struggled to win custody of their only grandchild (the courts determined that she had killed with specific intent so she wasn't a threat to society anymore—huh???). The only way they could see Zachary is by actually spending time with this woman even though they knew she had murdered their son and was a supremely unstable figure that was capable of murdering again. And we will leave it at that.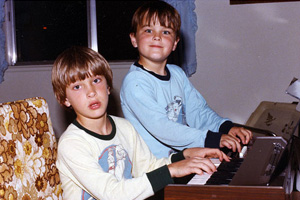 This might have already exposed too much, but having seen the film twice, I can confirm, for myself, that it loses none of its power on a second viewing. This is a credit to Kuenne's gift as a storyteller. While Dear Zachary begins as a touching memorial video and morphs into a shocking true crime expose (the frenetic, television-like pacing employed throughout is certainly an acquired taste), that third-act twist helps it to become a vehement plea for judicial reform. I don't know how an even somewhat reasonable human being, Canadian or otherwise, could watch this film and not see just how corrupt and disgusting the current system's set-up is. If change is to be made, Kuenne's film, coupled with David's book, Dance With the Devil: A Memoir of Murder and Loss, will be the vehicles for it.
For me personally, these elements, however vital, pale in comparison to what the film is really about. Against all odds, Dear Zachary is a an ineffably heartbreaking, and profoundly inspiring, love letter to David and Kathleen Bagby, who have combated unspeakable sorrow and loss with kindness, decency, and hard work. Many of us have crumbled under far lesser pressures. While there are many lessons to be learned from Dear Zachary—one being CHANGE THAT IDIOTIC LAW, CANADA—the most stirring one is provided by these truly incredible people.
— Michael Tully