BROCK ENRIGHT: GOOD TIMES WILL NEVER BE THE SAME
(Brock Enright: Good Times Will Never Be The Same world premieres at the 2009 South By Southwest Film Festival before next arriving at the Sarasota Film Festival. Visit the film's page at the SXSW site for screening details, and visit the film's official website to watch a trailer and learn more.)
Art is subjective. What's one man's bowel movement is another man's statue. Cinematographer Jody Lee Lipes' directorial debut documents the tumultuous few months in which confrontational artist Brock Enright struggles to finish the most important show of his young career. Stressed out, confused, terrified, desperate, Enright battles inner and outer demons to realize his creative potential. The resulting work, Brock Enright: Good Times Will Never Be The Same, is going to cause some major friction. Is it real? Is it staged? Where's the payoff? Is Enright even producing art, or is he merely wasting the gallery's money and time? What is art? Those questions, while valid, don't concern me. What does matter is that Brock Enright: Good Times Will Never Be the Same is one of the most jarring hybrid films of recent memory, a work that fuses narrative form with documentary content to produce something so distinct you might not believe what you're watching.
Attention all aspiring independent filmmakers: SEE THIS MOVIE. In the same way that so many directors have recently adopted a lazy, pseudo-documentary style to realize their no-budget DV narrative features, Lipes has reversed that concept and shot his actual documentary to look like a European art film. This is certain to shock viewers' senses. For those who like their documentaries to adhere to familiar tenets of the form, this won't be a welcome shock (many, in fact, will refuse to believe this footage isn't 100% fabricated—I've already spoken to some of them). But for me, Lipes' film feels like a reinvention of the wheel. I never doubted that this footage wasn't at least in some way genuine; that it has been photographed with such care and precision makes it all the more stunning. The question viewers should actually be asking themselves is: why hasn't anyone done this before?
The film opens as Enright and his girlfriend Kirsten Deirup leave Brooklyn behind and drive across the country to settle on her family's land in Mendocino, California, where Enright will work on an installation commissioned by the Perry Rubenstein Gallery in Manhattan. From the very beginning, tension is brewing. Enright is clearly overwhelmed by his situation, and his only defense is to try to focus on the task at hand. Yet Kirsten's constant questioning of their fiscal situation and Enright's concern about having to work under the watchful eye of her family causes a throbbing strain. At first, Kirsten's brother Keith appears to be willing to help out Brock in any way possible, but eventually his rising skepticism boils to the surface. And when gallery director Nicelle Beauchene shows up to check on Brock's progress, the shit just about literally hits the fan.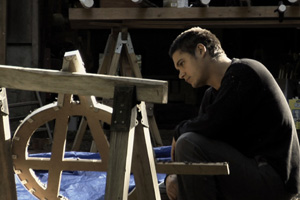 Enright made a name for himself as the creator of Videogames Adventure Services (VAS), a "designer kidnapping" game in which people pay to have their worst fears acted out and videotaped. This knowledge factors into the climactic drunken showdown between Brock and Nicelle, in which he claims to have had his cousin Robert slit her tires in order to hold her hostage until she acknowledges his progress. Once one understands that the main thrust of Enright's art is to provoke and challenge that thin line between reality and fantasy, the question of her tires actually being slit doesn't matter. What matters is that Enright appears to have become all the way unhinged. In many ways, it's even more disturbing if he's merely playing a role.
As for the confrontation with Keith, Lipes refuses to take sides, leaving it open-ended. For once, a voice of reason is unloading on Brock, telling him to his butt-naked, drunken, powder-stained body that his attempts at "art" are desperate, aimless, and pointless. His only agenda is that he has no agenda. My hunch is that about 98% of viewers will be screaming, "Yes, yes, yes!" to Keith's takedown. Yet, at the exact same time, this voice of reason is the last thing in the world this individual needs to be hearing. He has been hired to produce a work of creative expression, and that is what he is trying to do. In this admittedly fragile situation, the fact that he isn't inspired and is clearly flailing doesn't matter. He is an artist and he needs to be in an environment where he can feel free to be as wild and outlandish as he needs to be to finish whatever it is he's making, even if he doesn't know what that whatever is. And that's where Lipes' film speaks invaluably to the endless argument about the legitimacy and relevance of modern art, especially when one takes into account the outrageous amounts of money involved. Brock Enright: Good Times Will Never Be The Same is like a cinematic Rorschach test held up to a bright, shiny mirror. Whatever you think about this type of art, you're really going to think it after watching Lipes' film.
Perhaps most importantly, one must understand that Lipes didn't shoot his film with an aesthetic that I like to call "beautiful voyeurism" for purely superficial purposes (though it, as well as Lance Edmands' editing, are responsible for its European art film grandeur). The resulting clash between form and content perfectly captures the ambiguity surrounding Enright's art, not to mention Enright himself. Brock Enright has created a persona in which no one really knows when he's being honest and when he's fabricating. That many viewers will be asking those same questions about Lipes' film confirms that he has, in fact, made an exceptionally honest—and accurate—portrait of such a truly confounding subject.
Lastly, a warning to viewers: this film does not deliver the resolution that it seems to demand. This is certain to provide yet another shock to the system. But the fact remains, if Lipes did explain exactly what happened when the installation opened, viewers would either dismiss Enright's failure with a smirking, "I told you so," or become more emphatic in their opinions about modern art if it became a raging success (he does show us the opening to at least let us know that it did happen). Instead, he closes the film with a quiet coda, a hopeful symbol in the form of an offspring produced by a tender, loving Brock and Kirsten. In these images, it appears that the artist's madness has been put on hold for the time being. That period of torture has been relegated to the past, where it belongs. Or has it?
— Michael Tully