Jim Brunzell's 2017 True/False Film Fest Wrap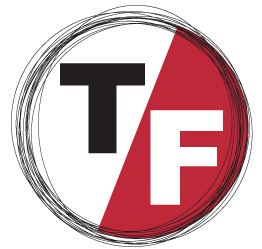 The timing of the 14th annual True/False Film Festival could not have happened at a more "long, strange, trip" two months into 2017. It is a question many Americans have faced and/or perhaps are struggling with, myself included, but knowing there is still a glimpse of comfort in our world today like the upcoming NCAA's March Madness tournament, the lovely new The XX album "I See You", a cup of fresh roasted coffee, and knowing a film festival such as True/False exists. As a cinephile, the oasis smack dab in the middle of the United States (on the University of Missouri campus) is a truly independent place that understands me and can lift any ill-will one could be feeling lately. There is always promise and an undying conviction of celebrating our world together with thousands of patrons over the course of four days for us to be educated, encompassed, entertained and energized with veritable amazement of the non-fiction films presented at True/False.
Arriving a day early before the festival begins to take in the sights and sounds of downtown Columbia, MO is always one of the most pleasants days of the year. The friendly volunteer and box office staff seem to know everyone in line from all the locals who have been attending for years (this being my 4th year) but all the smiling faces and excitement of picking up passes and programs has never felt so rewarded. Not to mention, the close to 1,000 volunteers that make up True/False, along with co-conspirators Paul Sturtz and David Wilson, and the other fine programmers made up the entire global film program and boy, did they find some discoveries.
True/False ranks up there as an "all purpose" festival with so much more to offer other than regular film screenings. The fest also contains a slew of events all weekend long including buskers/musicians playing in front of every screening, all leading up to the grand finale of "Busker's Last Stand" on closing night. Parties? Yeah, they have them. From the opening night "Jubilee Party" with an emphasis to dress up in your best masquerade attire, the "@ction dance party," the "March March parade" featuring locals & filmmakers walking down 9th street is a sight to behold. Another highlight was "Campfire Stories" where filmmakers give intimate and personal stories about their films, while being served Moonshine and s'mores around a faux-campfire, it had my Cheshire Cat smile sealed from start to finish. However, the mother of all events during True/False is "Gimme Truth," the best documentary game show in the land. In it, locals make 2-3 short docs, and judges have to decide if they are "True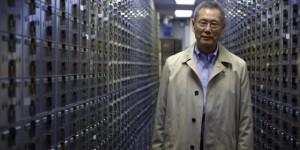 or False." This years event got quite got a makeover featuring new host Brian Babylon, who took over duties from Johnny St. John, proved to top St. John's comedy and antics, and I for one nominate Babylon taking the reigns as host moving forward. I also nominate filmmaker Steve James (Abacus: Small Enough to Jail) to always be a judge for "Gimme Truth," given his deadpan questions and responses, kept in line with Babylon's sardonic humor and both matched wits the entire show.
Despite all the "fake news' floating around lately, there was plenty of "truth" handed out over the weekend. Of the 14 films I saw, every filmmaker presented evidence, research and facts making anyone a believer in our growing need to collect information on topical issues and shaking our foundation. The curation this year, featured many films, to expose, ignite, and strike up heated conversations with liberals, moderates and conservatives alike. We may be commonly and collectively ignoring recents headlines, or better yet, sticking our heads in the sand for fear of not completely understanding, or in simpler terms, not giving a shit about what had been going on before November 7, 2016, but now more than ever we need to be educated with facts and all the truth that is out there. And facts and justice were certainly brought to Columbia, Missouri during the long weekend.
In one instance, French director Florent Vassault's world premiere, Lindy Lou, Juror Number 2, follows Mississippian Lindy Lou, a juror on a capital punishment case from 1996, and her 20-year journey dealing with the consequences as she revisits jurors from the case collecting any information or details about the case and in some part, looking for closure. Exploring views on religion and politics can usually start a maelstrom of opinions and discussing capital punishment/death penalty is not too far behind. Yet Vassault's approach toward Lindy Lou gives her free range into a personal investigation, where answers are questioned, and others are brought up, much to the chagrin of her fellow jurors she visits with them. Some of the jurors seem to have similar sentiments as Lindy Lou, while some to have forgotten the case entirely. One juror did not want to be bothered by the case at all and left a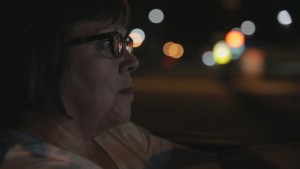 detailed voicemail saying basically to leave her "the hell alone." What is striking about the film is, Lou was the only visitor to go see prisoner Bobby Wilcher (who was sentenced to death in 2006) and in fact the two later became friends which only complicated Lindy Lou's doubts on convicting Wilcher. Vassault's expert prose elevates a downer of case with a shining light that is Lindy Lou, as her personality and southern charm help soothe the otherwise morose case. Lindy Lou, Juror Number 2 does bring to mind Errol Morris' classic and landmark doc, The Thin Blue Line in terms of a capital punishment case despite different outcomes, but still feels there is hope in how we view those wrongfully convicted, or otherwise questioning where to draw the line on capital punishment.
Another surprising entry making its North American premiere was the Polish character study, Communion from debut director Anna Zamecka. While it may not be the most action packed film you will ever see it's one with definite emotional heft and levity. Shooting in Warsaw, Zamecka's film features one of the more engaging subjects in recent memory in Ola, a 14-year old girl, who has the weight of the world on her shoulders as she cares for her autistic brother Nikodem who is studying for his first communion, taking care of her alcoholic father Marek and dealing with her mother, who does not live with the family anymore. The responsibility seems to fall on her without much explanation other than, if she did not step up, the family would sink further down in the dumps. Zamecka's camera is constantly stationary as we view Ola, seemingly working nonstop to keep the family aligned and together, and still finding time to go to school and have some free time with friends. Yet she still seems to be understating the fact she is standing still while life is moving forward. The magic in Communion is not seeing the ups and downs in Ola's life, but the perseverance of resisting to give up and trying to unite the family despite every obstacle thrown her way. It is a marvel Zamecka or her crew did not intervene with the family as the tension at times mounts to incredible displays of anguish and heartache, but the silver lining comes in the form of Ola, a savior who one can only hope becomes the strong woman in adulthood as she has been her entire young life.
Other films really struck a chord in the thought provoking, outrage, and heated discussion department, none more so than director Pete Nicks' excellent, The Force, in which the Oakland, CA police department seem to have been growing in reputation in terms of becoming an elite unit in the U.S. before scandal brought it down, more than once in less than a month. Writer/Director Travis Wilkerson's astounding live narrated, Did You Wonder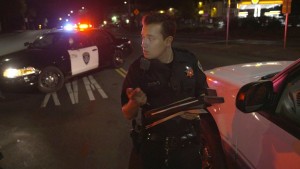 Who Fired The Gun?, where Wilkerson went looking for answers in his family history in Dothan, AL where his great-grandfather shot a black man, and was never convicted for the crime. The film becomes the rare documentary that blends historical facts with recent headlines creating a stirring multimedia installation, one you can barely believe until you are completely sunk into the case, much like the grave Wilkerson is on the hunt to locate. On a lighter note, director Amanda Lipitz' crowdpleaser Step was an easy choice to close True/False as its six-year dance themed journey proved to have more of an emotional core then I was expecting to feel as a half-dozen students from an all female Baltimore school, who have been friends from the six grade to senior year, form a step/dance team and compete to win a championship. They are also looking to be the first entire class for everyone to get accepted into college.
In the end, documentaries are supposed to engage viewers into challenging and educating us, and bringing new stories to the surface. It cannot be easy to make documentaries these days and True/False is the place where these filmmakers come together to explore these topics, issues and subjects leaving no stone or fact, unturned. And let it be known, your friends at True/False continue to swing the hammer down of finding fearless stories from unexpected places leading to unique individuals, who may never give you all the complete facts, but it will all eventually lead us away from "fake news" and further to discovering and understanding that "the truth is out there."
-Jim Brunzell III (@JimBrunzell_3)