WHO WE ARE: A CHRONICLE OF RACISM IN AMERICA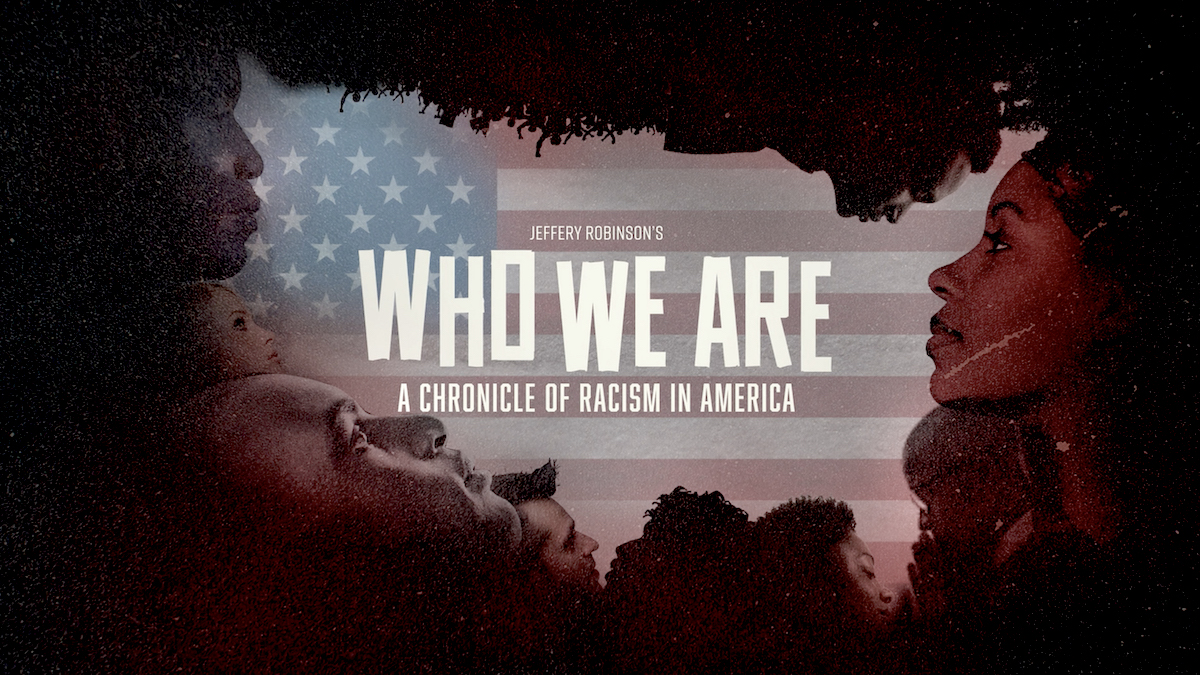 (The 2021 SXSW Film Festival kicked off March 16 and ran through the 20th, all online. Hammer to Nail has tons of coverage coming your way so stay tuned! Like what you see here on Hammer to Nail? Why not give just $1.00 per month via Patreon to help keep us going?)
Jeffery Robinson has a lot on his mind. He not only comes to the issues of civil rights and systemic racism from a personal vantage point as an African American, but with a deep knowledge of our nation's legal history thanks to his work for the ACLU. He's their deputy legal director and director of the ACLU Trone Center for Justice and Equality. Despite these qualifications, he nevertheless admits that even he did not know all the sordid details of how Blacks in the United States have been subjugated since their arrival as slaves. Now, though, he is ready to talk. The result, Who We Are: A Chronicle of Racism in America, is a gripping, if long, lecture-cum-documentary, supported by copious interviews and other material gathered as Robinson travels the U.S. to visit various markers of both his and America's journey to the present.
And what a present it is, riven by dissent over who is to blame for the racist structures in our midst. As he states at the beginning, speaking to a crowded audience in a theater, "Slavery is not our responsibility, but it is our shared history." In other words, the people of today, descended from slave-owners, slaves or folks who had nothing to do with either side of that horrific equation, shouldn't be individually blamed for the country's original sin. Going forward, however, if we are to heal, we must all embrace our role in forming the future.
From the stage to the various locations on his journey, including his childhood home, Robinson asks us to dive with him into the racist violence of the recent and distant past, taking us to the Memphis Motel where Martin Luther King Jr. was shot in 1968 as a visceral launching pad. He discusses President Nixon's "War on Drugs" and how it led to mass incarceration of so many of his fellow African Americans, as bad in its negative impact in 2021 as it was 50 years ago. He bravely talks to Confederate flag supporters, far more patient than he needs to be (then again, he believes in the power of reasoned conversation). He draws comparisons between Donald Trump and his 19th-century counterpart Andrew Jackson, analyzes the lyrics of the "Star-Spangled Banner" beyond the first verse everyone knows, confronts school districts that seek to teach that slavery was but a side issue of the Civil War, and so on and so forth, revealing how historical amnesia leads to nothing ever changing.
The list of topics continues, from the Tulsa Massacre of 1921, to how and why Reconstruction was abandoned in the South, to 20th-century redlining, lynchings, police brutality and so much more. He's "one of the lucky ones," he says, having had parents who figured out how to guarantee a decent home and education for him and his siblings. His presentation, also entitled "Who We Are: A Chronicle of Racism in America," burns with righteous anger and brilliant intelligence. Directors (and sisters) Emily and Sarah Kunstler (William Kunstler: Disturbing the Universe) mix the lecture and more traditional documentary methods with great skill, even if the result is sometimes too pedantic. Then again, Robinson has done his homework, so the least we can do is be open to learn. This chronicle of racism is a long-overdue lesson well worth sitting for.
– Christopher Llewellyn Reed (@ChrisReedFilm)