DIANA KENNEDY: NOTHING FANCY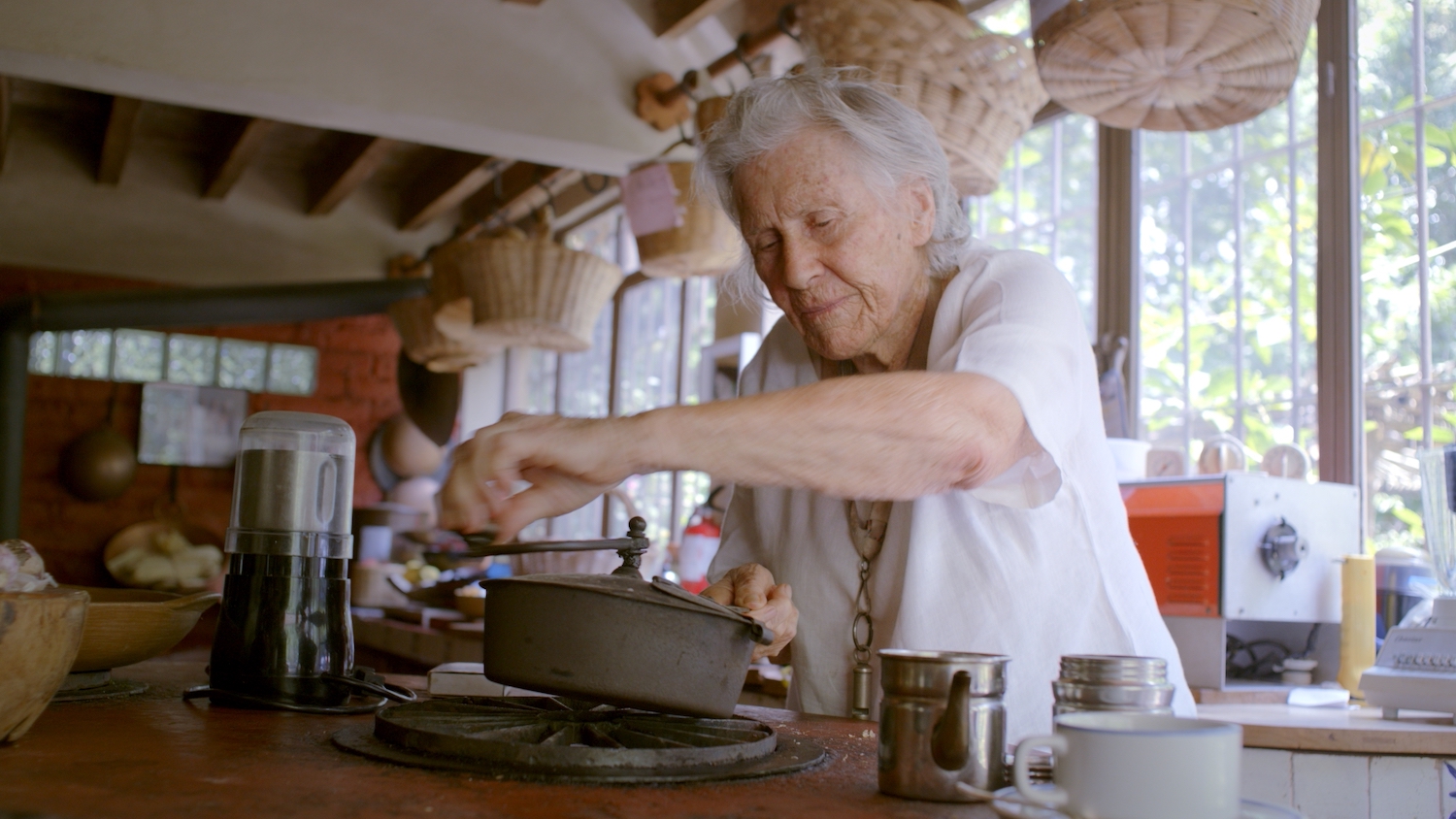 (Elizabeth Carroll's documentary tribute to Kennedy, entitled Diana Kennedy: Nothing Fancy arrives on VOD Friday, May 22 from Dogwoof Sales Films. Like what you see here on Hammer to Nail? Why not give just $1.00 per month via Patreon to help keep us going?)
Born in 1923, the nonagenarian Diana Kennedy, originally from England, has made her home in Mexico since the late 1950s, with time spent in the United States, in New York, both before and after the death of her late husband, New York Times foreign correspondent Paul Kennedy (who had long lived in Mexico before developing the prostate cancer that would kill him in 1967). Though she did not arrive in what would become her adopted country with any prior knowledge of the place, she quickly took to her new surroundings and threw herself into avid research of the culture and, in particular, the cuisine. After Paul passed away, his colleague Craig Claiborne encouraged Diana to teach classes on Mexican cooking in her Manhattan apartment, after which, with growing confidence in her knowledge and skills, she published her first of many cookbooks, The Cuisines of Mexico. Almost 50 at the time, she had finally found her true calling, and has continued ever since, teaching and writing to great acclaim.
All of the above we learn in the course of first-time feature director Elizabeth Carroll's lovely documentary tribute to Kennedy, entitled Diana Kennedy: Nothing Fancy, which takes its title from its subject's fourth book, Nothing Fancy. Carroll does more than just offer a profile of one person, however celebrated, but instead makes of this portrait a moving celebration of life in all its boundless glory. Though some might see, through today's historically corrective lens, Kennedy's legacy as one of cultural appropriation, the fact remains that she, through her work, has popularized Mexican food far beyond the country's borders.
Her efforts have been recognized not only abroad – where she has twice received honors from the James Beard Foundation – but also in Mexico, which awarded her its Order of the Aztec Eagle. "She is a prophet for Mexican food," says Nick Zukin, a Portland restaurateur, at one point. Chef José Andrés calls her "the Indiana Jones of food, searching for that gem in the mountains." Still spry at the start of the movie, she is a force to be reckoned with, prowling markets for ingredients and still holding classes (at least in 2015) at her home in Michoacán.
Beyond the stunning cinematography and impressive use of archival material, what makes the film feel so cinematically vital is Kennedy's energy, no matter how cranky she becomes towards the end. Even as she begins to somewhat fade and physically diminish before our eyes, she remains effortlessly charismatic. She's bossy, too, though only to those who don't share her opinions. And who can blame her? Anyone who lives as long as she has, and earned the respect of celebrities and humble locals, alike, has also earned the right to speak her mind. Hers is not the only voice we hear, however, as beyond Zukin and Andrés there are appearances from Mexican chefs Gabriela Cámara and Pati Jinich, as well as Kennedy's longtime editor Frances McCullough, among others, all of whom attest to the woman's indomitable spirit and brilliance. I knew nothing going in, and remained nevertheless mesmerized, throughout. I gained quite an appetite, too, for foods both fancy and plain. Bring on the tamales, please!
– Christopher Llewellyn Reed (@ChrisReedFilm)