DAVID BYRNE'S AMERICAN UTOPIA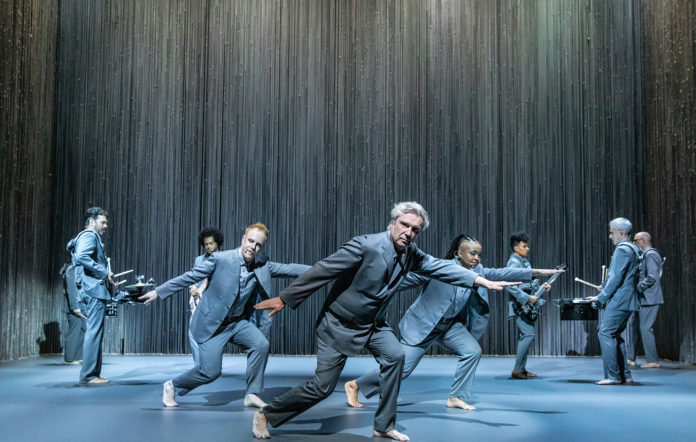 (The 2020 Toronto International Film Festival or, TIFF, ran September 10-20 online. Although Hammer to Nail wasn't granted access to a press pass, we still have been running as much coverage as possible thanks to filmmakers and PR companies who want to see their films reviewed and noticed. Like what you see here on Hammer to Nail? Why not give just $1.00 per month via Patreon to help keep us going?)
Former Talking Heads frontman David Byrne has never been much for idle chatter, always preferring to put big ideas into words. Though his tenure with the band would be more than enough to guarantee his place in the annals of musical history, he has continued since then as a solo artist, actor, filmmaker and now Broadway impresario, producing, in 2019, a staged version of his 2018 "American Utopia" concert tour. A bare stage bordered on three sides by curtains of white beads, the production features a diverse cast of musicians from multiple countries, who together form an exciting backup to Byrne's engaging, philosophical tunes. Directed by the great and prolific Spike Lee (Da 5 Bloods), David Byrne's American Utopia presents the show from start to finish, combining moments filmed over multiple performances into one cohesive portrait of Byrne's dynamic chemistry as an artist.
It's impossible to watch the film without thinking of the late Jonathan Demme, whose seminal 1984 Stop Making Sense gave us Talking Heads at the height of their fame and creative innovation (Lee gives Demme, who died in 2017, a shoutout in the closing credits). Back then, Byrne strode on stage in an oversized off-white suit; here, he and all the other musicians still wear suits, though they are grey and far more closely tailored. At first it's just Byrne in the spotlight (as in Stop Making Sense), though he is quickly joined by two of what will grow into a large supporting ensemble. I confess to never having really followed Byrne's solo career, so I did not recognize many of the songs, but anything by his erstwhile group was instantly familiar, including one of my all-time favorites, "This Must Be the Place," with additional melodies such as "Slippery People," "Once in a Lifetime" and "Burning Down the House" all welcome inclusions, as well (that final one earning a loud audience reaction as soon they hear the opening guitar riff).
Accompanying the music – beautifully realized by Byrne's talented new partners – is some choreography, as well, with Chris Giarmo and Tendayi Kuumba leading the way (the first pair on scene following Byrne). Often subtle in his statements about the state of our fractured union, Byrne eventually drops the gentility when he covers Janelle Monáe's rousing "Hell You Talmbout," her 2015 protest song about police brutality against African Americans. Though Byrne has, himself, come under some (mild) fire for a recently surfaced video from 1984 in which he is photographed in blackface, there is no doubt, based on what we see here, that his commitment to social justice is real. Thanks to Lee's expert filming and the vibrant collective that make up American Utopia, this show is not just an idealized fantasy, but the real deal.
– Christopher Llewellyn Reed (@ChrisReedFilm)