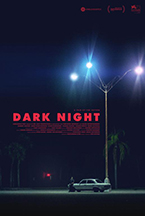 (Dark Night, the haunting, artfully understated critique of American gun culture is Tim Sutton's third feature. The film is loosely based around the 2012 massacre in Aurora, Colorado that took place during a multiplex screening of "The Dark Knight Rises" and is slipping into theaters now via Cinelicious Pics.)
An elliptical narrative shot, in part, like a documentary, using non-actors, Dark Night (which our Mike S. Ryan dove deep into last year) journeys into the tormented mind of a killer – a young man behind a mass shooting – and his victims in the days leading up to the act of violence. Director Tim Sutton (Memphis) and his cinematographer, Hélène Louvart (Pina), working in a sleepy Florida town, reveal a world where opportunity rarely knocks and everyone is either nursing old wounds or hustling for a ticket out. Louvart's breathtaking compositions, which all look as if they have been lit naturally (whatever the truth may be), probe the vacant depths of ennui that have replaced the bedrock of middle-class comfort. No one seems happy. All are doomed.
At first I thought this was an actual slice-of-life documentary – since I had failed to closely read the film's description beforehand – and it was with some shock that I finally realized my error, courtesy of coverage that could only happen with careful staging. Such is the gentle touch of the filmmakers that we barely feel the creative hands behind the scenes. We meet character after character – a middle-aged mom and her antisocial gamer son, military vets, young parents, a wannabe model, as well as our villain (though we don't see him as such, right away) – in a parade of observational sequences that reveal fine details of their existence without editorial judgement. Guns abound, but at first they're just part of the scenery, until they emerge into the foreground. Throughout the film we hear announcers on the TV or radio discussing mass shootings. Is it premonition or history? Are we watching past, present or future? Is it all just one big cycle of malaise?
Loosely based on the 2012 killings at a screening of The Dark Knight Rises in Aurora, Colorado, Dark Night starts and ends in a movie theater, beginning with the tragedy (as yet undefined) and coming full circle at the finish once we know the participants. In some ways recalling Gus Van Sant's 2003 Elephant, which similarly fictionalized the events leading up to another mass shooting – the one in Columbine – Dark Night proves more disturbing through its portrait of an America unmoored. The very first image is of an eye, made up with liner, colored by flashing lights of blue, red and white that quickly resolve into the sounds of sirens. No emotions register beyond the anomie that is the movie's stock in trade. In fact, the only real emotion displayed by anyone comes in the final moments, when the gunman walks towards the door through which he charges, armed to the teeth. His face – otherwise alternately bleak and blank leading up to the finale – is lit up with a smile, for he has made a decision. Sure, he's choosing death, but the fact of making a choice liberates him. Though the film indirectly condemns his actions, in this way it offers an explanation for how and why killers happen. Grim, but powerful, stuff.