(Daddy Longlegs is now available on DVD through KimStim/Zeitgeist. It was distributed theatrically by IFC Films and opened in New York City on May 14, 2010, at the IFC Center. Visit the distributor's page for information, and also be sure to visit the Red Bucket Films website to watch more of Josh and Benny Safdie's work.)
Though only in their mid-20s, filmmaking wunderkinds Josh and Benny Safdie have been proving for years that creative juices are coursing through their veins. With Daddy Longlegs, however, the Safdies up the autobiographical ante in their fictional universe. That they manage to do this while retaining their own uniquely whimsical vision is no small feat. If this makes for a jarring experience, one that is bound to unsettle as many viewers as it electrifies, it is also the exact type of wake-up jolt that American independent cinema could use right now (and by 'right now' I mean always). From the first frame to the last, it is abundantly clear that not only was Daddy Longlegs made far away from a (major or mini) studio assembly line; more than that, it has the furious energy of a life-or-death act of personal expression. The fact that this obvious labor of love has been picked up for distribution by IFC Films and will be arriving in theaters and homes throughout the country makes for one of those rare win-win situations that should give all of us a tiny dash of hope.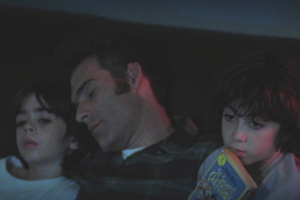 While the Safdies acknowledge that Daddy Longlegs is an honest grappling with their own sometimes tumultuous upbringing in New York City, one immediate factor distinguishes it as a movie instead of mere creative therapy. That factor is Ronald Bronstein. An accomplished director in his own right (read my Frownland review to see what I mean), Bronstein brings a severity to his performance that will have many viewers shouting at the screen. Bronstein plays Lenny, a 30-something projectionist and father of 9-year-old Sage and 7-year-old Frey (Sage and Frey Ranaldo—yes, hipster trivia heads, they are indeed the offspring of Sonic Youth's Lee Ranaldo and artist Leah Singer, who also appear in the film). Lenny has inherited his sons for two weeks, yet he can't manage to tame his own roiling state-of-being in order to be an even temporary grounding force in their lives. Well intentioned though he may be, Lenny is more playmate than father, which is the exact opposite of what these kids need.
Over the course of this frenzied fortnight, Lenny struggles to maintain control over the situation, which is a monumental task. For even without his children in his life, he's a walking tornado. And while that's already a spicy enough recipe for trouble, this walking tornado also happens to reside in New York—i.e., the city where fate has a nasty, mischievous way of adding fuel to an already flaming fire. Just when Lenny appears to have actually pulled it together for a split second, here comes a mugger to ruin the day. Or just when he decides to spray paint "DAD" on a building in a harmless burst of adolescent release, here comes an unmarked police car to take him to jail. As Daddy Longlegs wears on, viewers will begin to feel Lenny's pain, even while most of them will continue to judge and condemn him.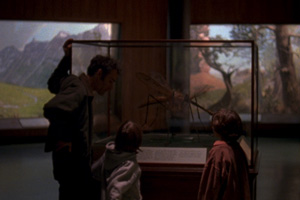 But don't think this is all at the service of pain and misery. It's not. It's clear every step of the way that Josh and Benny Safdie didn't make this movie to come to any resolute determinations about their shared past, or were never working toward a yay-or-nay conclusion about Lenny's character. They understand that good people do bad things, that mean people can be funny, that the world can be both hilarious and tragic. And that is what perhaps best exemplifies the artistic vision of the Safdie Brothers. Theirs is a world blooming with strange contradictions, in which fantasy fuses with reality, humor overlaps with sadness, innocence coalesces with awareness, and childlike wonderment rides on a subway car next to a ball of teeming, adult stress. Come to think of it, that sounds like a fitting description of New York City itself.
Unlike many filmmakers, the curious, distinct style of the Safdie Brothers appears to have emerged fully formed. Something about the way Josh and Benny work makes one think that they aren't the type of artists who will "grow up" to make "perfect" films. Their scrappy, sloppy, messy technical approach—which to be honest in this case could have used a teensy bit more focus (as in literal focus)—is as important a component of their vision as their screenplays themselves, which are dazzling exercises in urban magical realism. It's a strange, invigorating concoction, and in the case of Daddy Longlegs, the result is a brave, heartfelt treat.
— Michael Tully