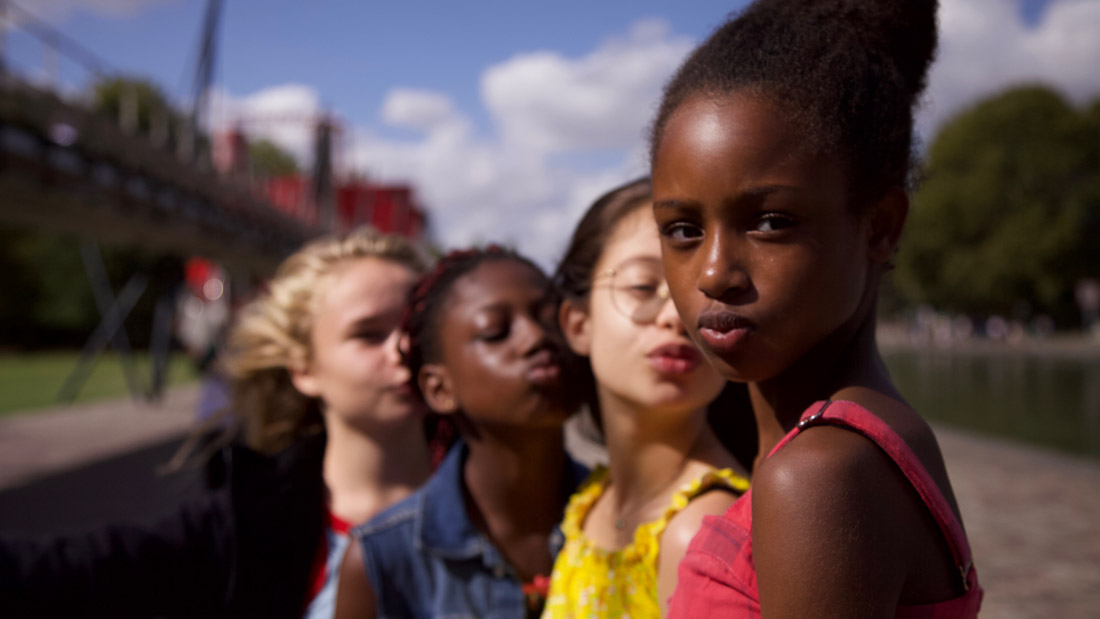 (The 2020 Sundance Film Festival runs January 23-February 2 in and around Park City Utah. Hammer to Nail has boots on the ground at the fest and guarantee more coverage thank any other site out there. Like what you see here on Hammer to Nail? Why not give just $1.00 per month via Patreon to help keep us going?)
When you're struggling to make friends at a new school you're often willing to do almost anything to make a good impression. In Cuties (Mignonnes), Amy has it's even worse, having just arrived to France from Senegal and realizing just how different she is from the other girls in her class. Add to that her mother has just found out that her father has taken a new wife and they will arrive soon, to live in a bedroom down the hall. Amy soon falls in with a group of rebellious girl they spend their afternoons learning over-sexualized dances to compete in an upcoming contest.
Like most European film at Sundance, Cuties features stunning cinematography in service of a story full of memorable characters. Performances sparkle and that's not just because they are often covered in lycra and glitter. Fathia Youssouf Abdillahi strikingly balances Amy's life as it teeters on the edge of the expectations from her conservation Muslim life, and her her desire to fit in and gather 'likes' on Instagram. Actually, all the girls in the dance troupe stand out as does the mother (Maïmouna Gueye). There's an especially heart-wrenching scene as Amy first overhears the news of her father's marriage while hiding under the bed, only her mother's feet visible as she is forced to relay her humiliation to her friends.
My biggest issue with Cuties is it there really is such a fine line between a movie saying something about the over-sexualization of 11-year-olds and over-sexualizing eleven-year-olds for the sake of a movie. Even if the film has the best of intentions closing with a strong (arguably over-the-top) moral argument, director Maïmouna Doucouré has filmed the Dance sequences to play to the more prurient interests of the audience, just as the dancers themselves play to the prurient interest of their audiences. Much of it is shot music video style as if it was how the girls imagine themselves, despite this being not truly necessary for telling the story (and maybe even counter to the message).
The most divisive moment of the film will probably be the ending which sees Amy perform an act of true selfishness, only to have a realization in the midst of the dance competition (for reasons somewhat unclear) and run home. The scene between Amy, her mother, and their older relative just before her father's wedding is one of the strongest in the film. The next moment, however, seems to be forcing a very simple theme on a very complex film.  Amy may still have some childhood left, but is that even obtainable anymore?  Can she go back?
A gorgeous ending shot basically ignored everything that has happened to get her to this point. It doesn't quite work for me. Yet, there is so much to like about Cuties and these actresses that I would still recommend films to lovers of Art House flicks. Strangely, it's unlikely that you will see this film in an Art house because the first thing witnessed on screen is the Netflix logo. It is hard to imagine where a French coming-of-age film about a Senegalese middle-schooler fits in the Netflix algorithm, 'recommended if you like' what? This is the kind of film that needs a long festival circuit run and a limited theatrical release in Art Houses so that people know it is out there. I fear it will just disappear much Amy's hopes.
Bears Rebecca Fonte (@BearsFonte)
Like what you see here on Hammer to Nail? Why not pay just $1.00 per month via Patreon to help keep us going?)