THE CURBSIDE CRITERION: MULHOLLAND DRIVE
I've always thought of Mulholland Dr. as a fever dream experienced off-screen by Tim Robbins' Griffin Mill in The Player. I imagine if I told David Lynch that, he'd probably nod his head and simply say, "Interesting." Hey, that theory is as good as any other interpretation of this film, right?
While I've always enjoyed Lynch's particular brand of dream logic in his movies, I've found that Mulholland Dr. doesn't hang together as well as I would like. So much of what's shown in the first half doesn't really pay off in the second half, which leads me to feel that many of those first-half guns on the mantelpiece should have been excised. Yes, I know Mulholland Dr. was originally intended to be a TV series, so many of those story threads introduced in the first half would have been touched on in later episodes, but they should have been cut rather than left to dangle there with very little story purpose.
I also realize the film is set up as Diane Selwyn's idealized dream of what should have been, as personified by Betty (Why a jitterbug scene at the beginning? Pay attention to what Diane says during the dinner party), so perhaps Lynch should have kept the focus there and cut the guy in the diner who sees the creepy lady behind the dumpster, the hit man who screws up and has to kill more people, the detectives, and so forth. I realize you could use dream logic to say that all those things are commentaries on Hollywood's craziness, but I would have preferred the movie focus solely on the spine of the story, which is the Betty/Rita and Diane/Camilla stuff. For example, sure the hit man shows up again, but we really don't need the first sequence with him to understand the second one.
I know, Mulholland Dr. is a classic, critically acclaimed film and I'm swimming upstream here, but so be it. I'm not saying it's awful: It has plenty of redeeming qualities, and I enjoy it overall, but I feel like something was lost when Lynch tried to turn what was supposed to be the pilot for a TV series into a feature film. I would have preferred a narrative that was more stripped down and focused on the story core.
If you're a fan of the movie, you're probably looking forward to this new Blu-ray release from Criterion. You probably also know that Lynch's involvement in this edition, through a new interview, won't shed any light on Mulholland Dr.'s mysterious narrative web, but you will learn a bit about the making of the film and other subjects, so this disc is worth the purchase for Lynch fans.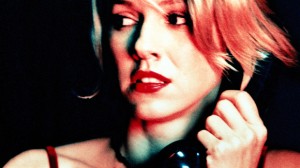 The bonus features lead off with four sets of new interviews, totaling about 100 minutes:
• Lynch and Naomi Watts spend about 26 minutes talking about how she was cast in the movie, after having gotten to the point where she was about to give up on success in Hollywood, among other things.
• Laura Harring, casting director Johanna Ray, Justin Theroux, and Watts look back on the making of the movie (35 minutes). Ray spends some time discussing Lynch's unique casting process, which doesn't seem to fail him despite his unorthodox approach. (I've always loved the stark contrast between Betty's reading of her lines with Rita and how she plays them during her audition. Now that I know how Lynch casts his movies, I figure those scenes have to be some kind of comment from him about why he doesn't have people read lines from the script.)
• Angelo Badalamenti talks about how he and Lynch work on musical scores together and how he ended up playing a small role in Mulholland Dr., which was inspired by an experience Badalamenti had with someone he described as "a person of ill repute." (19 minutes)
• Director of photography Peter Deming and production designer Jack Fisk spend 19 minutes talking about the look and feel of Mulholland Dr., along with their histories working with Lynch.
Next up is a single deleted scene with the detectives from the beginning of the film; I can see why it was cut. Then we have 24 minutes of fly-on-the-wall on-set footage from the filming of the diner and house party scenes. Badalamenti talks to the camera briefly about working on the film's music with Lynch, but otherwise, this piece is simply a glimpse into the director's on-set process.
The film's trailer rounds out the platter, but Criterion also included one of its usual booklets. This one has a Q&A between writer and filmmaker Chris Rodley and Lynch from Rodley's book Lynch on Lynch. Again, don't expect Lynch to spill any beans about Mulholland Dr.'s various meanings, but it's a good discussion covering the history of the film, and Rodley offers his own theories about the movie in the prologue to the interview.
– Brad Cook (@BradCWriter)