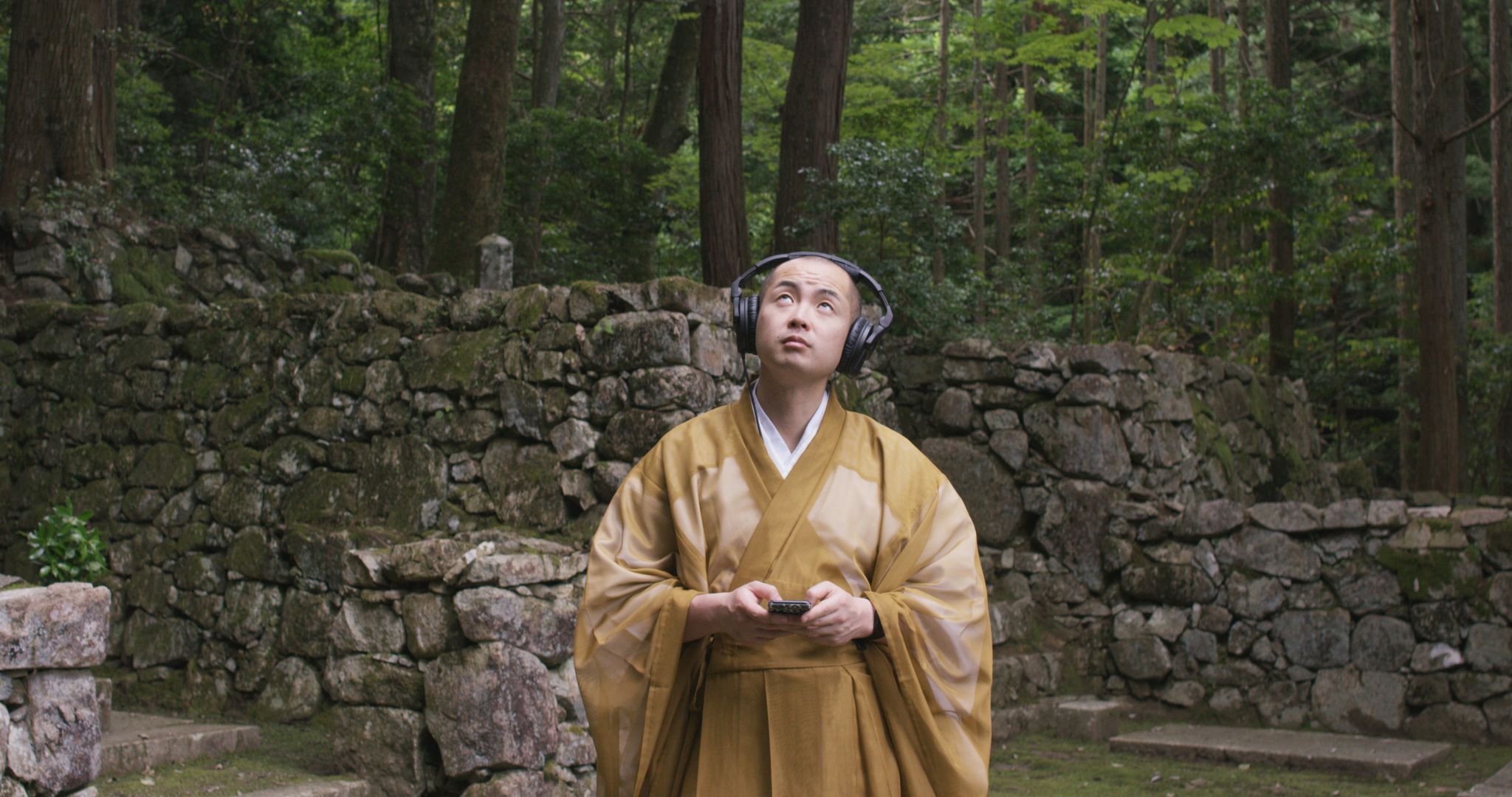 (The 2022 SXSW Film Festival runs March 11-20 in glorious Austin, Texas. Check out M.J. O'Toole's movie review of Crows Are White. Join the conversation with HtN on our Letterboxd Page.)
"I'm a fantastic liar, but I'm trying something new here–I'm gonna try and tell the truth." These opening words narrated by filmmaker Ahsen Nadeem sum up the basis for his quest for personal enlightenment in his feature documentary debut, Crows Are White. What originally begins as a study of a secret sect of Buddhist monks in Japan becomes a more personal document of self-reflection for Nadeem. Shot over the course of five years, Nadeem initially attempts to document a certain type of Buddhism to understand how monks achieve enlightenment, and get a little bit of that for himself. Growing up as a Muslim, religion felt overbearing, and as an adult he pushed it to the side. Throughout production, certain mishaps and encounters shape the documentary in unexpected ways, examining faith and existence, but also, unintentionally, shaping Nadeem's path to personal acceptance.
The film begins with the monks in the monastery hesitantly granting Nadeem and his small production team access to film in Mt. Hiei in Kyoto, though they are not enthusiastic over his interference. These monks are known for practicing Kaihōgyō, a lengthy walk without food, water, or sleep, as well as other physically straining practices. Out of all the monks, Nadeem is interested in meeting Kamahori, who has undertaken a ritual to walk every night for seven years straight. The distance in this walk is equal to the circumference of the Earth. If Kamahori doesn't succeed in this ritual, he is required to take his own life. Nadeem follows these monks and films them continuously in the hopes that he will receive some spiritual guidance from them. "A Muslim that follows a Buddhist up a mountain sounds like the start of a bad joke," Nadeem narrates.
Through first-person narration, we learn about his own crisis of faith as a Muslim man. Growing up in a devout Muslim family, Nadeem immigrated from Saudi Arabia to Ireland during the Gulf War. He became overwhelmed by Islam, and secretly stepped away from it, frequently lying to his family about his devotion. Even in the present day, he has not told his parents that he's engaged to a white non-believer. One may question in the beginning whether or not he's a reliable narrator, but in a somewhat unorthodox way, he lets the viewers in on all the pitfalls and twists of his journey, which was completely unlike what he originally envisioned. Early on, while filming a secret prayer ritual, his phone rings and he along with his crew are immediately thrown out of the monastery.
While trying to sneak back in disguised as a tourist, he ends up striking an unexpected rapport with Ryushin, a low-level monk who runs the gift shop. Unlike Kamahori or the other superior monks, Ryushin is more open-minded to life's simple pleasures. Just like Nadeem, he is searching for enlightenment of his own. Whether it's crème brulée ice cream or heavy metal music, he is more in touch with both his desires and emotions than the others who consider him to be somewhat of a screw up. While he may not be the level of monk Nadeem was hoping to have access to, he ends up finding a kindred spirit in Ryushin, as they open up to each other about their lives and inner conflicts, and sightsee together around Kyoto. Ryushin is still much closer to his faith, even if he doesn't follow the same conventions as his superiors, whereas Nadeem has fully stepped away from his religion, and he fears he will be damned for it. In one of the film's funny and warm moments, Ryushin compassionately tells Nadeem "If you go to hell, I will go to hell to help you."
Nadeem also takes the time to put the spotlight on his fiancée Dawn, who he marries over the course of filming. While she tries to be understanding with him keeping their life together a secret from his family, she admits her inner sadness and uncertainty towards him being unable to reconcile his two worlds. Credit needs to be given to Nadeem for using his film as a platform to express the vulnerability of those around him, rather than just himself. Even as the years pass by, he remains committed to finding answers, though it takes time for him to realize that maybe it's the questions that are more important. And those questions might just give him the kind of guidance he has been long yearning for. When he finally has a long-awaited sitdown with his parents, we see the long and winding road he has traveled to make peace with himself.
In this rich and affecting first feature-length documentary, Ahsen Nadeem sensitively raises the question of how one can reconcile their faith or other beliefs with how they choose to experience life. Although inserting himself as a main subject was not his original intent, his presence in the film connects to the viewer in a meaningful way, and it's hard to imagine the film without him in it. Hopefully, Crows Are White will speak to those who have gone through similar internal conflicts of reconciliation. It is also a feel-good document of an unlikely camaraderie that pulls you in like a warm embrace. From what we've experienced in both men's journeys, the path to illumination may not be as fast and simple as one hopes, but comes gradually for us in unexpected ways. 
– M.J. O'Toole (@mj_otoole93)
2022 South by Southwest Film Festival; Ahsen Nadeem; Crows are White documentary film review