THE CURBSIDE CRITERION: WINGS OF DESIRE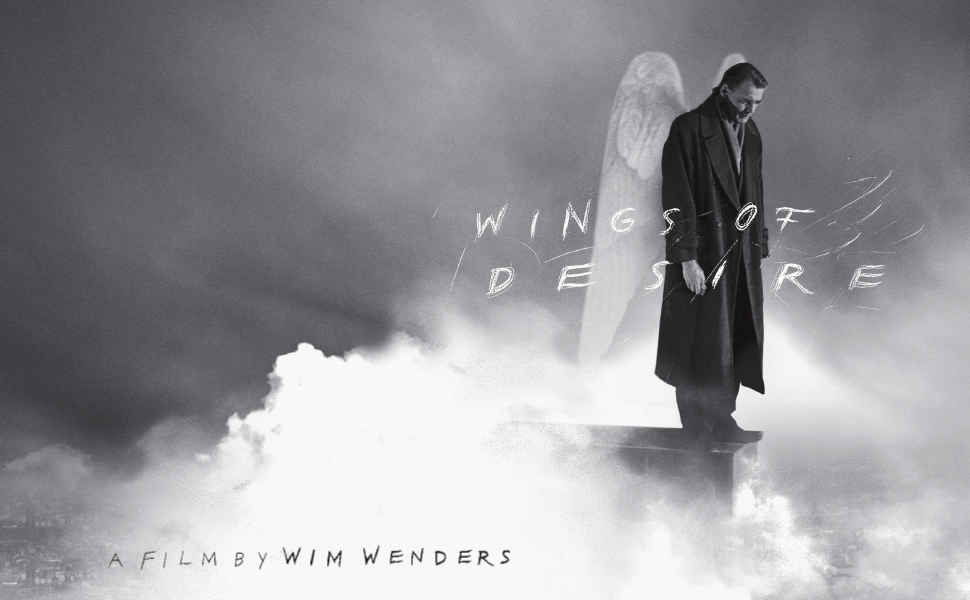 (Here at Hammer to Nail, we're all about true independent cinema. But we also have to tip our hat to the great films of yesteryear that continue to inspire filmmakers and cinephiles alike. This week, our new addition to the site, "The Curbside Criterion" continues where HtN staff can trot out thoughts on the finest films ever made. This week Brad Cook dives into the new Blu-Ray release of Wings of Desire, the seminal Wim Winders film.)
An enormous amount of time and energy has been spent over the decades introducing people to three-act structure, character arcs, and all the other nuts-and-bolts kind of stuff that's found in so many of the greatest movies of all time. And then along comes a Stanley Kubrick with 2001: A Space Odyssey or Wim Wenders and his Wings of Desire. The latter has been issued in a new 4K UltraHD edition from Criterion, establishing this one as the definitive version of this classic film on home video.
Of course, that statement comes with the caveat that new bonus features could necessitate the creation a new edition eventually, but fans probably shouldn't hold out waiting for something like that to happen. Ironically, while we're in the golden age of video and audio presentation in home video, we're also in the twilight of the physical media era.
Set in Berlin, Wenders' story centers around a pair of angels, Damiel (Bruno Ganz) and Cassiel (Otto Sander), whose job is to travel the city comforting people in distress. Only children can see them. When Damiel falls in love with a trapeze artist named Marion (Solveig Dommartin), he longs to join the mortal world and be with her.
Peter Falk, playing himself as he arrives in Berlin to make a World War II movie, turns out to have his own secret that's connected to the angels, one that he can use to help Dammiel with his desires. Yes, he's that Peter Falk, and, of course, someone recognizes him as "that guy from Columbo."
Much of the story meanders, even after Dammiel encounters the trapeze artist, but Wenders' intent was clearly to create a meditation on people who have slipped between the cracks. Many of the people are in bittersweet circumstances, although some, including a suicidal man, have nothing but tragedy before them.
The action intensifies when Dammiel enters the mortal world and the film switches nearly completely to color. The editing loses its languid pace as Dammiel tries to learn how to function in this new role while desperately trying to find the woman he loves. I'm sure some people would say that the black-and-white portion should have been cut way down, with Dammiel's quest in color occupying the bulk of it, but sometimes it's okay for a movie to ask you to lose yourself in thought. Not every story needs to follow the formula commonly espoused in the industry. (Of course, it helps for someone to learn the rules, so to speak, before breaking them the way Wenders does here.)
The bulk of the film was shot in black-and-white except for the scenes taking place in the mortal world, which are in color. Of course, the entire movie benefits from the new 4K restoration commissioned by Criterion, which strengthens the black-and-white contrasts while ensuring that the color footage maintains a strong color palette. The film is also included on a Blu-ray disc that contains all the bonus features. It's the same disc issued by Criterion in 2009, but it still looks good, especially on a mid-range setup. The previously-issued booklet with an essay, a poem from the film, and notes for the movie written by Wedners, is included here too.
A commentary track featuring Wenders and Falk is found on both discs. It was culled from six hours of interviews conducted with the two of them in the late 1990s. While it's been ported over from past editions, producer Mark Rance notes in an introduction that he has re-edited the conversations. I don't have prior editions of this film to compare, but if you're a big fan of Wings of Desire, you might want to check it out for yourself.
The rest of the extras include:
• The Angels Among Us (44 minutes): Wenders, Falk, Ganz, and Sander appear in this documentary, along with director Brad Silberling and composer Jurgen Knieper, to discuss the making of the movie and their thoughts about it. Given the fact that most of the cast has passed away, this is as close as we'll come to a comprehensive documentary.
• Cinema Cinemas – "Wim Wenders Berlin Jan. 87" (10 minutes): This is from an episode of a French TV series, and it shows Wenders on the set, working out a scene with Falk.
• Alekan la lumiere (28 minutes): Director of photography Henri Alekan, who is also no longer around, is the focus of this excerpt from a longer 1985 documentary about him.
• Alekan '85 (11 minutes): More mid-80s documentary footage about Alekan, except in this case, the project was never finished.
A series of nine deleted scenes feature commentary by Wenders; outtakes are included too, but they're music-only. Trailers and a stills gallery round out the platter.
– Brad Cook (@BradCWriter)
Criterion 4k Blu ray; Wim Wenders; Wings of Desire