THE CURBSIDE CRITERION: SHORT CUTS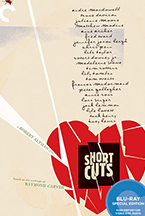 (We here at Hammer to Nail are all about true independent cinema. But we also have to tip our hat to the great films of yesteryear that continue to inspire filmmakers and cinephiles alike. This week, our "The Curbside Criterion" continues where HtN staff can trot out thoughts on the finest films ever made. Today Brad Cook digs into the new Blu-Ray release of Short Cuts, the second in Robert Altman's comeback-to-back films following 1992's The Player.)
I've never been a fan of Los Angeles's sprawling urban facelessness, but there's still something about the city that I find fascinating. It's a place where the rich and famous ply their trade, the wannabes throw themselves once more into the breach, and millions of everyday people go about their business in the cracks in between.
Director Robert Altman trained his camera on the cracks in between for Short Cuts, which adapts nine of Raymond Carver's short stories and moves them from the Pacific northwest to Los Angeles. It's a three-hour movie with a large cast whose 20+ characters weave in and out of each others' lives in what film critic Michael Wilmington calls "a Los Angeles jazz rhapsody" in his essay that occupies the pamphlet in this Criterion release.
Short Cuts is an impressive work the likes of which we may not see again for a while, since studios would rather finance big budget genre films and leave the artsy stuff to the indie crowd, who can't afford a cast packed with well-known actors. If there's another Robert Altman out there somewhere, he or she is probably making movies on YouTube with a fraction of the production values and no hope of crafting a three-hour story that people will bother to watch, what with all the cat videos to see.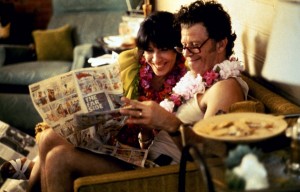 This double-Blu-ray release from Criterion features a new 4K digital transfer of the movie that was approved by cinematographer Walt Lloyd. An isolated music track is included, if you're into such things. That track was included in Criterion's 2004 DVD release of the movie, along with nearly all the other bonus features in this set. There's nothing new here, but this release is certainly worth an upgrade from DVD, or a first-time purchase for Altman fans. (Note that the short story collection included in the 2004 release isn't found here.)
The extras include:
Luck, Trust & Ketchup: Robert Altman in Carver County (90 minutes): A 1993 documentary that covers the making of the film from start to finish. Plenty of onset footage is included, along with interviews with the cast and crew and thoughts from Carver's widow, Tess Gallagher.
To Write and Keep Kind (56 minutes): A PBS documentary from 1992 that discusses Carver's life and work. It features interviews with his family and friends, along with readings from his work. Carver was interviewed on tape very few times, but a 51-minute audio conversation with him from 1983 is also included as a separate feature.
Reflections on Short Cuts (29 minutes): A conversation between Altman and actor Tim Robbins. It was filmed in 2004 as a look back on the making of the movie.
Three cut scenes that run about four minutes total.
Marketing materials, including posters, trailers, and TV ads.
Demo recordings of three songs from the film.
 I don't own Criterion's 2004 DVD release of the movie, but from what I've read online, there's one bonus feature that didn't make it into this edition. It's called Moving Pictures and it details how the Carver story "Jerry, Molly and Sam" was integrated into the film.
– Brad Cook (@BradCWriter)