THE CURBSIDE CRITERION: LOST IN AMERICA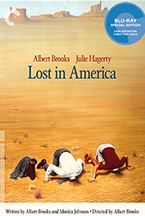 (We here at Hammer to Nail are all about true independent cinema. But we also have to tip our hat to the great films of yesteryear that continue to inspire filmmakers and cinephiles alike. This week, our "The Curbside Criterion" continues where HtN staff can trot out thoughts on the finest films ever made. Today Brad Cook joins Albert Brooks to get Lost in America.)
As the credits rolled on Lost in America, one thing struck me: These characters didn't go through enough trials and tribulations to earn the position they found themselves in at the end of the movie. The film features Albert Brooks as a Los Angeles advertising executive who quits his job, convinces his wife (Julie Hagerty) to do the same, and buys a Winnebago in which they'll travel the country and find themselves.
They don't get far, however, before his wife makes a fatal mistake in Las Vegas that causes their plans to come crashing down around them. Brooks' pain and frustration is palpable, and the crisis he and his wife find themselves in leaves the viewer wondering "What will they do now?" They end up in Arizona, and the way they decide how to resolve their predicament feels very perfunctory, as if Brooks and his co-writer, Monica Johnson, weren't sure how to come up with a twist for the end of the second act of their story.
However, Brooks is a joy to watch onscreen, and the bonus features on this new Criterion Blu-ray center around not only his work on this movie but his entire career. The main piece is a new 30-minute interview of him conducted by filmmaker Robert Weide, who touches on the highlights of his career and manages to uncover an interesting nugget regarding the Mercedes dealership salesman Brooks talks to early in the movie.
The other interviews on this disc were newly created by Criterion for this release too. They include an 11-minute discussion with Hagerty about working with Brooks, and how it compared to her role on Airplane! and other films, and another 11 minutes with Herb Nanas, Brooks' manager, who has a small role toward the end of Lost in America. The final chat is 14 minutes with James L. Brooks, who has played roles in some of Brooks' films and has a long career as a filmmaker and producer.
The included pamphlet, which was designed to look like a magazine from the early 80s, features an essay by critic Scott Tobias.
– Brad Cook (@BradCWriter)