THE CURBSIDE CRITERION: THE CIRCUS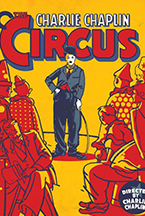 (We here at Hammer to Nail are all about true independent cinema. But we also have to tip our hat to the great films of yesteryear that continue to inspire filmmakers and cinephiles alike. This week, our new addition to the site, "The Curbside Criterion" continues where HtN staff can trot out thoughts on the finest films ever made. This week Brad Cook juggles the new Criterion Blu-Ray release of Charlie Chaplin's final silent film, The Circus.  Like what you see here on Hammer to Nail? Why not pay just $1.00 per month via Patreon to help keep us going?
The Circus may not be the first film that comes up when people talk about Charlie Chaplin's best movies, but it's worth revisiting, given its status as the last silent of his career and its place as the seventh highest grossing silent in film history. The Academy also gave Chaplin a special award for his writing, directing, acting, and producing work on it.
The plot involves the Tramp pursued by police officers who mistake him for a pickpocket. He takes refuge in a circus where, of course, he puts on an acrobatic display while trying to evade the police and impresses the crowd. The Tramp ends up getting a job as a clown and later tries to impress the ringmaster's stepdaughter with his skills.
Chaplin's physical skills are on full display throughout this 72-minute film. The set pieces, such as the Tramp's pursuit of a thief through a ride and a tightrope act meant to wow the ringmaster's stepdaughter, might feel tame in a world where CGI allows anyone to do pretty much anything in a movie, but audiences in 1928 were still amazed by physical comedy that was pulled off with minimal trickery.
The plot is thin, and the Tramp, as usual, ends up where he started with his station in life, but that actually turns out to be the point Chaplin is trying to make in The Circus. The Tramp tries to reinvent himself, even trying to be a hero and apprehend a thief when he was initially accused of being one, but the poignant final moments of the film demonstrate an acceptance of his fate to always live on the margins of society.
In a way, the ending is also Chaplin saying good-bye to silent films, in which broad physical comedy could always be counted on to help make a movie popular. The talkies ushered in an era where stories were more character-driven and dialogue was key to understanding the nuances of a story. This wasn't the Tramp's world, and Chaplin knew that, I'm sure, although he didn't officially retire the character until 1936's Modern Times.
If you'd like to read an even more in-depth analysis of The Circus, take the time to read the essay by film critic and historian Pamela Hutchinson, which is printed in the included booklet. Like pretty much every Criterion release, this Blu-ray is another of their film-class-in-a-box efforts, brimming with copious bonus features.
The film was restored in 4K from a print of the 1969 reissue of the movie, which featured a new score composed by Chaplin. Unfortunately, no prints or camera negatives of the original exist, a fate shared by many movies from the early 20th century. In fact, there are many movies that are simply gone – even the memories of them are literally dying away.
The bonus features include:
• A new commentary track by Chaplin biographer Jeffrey Vance, who repeatedly reminds us of the herculean effort the director and star undertook to make the movie's stunts seem effortless. Decades before Stanley Kubrick made his stars perform dozens of takes of even mundane actions, Chaplin imposed the same rigor on himself and his co-stars. Vance also explains Chaplin's use of in-camera effects, something he had done before and would continue to perfect in his later movies.
• A 10-minute deleted sequence from the movie that was edited in the 1980s in a manner that Chaplin might have done, complete with music. It features Chaplin taking on a prizefighter. Also included are 30 minutes of outtakes from that sequence, which are narrated by comedy choreographer Dan Kamlin in a track that was recorded in 2019.
• A new 15-minute interview with Eugene Chaplin, who is the fifth child from Chaplin's marriage to Oona O'Neil. He recounts his memories of his parents and his childhood in Switzerland, with archival family footage sprinkled throughout.
• In the Service of the Story, another new featurette that runs 21 minutes and features film scholar Craig Barron dissecting The Circus's set pieces.
• A Ring for Merna, the last new piece, which includes more outtakes, this time from the scene where the Tramp tries to woo the ringmaster's stepdaughter. It runs 8 minutes.
• Chaplin Today: The Circus, a 27-minute 2003 documentary about Chaplin's career featuring filmmaker Emir Kusturica.
• Vance shows up again in a 10-minute interview with Chaplin's musical collaborator, Eric James, from 1998.
• Chaplin's new 1969 score for The Circus included a song, "Swing Little Girl," that he wrote and performed. Criterion included 6 minutes from the recording session here.
• Seven minutes of silent archival footage from the movie premiere on January 27, 1928, which happened at the famous Grauman's Chinese Theater in Los Angeles.
• The final bonus feature is 6 minutes from a 1969 Chaplin interview about the rerelease of the movie.
Like what you see here on Hammer to Nail? Why not pay just $1.00 per month via Patreon to help keep us going?
– Brad Cook (@BradCWriter)