THE CURBSIDE CRITERION: THE AGE OF INNOCENCE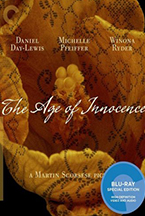 (We here at Hammer to Nail are all about true independent cinema. But we also have to tip our hat to the great films of yesteryear that continue to inspire filmmakers and cinephiles alike. This week, our "The Curbside Criterion" continues where HtN staff can trot out thoughts on the finest films ever made. Today Brad Cook eases into Martin Scorsese's The Age of Innocence.)
My only exposure to the works of Edith Wharton was reading Ethan Frome in high school. I admit I barely remember it, except for something about a broken dish being a metaphor for Ethan's marriage. I guess I recall that because a kid in our class scoffed at the notion that a broken dish could be anything more than a broken dish. Some people are so literal, even in Honors English.
The Age of Innocence is another of Wharton's character-driven novels from the early 20th century, and in 1993, Martin Scorsese released his movie adaptation of it, starring Daniel Day-Lewis, Michelle Pfeiffer, and Winona Ryder. It's not a shock that the film isn't remembered in the same way as Goodfellas, Casino, Taxi Driver, and so many of his other works featuring characters who would rather attack with fists and weapons, rather than with words.
In his booklet-bound essay accompanying this Criterion Blu-ray release of the film, Geoffrey O'Brien writes: "That the book is as much anthropological monograph as novel must have sparked Scorsese's affinity. His penchant for charting in near-documentary fashion the values and practices of the milieus in which his stories unfolded had become clearer with Goodfellas, and would continue to be expressed in films as seemingly disparate as Casino (1995), Kundun (1997), Gangs of New York (2002), and The Wolf of Wall Street (2013), in which no action can be fully understood unless it is seen as an element in a much wider pattern. In this sense, Wharton's novel was made for him."
Some may consider that quote nothing more than a word salad of high-minded language, but the point is that, sometimes, a character doesn't have to launch into a "Do I amuse you?!" rant to convey the menace in their heart. If the idea of wealthy people metaphorically stabbing each other in old world Manhattan sounds good, then The Age of Innocence is right up your alley.
Set in the 1870s, the film tells the story of Newland Archer (Day-Lewis), who is engaged to May Welland, a young socialite (Ryder). He develops feelings for her cousin, the Countess Ellen Olenska (Pfeiffer), and struggles with the conflict between his emotions and his sense of duty toward social customs. Unsurprisingly, a sense of tragedy hangs over the story's final act.
This is a story that requires the cast to convey emotion through knowing looks and gestures more than through words, and of the three principal cast members, Day-Lewis does the best job. Even if you find the story's slow pace to be a bit tiring, you can always appreciate the way Scorsese captures the look and feel of the time period. The Academy agreed, giving The Age of Innocence an Oscar for Best Costume Design.
Unsurprisingly, the bonus features are a bit scant for this release. In addition to the booklet and the trailer, they include new interviews as well as a making-of documentary, Innocence and Experience, that was produced for HBO in 1993. Running 26 minutes, the documentary includes comments from Scorsese and the cast, as well as raw footage from different scenes.
The new interviews are with:
Scorsese (24 minutes): The director talks about the making of the film, from the origin of the idea to the making of the movie, and name drops the period films that helped shape his approach to this one. He also discusses his thoughts on the study of human behavior and how that informed the making of this film.
Screenwriter Jay Cocks (23 minutes): He talks about the process of adapting Wharton's novel into a film, a feat that he says he accomplished in just 17 days, along with his collaboration with Scorsese.
Production designer Dante Ferretti (20 minutes): He discusses the work that went into recreating 1870s Manhattan for the film. This one is in Italian with English sub-titles.
Costume designer Gabriella Pescucci (19 minutes): She talks about her approach to the film's costumes, which won her an Academy Award. This is also in Italian with English sub-titles.