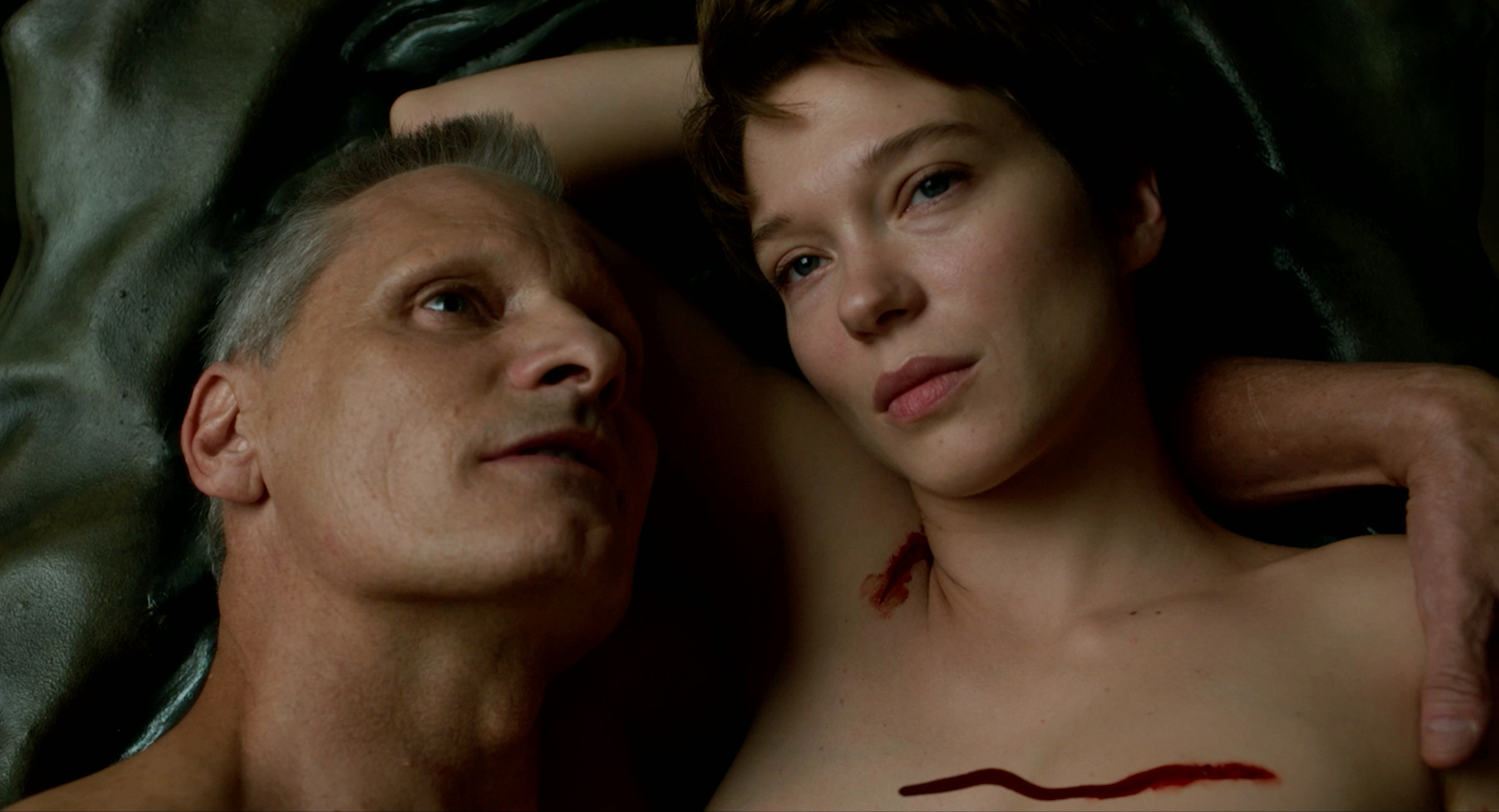 (Check out Chris Reed's movie review of Crimes of the Future. The film hits theaters Friday, June 3 from Neon. Seen it? Join the conversation with HtN on our Letterboxd Page.)
Though by no means a deep aficionado of the work of filmmaker David Cronenberg, I have nevertheless seen enough of his movies to appreciate his contributions to the art form. After an eight-year directorial hiatus, he returns not only to the screen but to his roots, delivering Crimes of the Future, an evocative take on body horror (a genre he helped bring into existence) that may share a title with Cronenberg's 1970 sophomore effort but is otherwise uniquely its own thing. To those who know the man only from his 21st-century output—including A History of Violence, Eastern Promises and A Dangerous Mind, all of which feature disturbing content of their own—this throwback to earlier gems of the grotesque such as Shivers, Scanners, and Videodrome (not to mention his mainstreaming of their aesthetic in the 1986 The Fly) may come as a surprise. But make no mistake, this is vintage Cronenberg, repurposed for a new age.
Viggo Mortensen (Falling) and Léa Seydoux (No Time to Die) star as Saul Tenser and Caprice, a performance-art duo based in an unspecified seaside town that, judging from signage (if not languages spoken) is clearly Greek. The time is a kind of quasi-dystopian near-future where human beings and society—in the most literal sense, our body politic—have evolved in strange ways, and not necessarily for the better (though that depends on point of view). Saul regularly grows organs inside himself and Caprice then cuts them out; the how and the why of it are a bit more complicated, but that is basically what they're live show is about. Gross, perhaps, but captivating.
Over at the secretive (not yet official) National Organ Registry, a woman named Timlin (Kristen Stewart, Spencer) seems simultaneously repelled by and drawn to the act, eventually stating, in the throes of something akin to lust, that "surgery is the new sex." While I'm not sure I agree, as blood and guts mean less to me, I do feel her torment. I, too, want to look away, yet somehow can't. Beyond this surface dalliance with repulsion, there is fortunately far more going on, Crimes of the Future as much a meditation on the conflict between stasis and evolution as anything else. Change or die.
Other characters make appearances both brief and lasting, played by an assortment of talented actors like Tanaya Beatty (God's Country), Welket Bungué (The Night's Substance), Nadia Litz (Hotel Congress), Don McKellar (The Middle Man), and Scott Speedman (Run This Town). Perhaps the true standout, however, is the production design, led by Carol Spier (The Kindness of Strangers), in which high-tech gadgetry combines with depressing urban decay in a powerful cyberpunk mix. Best of all are the large pods, in a variety of molded shapes, that serve as therapeutic devices for Saul's ever-sliced-up flesh and innards, also providing inspiration for the next routine. They look a little as if a giant brain had mated with a massage chair, and are as disgusting as they are inviting. Are you sensing a theme of push-and-pull?
Visually and narratively, much of this is hard to take. A little boy is killed, and later dissected (plot-wise, there are reasons for this that are not just for shock value); I'm sure QAnon supporters will have a field day with the pale, naked corpse on display. But at its most compelling, Crimes of the Future asks important existential questions about the nature of homo sapiens and what we hope to become, as well as whether the devices we invent will save or kill us. It's too bad, then, that the movie ends without exploring many of the issues it raises. I was taken aback by the cut to black that preceded the credits. That's all there was? Disappointing, but I'll take it. In the Cronenberg universe, viscera are cinematic and cinema is visceral.
– Christopher Llewellyn Reed (@ChrisReedFilm)